Upload Season 2 Is Coming To Amazon Prime Sooner Than You Think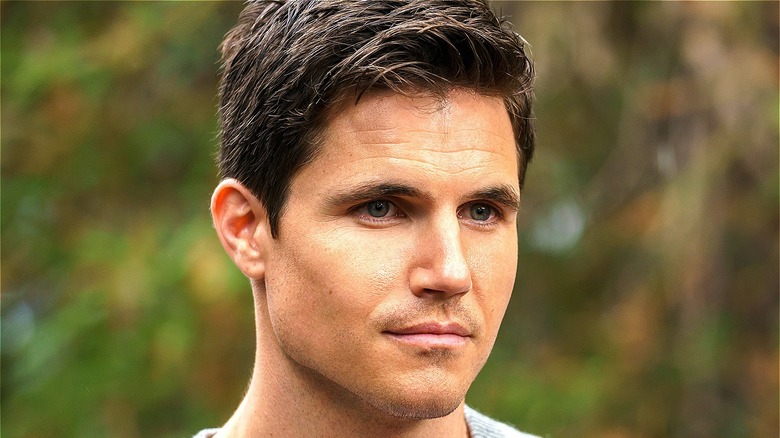 Amazon Studios
Creating one amazing TV series may be enough for some people, but Greg Daniels is on a path to have another legendary hit on his hands. For those of you who don't recognize that name, he's the creator of "The Office." But he's not done resting on his laurels just yet. He co-created the Netflix series "Space Force" alongside his "Office" colleague Steve Carell, and he also developed the Amazon Prime original series "Upload."
"Upload," which takes place in the year 2033, finds humans able to upload themselves into a virtual afterlife. Computer programmer Nathan (Robbie Amell) finds himself in this digital realm prematurely while still living under the watchful eye of his possessive girlfriend Ingrid (Allegra Edwards) while forming a relationship with customer service rep Nora (Andy Allo). Over time, Nathan and Nora begin to suspect he was murdered in a case that has plenty of hilarious twists and turns.
To catch up on the series so far, you can watch the Season 1 recap Amazon Prime just came out with, which comes at an opportune time. Season 2 is on the way, and it looks like death was only the beginning of Nathan's problems. 
Upload Season 2 drops March 11
Deadline reports that "Upload" will return to Amazon Prime Video on Friday, March 11. It's nearly two years after the first season debuted in May 2020, but by all accounts, it'll be worth the wait. Fans have eagerly anticipated more "Upload" ever since it came out a second season was in the cards shortly after the first season came out. Greg Daniels announced the news a while back, saying, "I am thrilled to continue a great relationship with Amazon Studios and this wonderful cast and find out what happens next to Nora and Nathan and Ingrid and their 2033 world. With this news I can stop drawing my season 2 flip book" (via Inverse).
Deadline goes on to provide a logline for Season 2: "Nathan is at a crossroads in his (after) life ... his ex-girlfriend Ingrid has unexpectedly arrived to Lakeview hoping to strengthen their relationship, but his heart still secretly yearns for his customer service angel Nora. Meanwhile Nora is off the grid and involved with the anti-tech rebel group 'The Ludds.' Season Two is packed with new near-future concepts, including Lakeview's newest in-app digital baby program called, 'prototykes,' and other satirical glimpses of the technological advances and headaches to come."
It's a long way until we hit 2033 in the real world, so there could theoretically be a lot more "Upload" to come. Don't miss the next installment when it drops on March 11.