The Entire Madea Universe Explained
This content was paid for by Netflix and created by Looper.
Say a great big "hallelujer" because Tyler Perry's iconic character Mable "Madea" Simmons is coming back for another round of movie magic in "A Madea Homecoming," which arrives on Netflix on Friday, February 25. The film will feature the feisty matriarch welcoming her sprawling family into town to celebrate her great-grandson's graduation from college. But as Madea fans might expect, this joyous reunion will soon become a source of serious drama once some hidden secrets threaten to upend the occasion.
Fans of the "Madea" franchise can count on seeing some familiar faces in this fresh new installment to the series. In addition to Perry reprising the title character, the film will also feature the return of Tamela J. Mann as Cora, David Mann as Mr. Brown, and Cassi Davis Patton as Aunt Bam. The film will also introduce another comedic giant, with Irish actor Brendan O'Carroll portraying Agnes Brown.
"A Madea Homecoming" marks the latest in a decades-long series of stage and screen appearances by Perry's one-of-a-kind alter ego, so before the film arrives, here's a look at everything you need to know about the "Madea" universe.
Madea's surprising start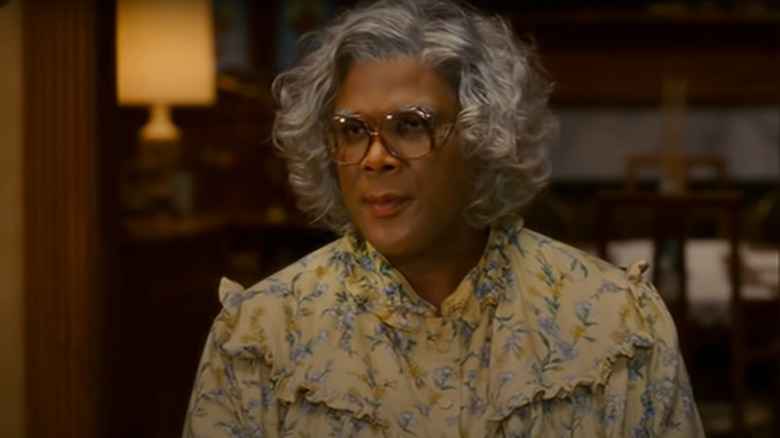 Lionsgate
Tyler Perry made a tremendous impact on the entertainment world when he first introduced audiences to Madea on the stage with his hit 1999 play "I Can Do Bad All by Myself." Like so many of the Madea stories to follow, the breakthrough play features the character heading a house full of troubled relatives who need safe haven and a dose of her uniquely tough love. This time, it's her granddaughter and niece, along with a consequential visit from daughter Cora. The play successfully set a tone for the many Madea narratives to follow, as it balanced laugh-out-loud adult humor with some very delicate situations and themes, all while keeping faith and family at the heart of the action.
Perry initially created the character for someone else to portray on the stage, but at the last minute, he found himself having to wear her dowdy dress and spouting her humorous lines instead — not knowing that the role would soon become a hallmark of his Hollywood career. Perry has since revealed that the character is "a cross between [his] mother and [his] aunt" and said he also looked to comedian Eddie Murphy and his work in the "Nutty Professor" films for inspiration in his own performance. Though Perry may have initially intended to portray Madea for just that initial production, the fiery persona proved to be an instant favorite and a staple of entertainment on multiple mediums from that point on.
A cinematic debut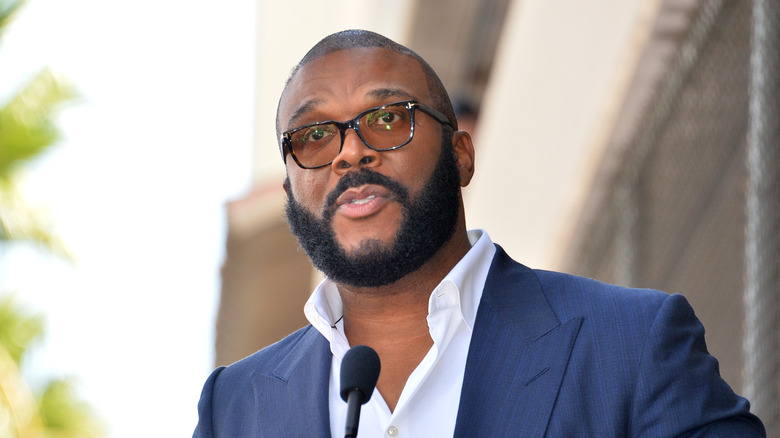 Featureflash Photo Agency/Shutterstock
After Perry reprised his role as Madea for a series of other popular plays, several of which were filmed for DVD releases, Madea made an official theatrical debut in the 2005 silver screen adaptation "Diary of a Mad Black Woman." The film, which is partly based on Perry's 2001 play of the same name, features Madea helping her estranged granddaughter overcome a heartbreaking and humiliating breakup from her wealthy and powerful husband. The movie proved to be a success at the box office and established Madea as a household name.
The next year, "Madea's Family Reunion" introduced audiences to another sect of her relatives as they grappled with even more difficult and dark secrets, and Madea proved to be not just a funny fixture of her family but a rock solid ally, mentor, and shepherd for anyone who needed her — witty antics notwithstanding. From there, the hits kept on coming.
An expanding empire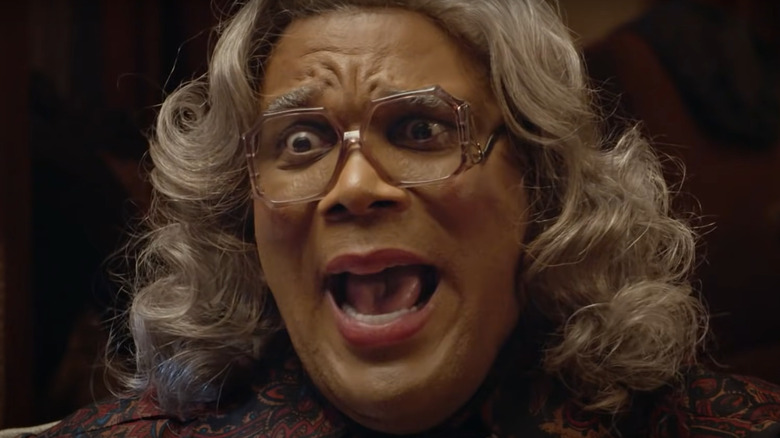 Lionsgate
In "Meet the Browns," the action extends beyond Madea's house, with an all-new character falling on hard times before discovering a family she never knew in Cora and Mr. Brown — and, of course, Madea makes an eventful cameo in the film as well. 
Then, in "Madea Goes to Jail," the character becomes surrounded by celebrities amid some national notoriety over her legal woes, all while Madea brings her seminal and snarky wisdom to some fellow prisoners in crisis. The "Madea" universe then continued to expand with "I Can Do Bad All by Myself," a film that features an aunt who's charged with caring for her young niece and nephews after they're caught trying to rob Madea's home. From there, Madea continued to be a centerpiece of the films to follow, including "Madea's Big Happy Family" and "Madea's Witness Protection." Then, the character was also the subject of some holiday fun, with "A Madea Christmas" and a pair of Halloween films, "Boo! A Madea Halloween" and "Boo 2!" 
With all of the Madea plays and films, the stories each include some deeper statements about society and familial relationships, as well as some stitch-inducing one-liners from the kooky lead. As with the character herself, many of Tyler Perry's Madea stories draw from his own experiences, for better and for worse. Perry also portrays more than just Madea in most of the movies. He also plays Madea's quirky brother, Joe, and his son, Brian, who Madea frequently turns to for representation in court. And the entire franchise is a veritable who's who of Black entertainment icons, as the films feature all-timers such as Maya Angelou, Cicely Tyson, Gladys Knight, Jenifer Lewis, Viola Davis, Angela Bassett, Taraji P. Henson, and Mary J. Blige.
A new beginning for Madea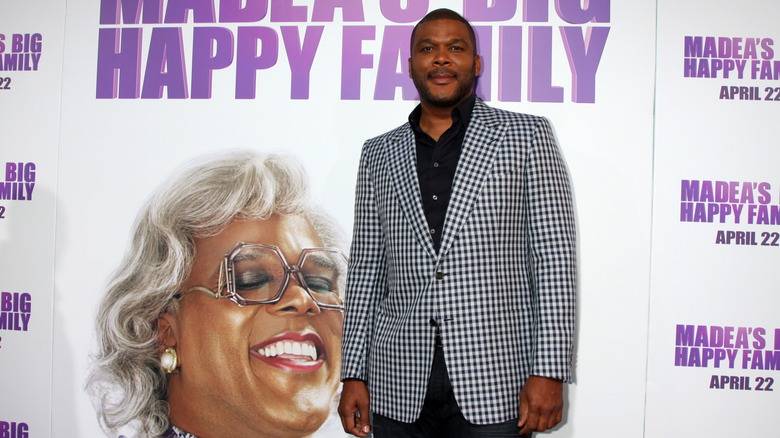 Joe Seer/Shutterstock
Ever since the turn of the millennium, when Perry's Madea first made a splash, the character has been absolutely everywhere. In addition to decades of success on the stage and several successful films, the character was also at the center of a 2006 book written by Perry from the character's perspective, titled "Don't Make a Black Woman Take Off Her Earrings," along with a 2015 animated film called "Madea's Tough Love." On top of that, she also became a cameo sensation, appearing in everything from late-night shows to a guest spot on "Empire" (which reunited Perry with Taraji P. Henson in a fun way), along with some crucial appearances in Perry's shows such as "House of Payne," "Meet the Browns," and "Love Thy Neighbor."
In 2019, Perry intended to retire the character with two major sendoffs — the eleventh film, "A Madea Family Funeral," and the eleventh play, "Madea's Farewell Play." However, in 2021, he announced that Madea wasn't quite done making people giggle. Channeling the voice of the character with some hilarious interruptions, he explained, "We need to laugh, man. Too much is going on in the country. We need to laugh. So I was done ... but she's coming back." Indeed, fans should be ready to slip into their favorite robes and rustle up some hot grits for when "A Madea Homecoming" arrives on Netflix on Friday, February 25.