Madea's Real Full Name Will Surprise You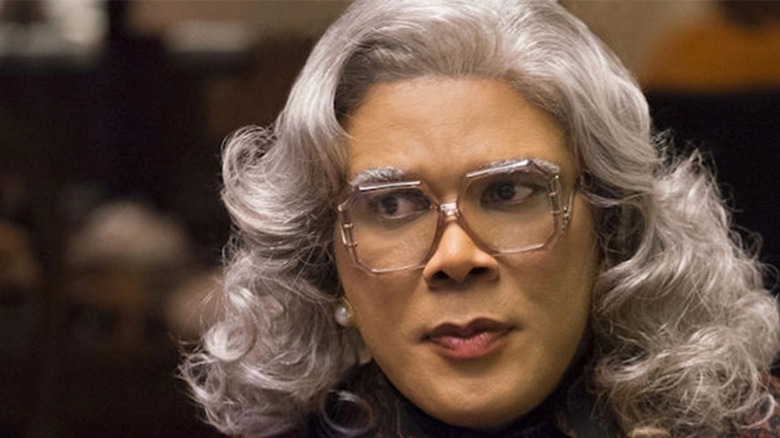 Tyler Perry Studios
Tyler Perry's on-screen alter ego Madea is inarguably his most memorable character. The multi-talented Perry, a successful writer, producer, and director, is at the epicenter of an entertainment empire that includes over 20 feature films, four scripted series for Oprah Winfrey's OWN television network, a development deal with ViacomCBS, and his self-named movie studio. In 2020, Forbes estimated Perry's net worth to be $1 billion.
The character of Madea made her first appearance in Perry's 1999 stage play "I Can Do Bad All by Myself." The large-and-in-charge matriarch known for her no-nonsense "spare the rod, spoil the child" philosophy of child-rearing showed up in 10 subsequent plays, including 2020's "Madea's Farewell Play," which is available to stream exclusively on BET+. The character made her film debut in 2005's "Diary of a Mad Black Woman." In 2019, Perry told CNN that his 11th Madea movie, "A Madea Family Funeral," would be his last, stating, "This character has been amazing. So many people have loved her. It's been a great franchise." Madea's retirement turned out to be short-lived. In June, Deadline announced Perry was developing "A Madea Homecoming" for Netflix. The movie will drop sometime in 2022.
Fans mainly know Madea by her first name, but what is the grandmother and sometimes menace to society's full name?
Madea is a southern term of endearment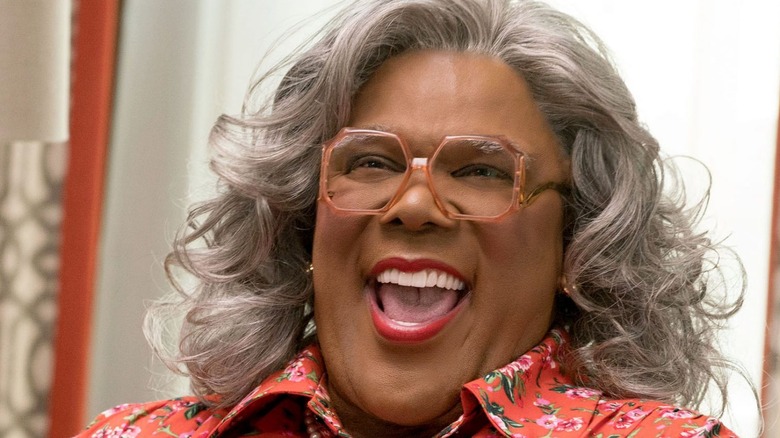 Tyler Perry Studios
Madea's real name is Mabel Earlene Simmons. According to BET.com, Madea is a southern term of endearment, and Urban Dictionary defines Madea as a blending of the words "Mother Dear." During a 2012 interview on NPR's "Fresh Air," Perry revealed the character of Madea is based on his mother and aunt. He also found inspiration from Eddie Murphy's "The Klumps." After watching Murphy tackle female characters, Perry decided, "I'd imitate the funniest person that I know, and she is the exactly the PG version of my mother and my aunt, and I loved having an opportunity to pay homage to them." (via NPR). Perry went on to say that his mother was "strong," "witty," and "loving" and that "She would beat the hell out of you but make sure the ambulance got there in time to make sure they could set your arm back, you know what I mean? Because the love was there inside all of it."
Although Madea fans can piece together much of her colorful backstory through Perry's plays and movies, the beloved character is about to get a proper origin story. In April, Deadline reported Showtime is developing a prequel series about Tyler's Perry's Madea called "Mabel." The drama will be set in the early 1970s and follow 20-something Mabel's adventures in Atlanta.