Is Phyllis Summers Really Leaving The Young And The Restless?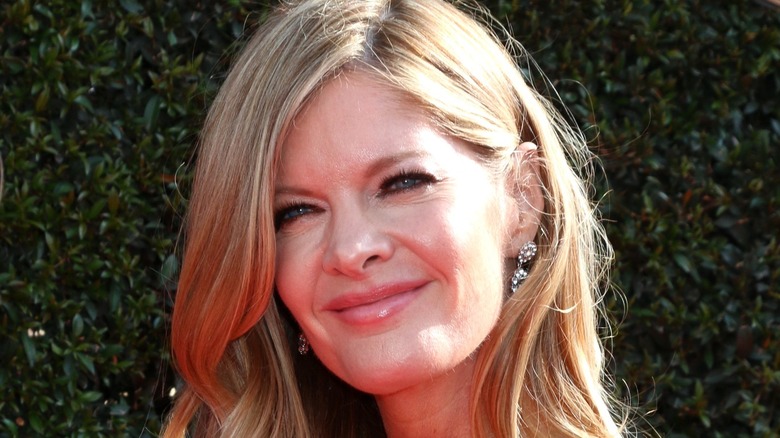 Kathy Hutchins/Shutterstock
Michelle Stafford's Phyllis Summers has been a central figure on "The Young and the Restless" since becoming the CBS soap's resident bad girl all the way back in 1994. A lot has changed since then, and over time, Phyllis has become less like the young upstart who lied to Danny Romalotti (Michael Damian) that he fathered a son with her out of wedlock and more like a mom and entrepreneur who would lie, cheat and kill for her children's wellbeing. 
It's that undying devotion to her daughter, Summer (Hunter King), which now has fans wondering if Stafford's time on "The Young & the Restless" could be set to come to an end in the near future. In the wake of her break-up with her long-term love Nicholas Newman (Joshua Morrow), and the failure of an affair with Jack Abbott (Peter Bergman), Phyllis has spoken aloud about her feelings of rootless frustration. For instance, she tells Amanda Sinclair (Mishael Morgan) during the January 18 episode of the soap, "something better change or I'll spin out and create chaos." For anyone who's familiar with Phyllis' old ways and the brand of chaos she can bring, that should be enough to send a shiver up your spine. But a call from Summer offering her a job in Italy subsequently arrives, leaving Phyllis with a major decision to make.
Fans of the soap likely remember that when "The Young & the Restless" wanted to write off Summer and her husband Kyle Abbott (Michael Mealor), they packed both characters off to Italy. Could the same thing be happening to Phyllis? Are Michelle Stafford and Phyllis Summers leaving "The Young and the Restless"?
Phyllis -- and Stafford -- appear to be sticking with the soap
While Michelle Stafford has left the soap twice before, it doesn't appear that she's ready to pull up stakes this time. Per her IMDb page, she has not been cast in any recent projects that would require time off from the show. While it's possible that the show might choose to use Stafford in a limited way as it does King and Mealor if a dearth of storyline material exists, it's much more likely that Phyllis will turn her daughter's offer down and stay in Wisconsin. 
Judging by the show's past choices when it comes to the character of Phyllis, "The Young & the Restless" has been much more apt to recast the role than write the character off the show in Stafford's absence.  When the actress first left the show in 1997, she was replaced by Sandra Nelson for two years. Stafford returned in 2000 and left the soap again in 2013 to originate the role of Nina Reeves on "General Hospital." In that case, Stafford was replaced by fellow soap vet Gina Tognoni, who won a Daytime Emmy Award for Outstanding Lead Actress in a Drama Series for playing Phyllis in 2017 (per IMDb). Tognoni was replaced by Stafford in 2019, and Nina is now being played by a third soap vet, Cynthia Watros (per ABC).