Jon And Sansa Will Struggle For Power In Game Of Thrones Season 7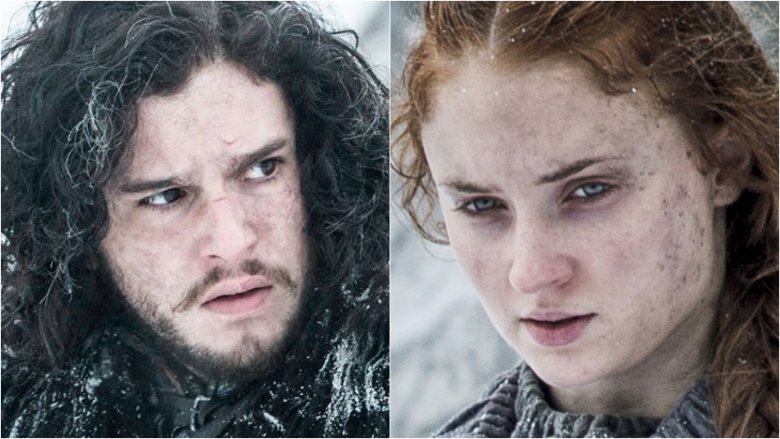 HBO
Game of Thrones fans, brace yourselves for a harsh winter and some even harsher familial tensions next season. 
In an interview with Entertainment Weekly, series actor Kit Harington, who plays Jon Snow, spoke about season 7 of Game of Thrones and how the tides will turn in his character's relationship with half-sister Sansa Stark, played by Sophie Turner. 
Jon and Sansa were last seen reuniting after many years apart, only to butt heads when deciding how to rule Winterfell together. According to Harington, their disagreements will escalate into an all-out struggle for power in season 7. "There is definite tension between them right from the first scene," Harington said. "There are the same problems—she questions his decisions and command; he doesn't listen to her. But as far as where that goes or takes them or how dark it can get, we'll see. It gets past sibling squabbling, it gets into two people power struggling."
Harington went on to explain that Jon will be at the forefront of the new season of Game of Thrones, which he describes as a "nice change," and will experience a noticeable shift in character. "He talks more, he's more sure of himself," said Harington of Jon. "He doesn't just know what he's got to do but he's more sure of what he's saying—whereas before there was always some fear and doubt. I've gotten to enjoy not just grunting."
While Jon is mapping out his plans for power, Sansa will likely continue operating under Petyr Baelish, better known as Littlefinger, played by Aidan Gillen. Harington assured that the fire-haired heir to Winterfell, along with many other major characters, will have plenty of screen time to grow closer to her goals. The actor mentioned that this contributes to the thrilling new tone of the upcoming season.
"Everyone gets a bigger slice of the pie. Everybody is left is left with more stuff to do," Harington explained. "This season is really different than any other season because of the fewer episodes and everything accelerating toward the end. A lot of stuff collides and happens much much quicker than you're used to seeing on Thrones—it was a plodding slow machine and it's now turning into a thriller. It's quite exciting how it ramps up speeds up toward a dangerous climax."
Fans can find out just how tense things will get between Jon and Sansa when Game of Thrones returns to HBO on July 16. Until then, check out the untold truth of the show and everything we know about season 7.