How Spike Spiegel From Netflix's Cowboy Bebop Should Really Look
Although its run was short-lived, the much-anticipated, then canceled Netflix live-action rendition of "Cowboy Bebop" did a few things right in adapting the hit anime series. With what's considered one of the greatest anime series of all time (via Paste), fans were rightfully concerned when Netflix announced their adaptation in 2018. The series sees space cowboys Spike Spiegel, Faye Valentine, Jet Black, Edward, and their furry sidekick Ein, travel through the galaxy on board their spaceship, the Bebop, collecting bounties from criminals.
Fan's praised Netflix's version of "Cowboy Bebop" for keeping the original series' iconic theme song "Tank!" as well as the closing credits theme, "The Real Folk Blues." Fans also couldn't help but love Netflix's "Cowboy Bebop" cast with John Cho, Mustafa Shakir, and Daniella Pineda at the forefront. Netflix's stellar cast wasn't enough to save "Cowboy Bebop," probably thanks to its "cringe-worthy" dialogue and weird visual style (via Decider), among other things, and the show was canceled after just three weeks on the streaming platform.
But fans of the original series can definitely appreciate Cho's go at playing the charismatic Spike Spiegel. Netflix's take on Spike is pretty spot-on, but there are a few minute details from the original anime worth mentioning.
Netflix's Spike Spiegel from Cowboy Bebop has a few differences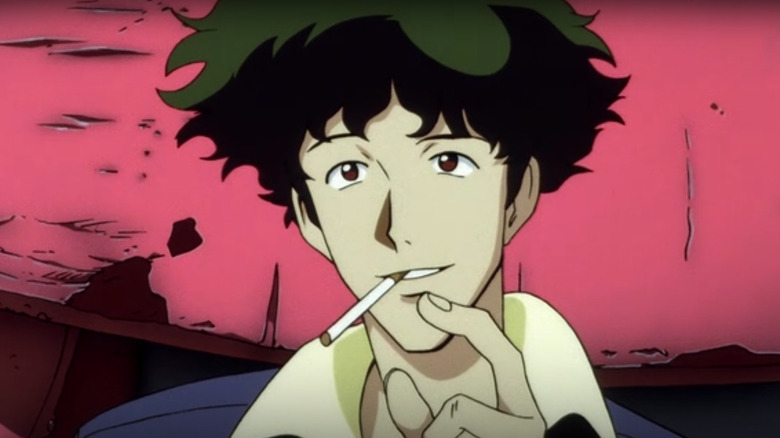 Sunrise
Netflix did an excellent job casting John Cho as Spike Spiegel in its live-action "Cowboy Bebop." Not only was Cho able to bring Spike's laid-back charisma to screen, but he also fits Spike's original appearance as well. Cho's lean 5-foot-10-inch frame matches Spike from the anime pretty well, as he is supposedly 6-foot-1, according to the Cowboy Bebop Wiki. Cho also wears Spike's signature blue suit and yellow shirt and sports a messy mop of hair like the anime version, which was actually inspired by the famous Japanese actor Yusaku Matsuda in the show "Tantei Monogatari."
However, a key difference in the live action adaptation is Spike's hair. Although the style is similar, Spike's locks in the anime have a signature dark green color, whereas the Netflix version has Spike with black hair. In the anime, Spike also has an artificial eye that's a lighter brown color from the other. It was later revealed that Spike underwent a surgical procedure after an accident and was left with two different colored eyes, which is something not addressed in the Netflix version. 
Lastly, in the anime, Spike is 27 years old, whereas Cho is 49 in the Netflix adaptation, something Cho was apprehensive about when signing on. "The biggest fear that I had was I was too old. I knew people were gonna have issues with my age," he told Vulture. All in all though, Netflix's version of Spike was similar enough.