This Iconic Scene Was Only Added To Bourne Identity After Test Screenings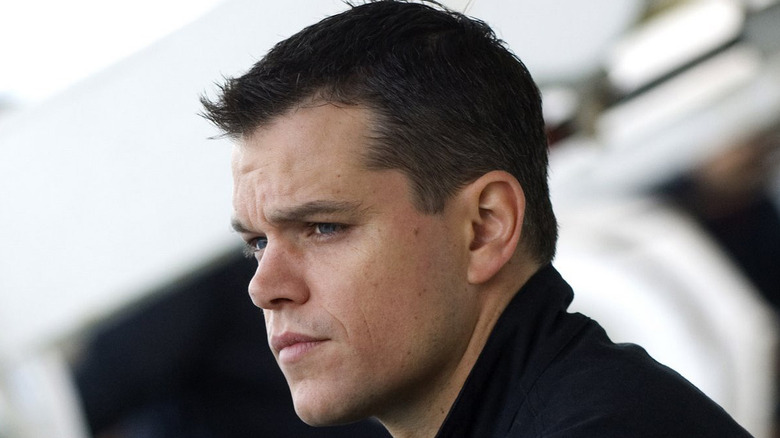 Universal Pictures
Sometime between the torch-passing ceremony of Pierce Brosnan to Daniel Craig as James Bond, Matt Damon walked onto the scene in a knitted sweater and punched anyone in the face who looked at him funny in "The Bourne Identity." Going against expectations early in his career, Damon's turn as amnesiac assassin Jason Bourne sparked three sequels and a so-so spin-off, leading anyone to be nervous around him when a hardcover book is at arm's length. And yet even with a box office gross of over $1.5 billion (via The Numbers), there was a time when Jason Bourne's first outing wasn't met with the warmest of welcomes.
Following early test screenings for director Doug Liman's introduction to Treadstone's assassin of the month, the suits behind the spy movie were a little dissatisfied with the results. It was yet another issue following a host of others since the film had gone into production, including running behind schedule and over its initial budget (via Den of Geek). Universal felt something special needed to be dropped in on the third act to send Jason out on a high note, and the studio settled on what would become one of the most iconic moments in the entire franchise.
The Bourne Identity stairwell drop was a last-minute addition
Den of Geek's report informs us that, following feedback from the test screenings, a sequence was devised that would have Bourne escape a sticky situation by way of a human elevator. After already capping one government goon and a small team of them not far behind, Bourne uses one of the many heavy henchmen to cushion his fall down the middle of a stairwell. Not satisfied with having taken the express exit, the superspy also manages to shoot every other unwitting bad guy who's on his way to kill him on the way down, walking away relatively unscathed.
As last-minute as it may have been, the sequence is so polished and precise that it broke the mold for a top-level staircase fight. Since then, noticeable brawls have taken place on stairs in "Captain America: Civil War" and "Atomic Blonde," but Bourne dropping in on the action was one that certainly left a mark and a whole host of bodies. Well done, Bourne.