The Best Episode Of CSI: Miami Season 2 According To IMDb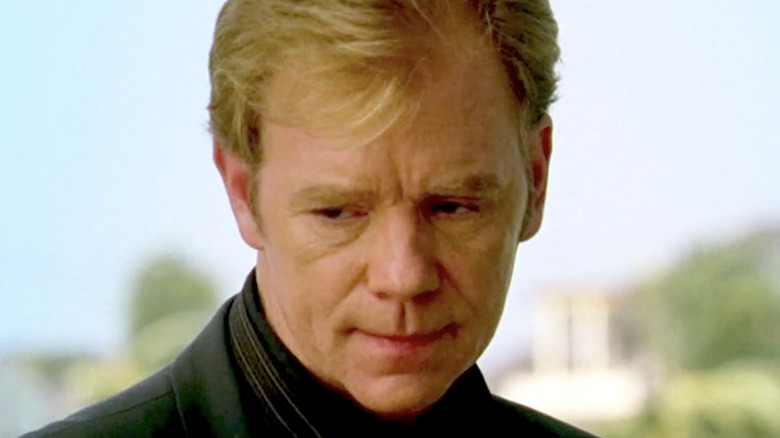 CBS
If you weren't among the legions of fans tuning in to watch "CSI: Miami" every week during its primetime run on CBS, you may not realize just how long the show was on the air. The Florida-set "CSI" spin-off actually made its network debut in the fall of 2002, and it didn't air its series finale until the spring of 2012. By the time "CSI: Miami" ended its 10 season run on CBS, it had aired a whopping 232 episodes of bloody, sun-drenched procedural madness (via IMDb).
Yes, that's a whole lot of crime-solving action fronting David Caruso's Miami-based CSI boss Horatio Caine and his famous, or infamous, sunglasses. The "CSI: Miami" fandom couldn't get enough of either while the show was on the air, though even hardcore fans might agree not all seasons of "CSI: Miami" were created equally. Still, the show's up-and-down second season continues to rank among its best (per Rotten Tomatoes). While fans had a tough time ranking Season 2's 24 episodes on IMDb, a late-season crossover event narrowly takes the title of fan favorite.
A thrilling crossover with CSI: NY is Season 2's top episode
For the record, the vote to crown a Season 2 champ for "CSI: Miami" was extremely tight, with a pair of episodes each earning a 7.6 rating on IMDb. That includes the Season 2 premiere, which scored this number based on a total of 425 votes. But the 23rd episode of Season 2 scored the same rating, and it did so with 29 extra votes (454 in total), so we're comfortable calling it the season's best.
Titled "MIA/NYC Nonstop," the episode finds Horatio (Caruso) and his team investigating the brutal murder of a family in Miami by a killer who flew in from the Big Apple to do the deed. This fact prompts Horatio to take his talents (and his sunglasses) to New York to help track down the bad guy. There, he touches base with his northern CSI counterpart Detective Mac Taylor (Gary Sinise), with the pair using their combined scientific talents to catch their killer in vintage "CSI" style.
As far as episodes of "CSI: Miami" go, "MIA/NYC Nonstop" is arguably among the series' best, if only because it's so much fun to watch Sinise and Caruso trade tough-guy glances and chirpy one-liners. The episode also serves as the official introduction to Sinise's character and the NY team, who would soon front the second "CSI" spin-off series, "CSI: NY." Not surprisingly, the NY-set "CSI" show would become another hit for CBS, helping the crime-solving franchise rank as one of the most popular in television history.