Ray Fisher's Response To Joss Whedon's Latest Attack Is Just Perfect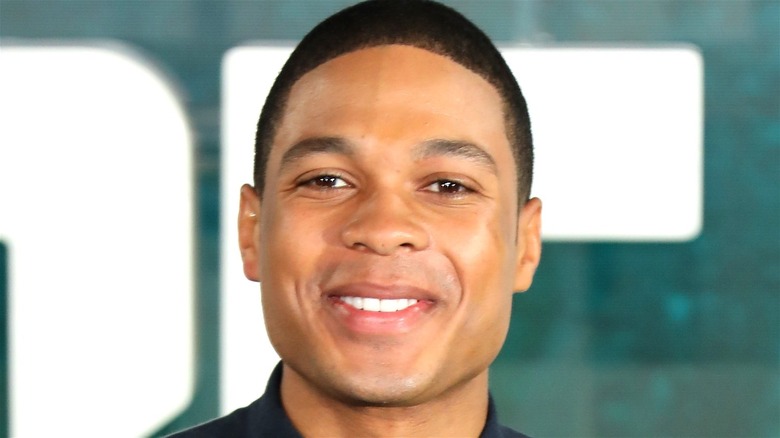 Jason Kempin/Getty Images
The long-running drama around director Joss Whedon's version of "Justice League" got its latest twist on January 17. In a lengthy article in New York Magazine, Whedon — who reportedly threatened Gal Gadot's career during the filming, and was called out by Cyborg actor Ray Fisher over allegations of less than exemplary behavior — shared his version of events, and alleged that language barrier had come between him and Gadot. 
"English is not her first language, and I tend to be annoyingly flowery in my speech," the director said of his interactions with Gadot. 
As for Fisher, the director's comments were rather more blunt. Not only did Whedon give some rather disparaging comments on Fisher's acting, he also stated in no uncertain terms that the actor's claims about his behavior were unfounded. "We're talking about a malevolent force," Whedon said. "We're talking about a bad actor in both senses." 
It didn't take long before Fisher commented on Whedon's statements — and the actor's response was pretty much perfect.
Ray Fisher addressed Whedon's comments on Twitter
Barry King/Getty Images
Ray Fisher addressed Whedon's comments in a brief, yet savage response on Twitter. First, he drew attention to the fact that the Russo Brothers took over the "Avengers" franchise after Whedon's comparatively disappointing (via Rotten Tomatoes) "Avengers: Age of Ultron" by calling Whedon's interview an "endgame" — which, of course, is the name of the Russo-directed "Avengers" movie that came after "Age of Ultron." Then, he pointed out that since the New York Magazine piece was published on Martin Luther King Jr. Day, he had better things to do than to continue the discussion ... at least, for now.
"Looks like Joss Whedon got to direct an endgame after all ... Rather than address all of the lies and buffoonery today — I will be celebrating the legacy of Reverend Dr. Martin Luther King Jr. Tomorrow the work continues," Fisher's tweet read. 
Though Fisher kept things relatively calm in his tweet, it certainly seems that the world hasn't heard the last of this particular situation.