The James Bond Who Ran Up The Biggest Tab In The Franchise's History
Although there are tried-and-true formulas in play with every new entry of the "James Bond" franchise, Agent 007 and the stories that filmmakers have told about him have clearly undergone something of an evolution in recent years. Daniel Craig's brutality in the role may have hearkened back to Ian Fleming's novels, but his Bond was also one that was more in step with today's society — he was vulnerable, he loved deeply, the sexism was less overt, et al.
That said, there are certain things that never change where Bond is concerned. Her Majesty's top-secret serviceman will always give his all for Queen and country, he'll have an impossibly attractive woman at his side and a myriad of fantastical gadgets at his disposal as he does so, and when the big bad finally gets their just due, he'll have some kind of one-liner or pun at the ready.
Another common thread throughout Bond's incredible 60-year run as a cinematic icon has been the constant presence of booze (a whole lot of it). However, amid the countless vodka martinis (shaken, not stirred), bottles of Dom Perignon, and other adult beverages that fans have seen consumed by their favorite superspy since 1962, one Bond has imbibed considerably more than the rest.
Roger Moore takes the crown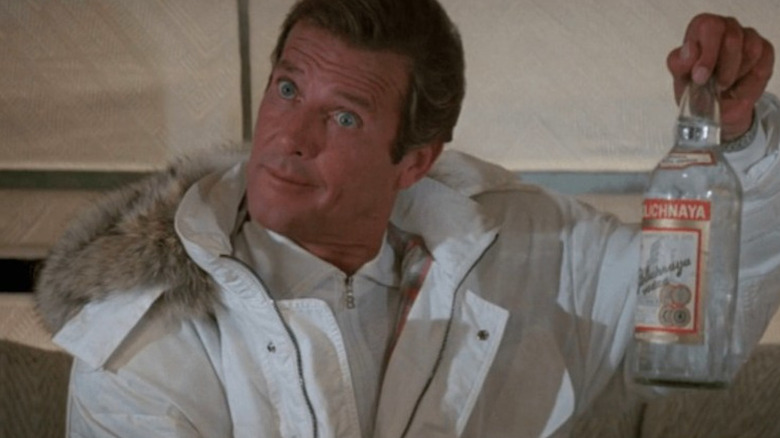 United Artists
Mortgage loan company Ocean Finance conducted a study of the 24 official "Bond" releases from 1962's "Dr. No" to 2015's "Spectre," finding that Bond had racked up a total tab of £5,401 (approx. $7,400) while on-screen, an amount that will have come out of the collective pockets of British taxpayers; he is a government agent, after all.
However, one Bond stands alone as the top consumer of alcohol — the one portrayed by the late Sir Roger Moore. According to the study, Moore's Bond was responsible for a whopping £2,427 (approx. $3,300) of the total bill. Moreover, he boasted an average bar tab of £347 (approx. $470). Coming in second was Sean Connery's Bond (£1,271 total/£212 average, or approx. $1,700 total/$290 average). Moore and Connery were followed in order by Daniel Craig, Pierce Brosnan, Timothy Dalton, and George Lazenby.
Although Moore capturing the No. 1 spot with such a significant margin here may come as a surprise to fans, his Bond had a distinct advantage, if you can call it that: Moore's seven appearances in official "Bond" releases continue to be the most of any actor.