Tom Holland Doesn't Know Who Spider-Man Fights In Avengers: Infinity War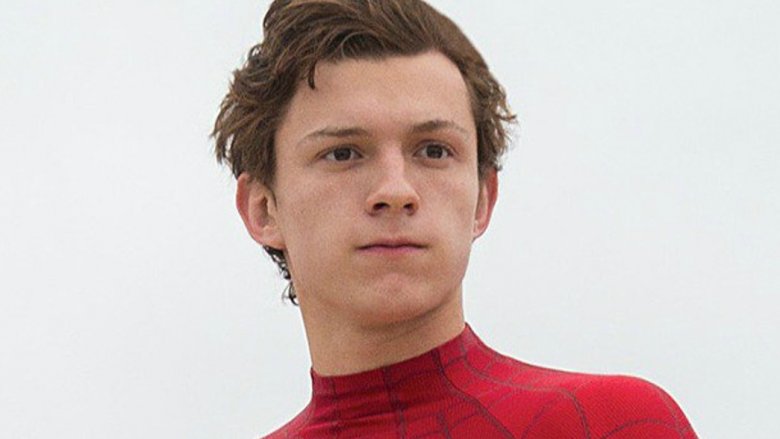 Tom Holland won't know who he acted opposite in one scene of Avengers: Infinity War until he sees the movie.
The Spider-Man actor recently told BBC Radio 1 that production for the upcoming MCU ensemble is so secretive, that he wasn't allowed to know the identity of the character he battles during a sequence in the flick. Since much of the filming is done with CGI, tennis balls, and a green screen, Holland was punching at nothing.
"There is one moment in [Infinity War] where I don't know who that person is," Holland said. "They're like, 'Imagine this!' And you're like, 'Do you have a picture you can show me?' And they're like, 'No, it's a secret.'"
Holland said he isn't allowed to read the script (via the Toronto Sun) because of his loose lips, so that means he's really in the dark.
Of course, this isn't exactly a new development. He said he went through a similar process during the making of Captain America: Civil War. "The airport scene was just me and a load of tennis balls," Holland said. "I didn't meet anyone apart from Chris Evans. I had to do a fight scene with him and everyone else was just tennis balls. I met all the Avengers really for the first time on the red carpet."
Considering all of the characters slated to be in Infinity War (pretty much everyone in the MCU), it's anyone's guess who Spider-Man will battle in the film. But given the intense secrecy, there's a chance it'll be a character we aren't even aware of yet. We (and Holland) will find out for sure when Infinity War lands in theaters May 4, 2018.
Before that, however, we'll see Spider-Man's formal introduction into the MCU in Spider-Man: Homecoming, which is expected to crush the box office this weekend. Find out why the movie will be better than you think.