The Surprising Connection Between Shameless And Dragon Ball Z
In 2011, Showtime premiered its adaptation of a U.K. series named "Shameless." For 11 seasons, fans got an unflinching look at the lives of the dysfunctional Gallagher family. The dramedy, set in the South Side of Chicago, left nothing off the table for subject matter as neglectful Gallagher patriarch Frank (William H. Macy) left his family alone to fend for themselves. "Shameless" could be tragic, hilarious, and downright shocking all within the span of a single episode, and fans loved it. Overall, on Rotten Tomatoes, the "Shameless" series has a critic's score of 82% and an audience score of 81%.
Part of what made "Shameless" such a fantastic show was its impressive cast, namely Emmy Rossum who starred as Fiona Gallagher for the majority of the show's run. Fans especially loved her romantic pairing with Jimmy Lishman (also known as Steve), who was played by Justin Chatwin. The two had incredible chemistry, and perhaps that was because "Shameless" wasn't the first time the two had appeared onscreen together.
Emmy Rossum and Justin Chatwin also co-starred in Dragonball Evolution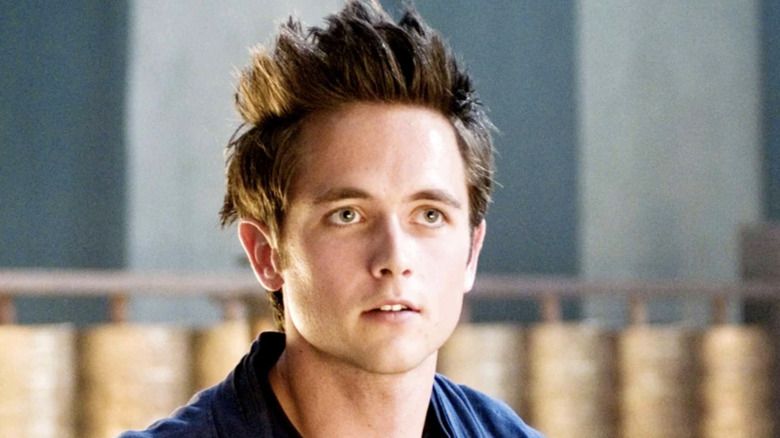 20th Century Fox
Before the two appeared as romantic interests in "Shameless," Emmy Rossum and Justin Chatwin were hunting for the legendary dragon balls. That's right, Chatwin starred as Goku and Rossum as Bulma in the 2009 live-action adaptation "Dragonball Evolution." So, while "Shameless" is technically linked to "Dragon Ball Z," many might wish that weren't quite the case. Some fans either don't remember the film or simply don't want to remember it, and it's easy to see why considering its poor performance. The film is regarded so terribly that even its scriptwriter, Ben Ramsey, offered a sincere apology to fans and implied that it was "flat out garbage" (via i09).
At the very least, these days, Chatwin seems to take the disaster of "Dragonball Evolution" with a pinch of humor. On Chatwin's YouTube, he jokingly referred to the film as his "finest work" and humorously tried to hitchhike by yelling that he was once Goku. In addition, thanks to "Evolution," we witnessed created Akira Toriyama come back to work on the "Dragon Ball" series. Per ComicBook.com, he wrote that he was so angry about "Evolution" that it essentially caused him to come back to work on the franchise. It's the reason he's been so involved in the "Super" era of films and the series.