The Major Deadpool 2 Role John Cena Auditioned For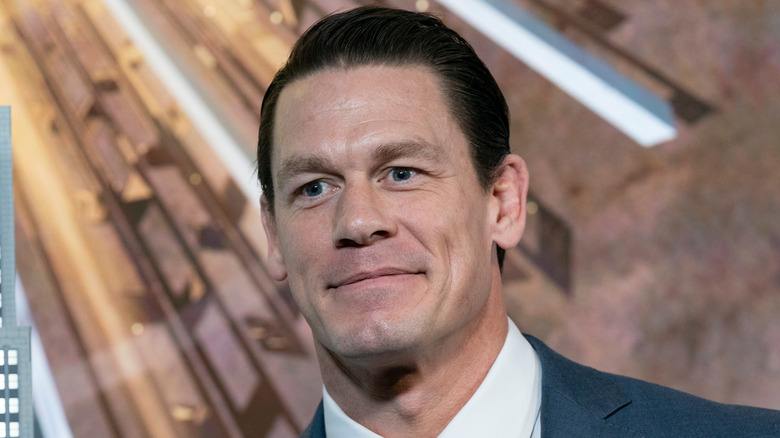 lev radin/Shutterstock
For a certain set of fans, John Cena was, is, and ever will be one of the most memorable figures to ever grace the pro wrestling ranks of the WWE. These days, however, Cena is maybe best known as a full-blown movie star renowned as much for his brutish physicality as his razor-sharp wit. Indeed, those attributes have helped the wrestler-turned-actor become a legit scene-stealer in tentpole features like "Bumblebee" and "F9: The Fast Saga," as well as character-driven comedies like "Trainwreck" and "Blockers."
Cena's imposing brawn and uncanny ability to say the most ridiculously absurd things with a straight face are on full display in his turn as the ultra-violent "superhero" Peacemaker in James Gunn's marvelous 2021 film "The Suicide Squad." So memorable was his performance that Gunn put both Cena and his impossible-to-like "hero" front and center on the HBO Max series "Peacemaker," which is proving a massive hit with critics and audiences alike (per Rotten Tomatoes).
Peacemaker is far from the first superhero role Cena has circled in his career. In a recent interview, the actor teased he nearly scored a major role opposite Ryan Reynolds in "Deadpool 2."
Cena was once up for the role of Cable in Deadpool 2
John Cena opened up about his many failed superhero auditions on a recent episode of Josh Horowitz's popular "Happy Sad Confused" podcast, with the host posting a teaser clip from his conversation with the "Peacemaker" star on his Twitter page this week. Cena was there to talk about his new HBO Max series, but the conversation naturally led Horowitz to ask if there had been any other superhero roles he had been "close to" playing over the years. Sure enough, the actor dryly responded, "I can't tell you how many superhero roles I've been rejected for."
Cena went on to say those rejections included "a few" potential roles in the MCU, as well as a gig in the 2019 DCEU hit "Shazam." While the "Shazam" job is the one he claims he most wanted, Cena mentioned he'd also been up for a role in "Deadpool 2." Horowitz quickly circled back to that revelation, and the "Peacemaker" lead confirmed he had indeed auditioned for the role of Cable.
The Cable gig ultimately went to Josh Brolin, and if you've seen "Deadpool 2," you know it's pretty much impossible to imagine another actor playing the part any better. That said, if there's an actor who might've given Brolin a run for his money as the vengeful, time-hopping Cable, it's Cena, who' handiness with firearms, fisticuffs, and killer one-liners would've suited the role equally well. Likewise, there's little question Cena could've held his foul-mouthed own alongside Ryan Reynolds' chirpy Merc With a Mouth. As it is, we can only imagine what might've been.