The Best Time Bob Saget Broke Character On Full House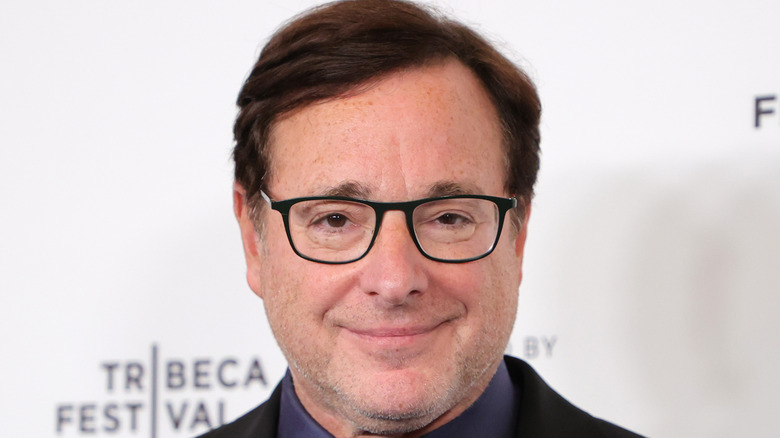 Mike Coppola/Getty Images
Bob Saget was a beloved comedian, actor, and friend to many. He spent years making audiences laugh with his stand-up comedy and acting roles. In recent years, he also created a successful podcast, "Bob Saget's Here for You," which has 130 episodes total. 
However, perhaps his most notable role throughout his career is his portrayal of the warmhearted and supportive single dad, Danny Tanner, in the smash-hit, feel-good sitcom, "Full House." The show is based around a San Francisco family, with three daughters who are being raised by their father with the help of their Uncle Jesse (John Stamos), and close family friend Joey (Dave Coulier). "Full House" is filled with life lessons, usually in the form of silly antics that tug at the hearts of viewers through laughter.
With such a fun-loving and hilarious cast, the filming of "Full House" must have felt like a full house in its own right, filled with good times and laughs. But even the best actors break character from time to time, and on a show as upbeat as "Full House," these moments are bound to be hilarious. When it comes to Saget, there's one time in particular that he just couldn't help but let a bit of his true self shine through on set when he broke character.
Bob Saget couldn't say that Uncle Jesse ran away from home
In Season 1, Episode 19, "The Seven-Month Itch (Part 1)," Uncle Jesse struggles with the day-to-day life of living with a large family, including three children. Before going to bed, he confides in Joey that he feels like he has no privacy. The next day Danny and Joey find Jesse gone but see that he left behind a note explaining that he doesn't know when or if he'll be back.
Bob Saget talked about this scene in detail on Conan O'Brian's show "Conan." He recalls laughing uncontrollably when he needed to say that Uncle Jesse ran away from home. The plotline takes up two episodes, with the first episode ending on a cliffhanger with a "To Be Continued..." banner, meaning that this episode is meant to be serious. Saget, however, just couldn't help but laugh at the idea of a grown man running away from home. Ultimately, he didn't even say the line because he couldn't keep a straight face while filming, with the episode ending after a young D.J. Tanner (Candace Cameron Bure) asks where Jesse is. 
Danny Tanner is a wholesome guy in a wholesome show, and saying that Uncle Jesse ran away from home is definitely something he would do. Saget plays the part of Danny perfectly, but sometimes even he broke character to let a little of his own humor shine through.