What's The Song That Plays While Peacemaker Dances In His Underwear?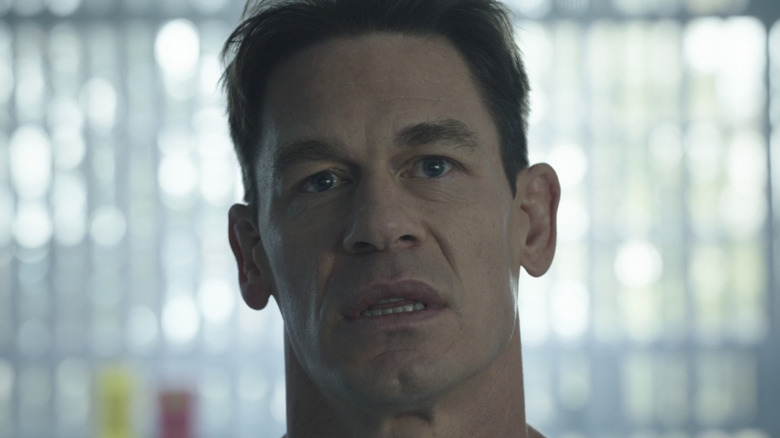 HBO Max
Contains spoilers for "Peacemaker" Episode 1
HBO Max's brand new series "Peacemaker" takes the titular superhero (John Cena) and expands upon what audiences learned about him in the 2021 movie "The Suicide Squad." The infamous character makes new friends (and enemies) throughout the new show, and a number of memorable scenes endear his foul-mouthed, law-and-order-loving nature to his audience.
In the show's first episode, which makes incredible use of its rock and roll soundtrack, one of those scenes includes an emotive dance by Peacemaker. His terpsichorean activities are conducted in his underwear to the sound of a hard rock song, after he's picked a woman up in a bar and had sex with her. Using a vibrator for a microphone, he is so distracted by his own performance that he doesn't realize his one-night-stand is ready, willing, and able to murder him. 
The tune playing in the background of this scene will likely be very familiar to any British music fan alive in the '90s, but to American audiences, it may be an unfamiliar tune. What's the name of the song Peacemaker dances to, and who recorded it?
Peacemaker dances to a hit British band
A tune by The Quireboys called "I Don't Love You Anymore" plays underneath Peacemaker's dance.
The song charted to No. 24 on the UK single Charts in 1990 (per Official Charts). The Quireboys were popular at the same time as acts like Poison, Mötley Crüe, and other early '90s pre-grunge hair metal outfits, but they dove into a more blues-heavy sound. Billboard declares them contemporaries of The Black Crowes, who attained the sort of American chart success which The Quireboys have thus been denied.
While The Quireboys are mainly unfamiliar to American audiences, they were a popular part of the English rock scene in the 1990s and remain a functional, producing band. Per the band's official website, they had a No. 2 album on the British charts with "A Bit of What You Fancy" in 1990, and opened for Guns N' Roses and The Rolling Stones.
Their inclusion in the "Peacemaker" soundtrack will likely be their introduction to American audiences, and judging from the excitement the scene has ginned up, it will be a memorable moment for many.