The Chicago P.D. Cast Weighs In On Who Should Make Detective Next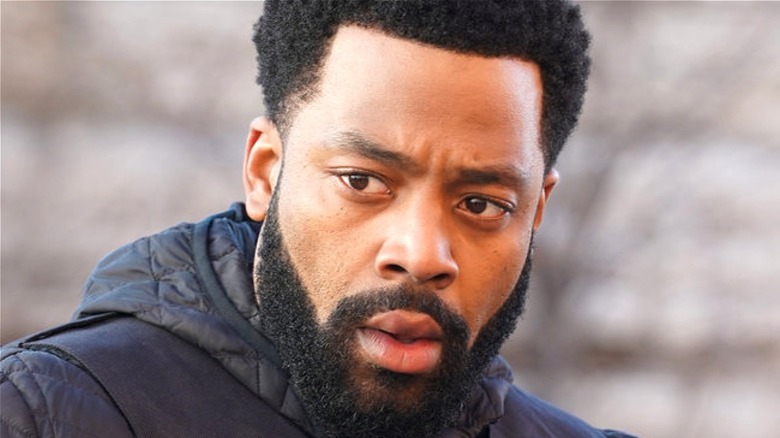 Lori Allen/NBC
"Chicago P.D." is a spin-off show inspired by "Chicago Fire" and part of the "One Chicago" franchise from NBC. All about the 21st Precinct in Chicago and its detectives, police officers, and intelligence officers, veteran cast members like Jason Beghe, Jesse Lee Soffer, Patrick John Flueger, Marina Squerciati, and LaRoyce Hawkins help make "Chicago P.D." so popular, earning an overall 91% audience score on Rotten Tomatoes and entering Season 9 in September 2021.
"Chicago P.D." tackles action-packed stories and plots common to the police procedural, including murders, self-defense cases, missing persons, corruption, shootings, stabbings, and of course, personal histories and drama between the characters, and this  is just in the most recent season. Considering that "Chicago P.D." models itself after real police work, there is always a chance of promotion for characters in the show. Officers can be lifted to the status of detective, as happens with Hailey Upton (Tracy Spiridakos) as part of the character's introduction to the show in Season 4. 
Luckily for us, the cast has shared their opinions on who they think should be next in line for advancement.
The cast believe that Atwater should be the next detective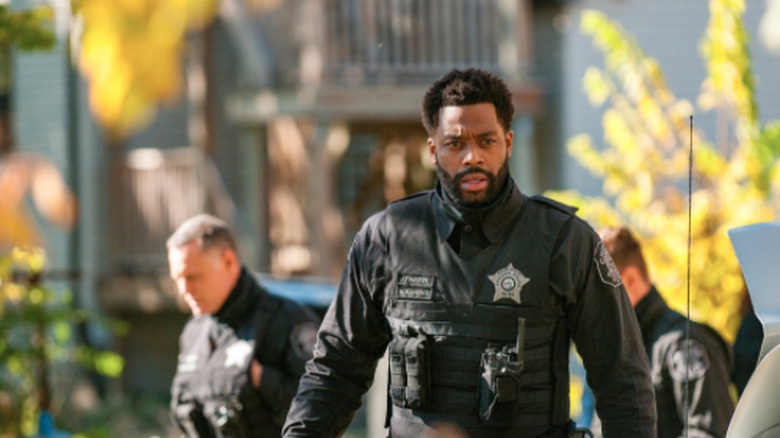 NBC
Speaking with Cinema Blend, LaRoyce Hawkins, Patrick John Flueger, Amy Morton, and Marina Squerciati were asked who should be the next one to become a detective while celebrating "One Chicago Day." This particular day celebrates the franchise of "Chicago P.D.", "Chicago Fire," and "Chicago Med." Hawkins, who plays Officer Kevin Atwater, threw his proverbial hat into the ring by saying, "I ain't gonna lie to you. I think Atwater's ambition is to make detective for a few reasons. And I think one of them is because of the odds that he's had to face. You know, I think it would be a powerful accomplishment for him ... And naturally, being a detective, I think puts him in the perfect pocket to add more purpose to his job."
Morton, who acts as the police department's staff Sergeant Trudy Platt, agreed with her costar, adding, "I think it should be Atwater ... I believe I have that power as well." Others also held firm with the belief that Atwater should be one of the next detectives, with Flueger (who plays Officer Adam Ruzek) stating, "Didn't Voight put [Atwater] up for detective a couple of years ago? ... A different writer came along and we just never told that story no more ... Atwater is probably next up to be perfectly [honest]." 
Squerciati, who plays Kim Burgess, is also an officer on the show, and she added a few other contenders to the conversation, mentioning herself first, then "Paddy [Flueger] and Royce [Hawkins]. Got to be Paddy, right? He was first in." She was shocked that nobody else mentioned her, but it seems that all actors involved definitely think that Atwater should be the next detective in the hit show.