The Surprising Inspiration Behind Eagly From HBO Max's Peacemaker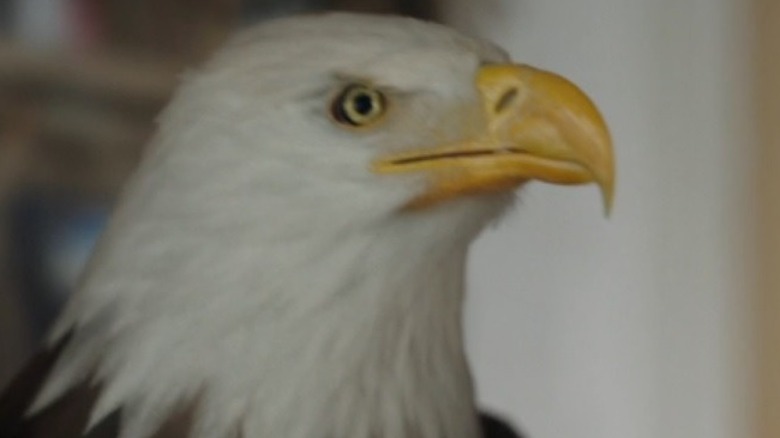 HBO Max
"Peacemaker" is an HBO Max spin-off show inspired by John Cena's character from James Gunn's "The Suicide Squad." Peacemaker himself is an arrogant and sadistic killer who is a hero in his own mind but would be considered a villain by just about anybody else (perhaps, on his best day, we might call him an anti-hero). Trained from birth by his racist father (Robert Patrick) to be a ruthless killing machine, Peacemaker has made many poor decisions throughout his career with little regard for human life. He has even killed his own comrades when the mission calls for it.
His staunchest ally is not Amanda Waller (Viola Davis), or anybody else from ARGUS, a secret government organization. Peacemaker's best friend, in true James Gunn fashion, is a dedicated and adorable American bald eagle, aptly (if not necessarily creatively) named "Eagly." Acting as a comically majestic sidekick for the exceptionally crude Peacemaker, Eagly has already endeared himself to fans, but what was Gunn's inspiration for Peacemaker's feathered friend? Luckily for us, Gunn has used social media to illuminate the character's origin.
James Gunn was inspired by a real life rescued eagle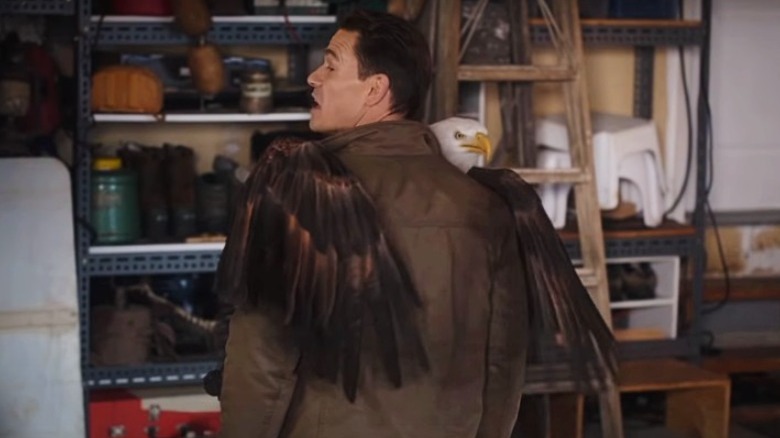 HBO Max
Commenting on Twitter after DC FanDome back in 2021, James Gunn shared a video that he says inspired not only Eagly and his interactions with Peacemaker but also that famous hug, as well. Linking to Youtube, the clip runs for two minutes and 38 seconds, and it shows author and wildlife conservation enthusiast Jeff Guidry and his eagle named Freedom. Having written a book called "An Eagle Named Freedom: My True Story of a Remarkable Friendship" about his experiences with his adopted avian, Guidry talks about how he rescued the sickly eagle and nursed the bird back to health, and comments on the "spiritual connection" he shares with the bird.
Guidry then continues talking about the history he and Freedom share, detailing how he developed his relationship with the injured bird by talking to and even petting his feathered friend. He then tells an anecdote about how he survived cancer treatments, and how, at the treatment's completion, Freedom wrapped his wings around Guidry and hugged him. 
This is a heartwarming story, and now that we are finally getting to see "Peacemaker," the fact that this was the inspiration for Eagly certainly gives fans lots to think about.