1883's Eric Nelsen Confirms What We Suspected About Tim McGraw's On-Set Behavior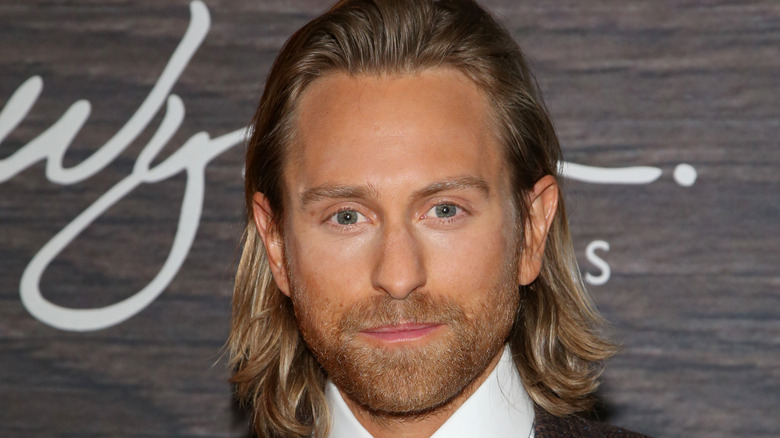 Gabe Ginsberg/Getty Images
Paramount's Network's "Yellowstone" is one of the most popular dramas out there right now, with its Season 4 finale being watched by a whopping 10.3 million people (via TV Insider). Taking that into account, it was only natural for showrunner and creator Taylor Sheridan to decide to bring a "Yellowstone" spin-off to life.
The "Yellowstone" prequel, "1883," which premiered in December 2021, gives viewers the chance to see how the Dutton family came to own the largest ranch in Montana. Tim McGraw plays James Dutton, the great-grandfather of "Yellowstone" lead John Dutton (Kevin Costner), with McGraw's real-life wife, Faith Hill, playing his on-screen wife, Margaret. The rest of the show's impressive ensemble cast includes Sam Elliott, Isabel May, LaMonica Garrett, Marc Rissmann, and Eric Nelsen.
Nelsen plays a young cowboy named Ennis in "1883," and the actor recently gave an interview about his time working on the show. During the interview, Nelsen confirmed what we have all likely suspected about McGraw's on-set behavior.
Eric Nelsen has nothing but nice things to say about Tim McGraw
In a recent interview with Wide Open Country, Eric Nelsen discussed everything from how "Yellowstone" was his "pandemic binge show" to how it's a "blessing" as well as a "responsibility" to be a part of a series like "1883," which already has a major fan base. Additionally, after pointing out that Nelsen's Ennis has "a great dynamic" with Tim McGraw's James, Wide Open Country writer Bobbie Jean Sawyer asked Nelsen what it's like to work with McGraw on the "1883" set. Nelsen responded by saying, "Tim is an awesome guy. He's the big brother on set, you know, always messing around ... He's just a really, really fun guy to be around. He's always making people laugh and smile." 
Nelsen also revealed that McGraw often references their characters' relationship even when no scenes are being filmed. "He likes to riff even when the cameras aren't rolling, which is kind of funny. He's a lot more method than I was expecting him to be on certain days, which all lends itself to helping me stay in character," Nelsen said.
The actor went on to admit that McGraw usually achieved exactly the result that he intended to on the "1883" set, saying, "There would be times where I would just catch him just staring at me when we weren't even filming. He would just be on the other side of the room, just like really giving me a glare, trying to intimidate me. Of course, it worked every single time." Thankfully, Nelsen also revealed that McGraw would "drop the act" at the end of each shooting day, which, hopefully, made the filming experience a bit more lighthearted for the "1883" star.
Of course, we can't wait to see how Nelsen and McGraw's on-screen relationship continues to evolve as more episodes of "1883" are released.