The Alyssa Milano Mystery Dominating Netflix's Top 10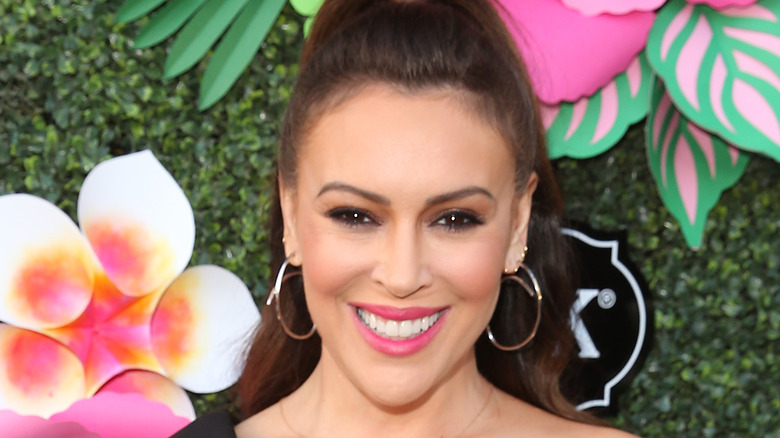 Jesse Grant/Getty Images
Netflix is on the cutting edge of content, continuing to pump out hits like "Cobra Kai," which is in Season 4 and has never been more popular. But the streamer unfortunately has less popular content as well, like the live-action adaptation of "Cowboy Bebop," which was canceled quickly after Season 1. Though it was adapted from one of the most beloved anime series of all time, many fans felt as though the Netflix series was not in line with the source material.
Another show that got canceled early on is Alyssa Milano's comedy series "Insatiable." The show premiered in 2018 and lasted only two seasons before cancelation (via TVLine). The series revolves around Patty Bladell (Debby Ryan), a high schooler who decides to take revenge on her tormentors. While Milano was saddened to see the demise of the show on Twitter, it appears that Netflix has not lost its love for the actress, as a new mystery movie starring Milano is currently rising to the top of Netflix's charts.
Milano stars as a murder mystery novelist solving a real crime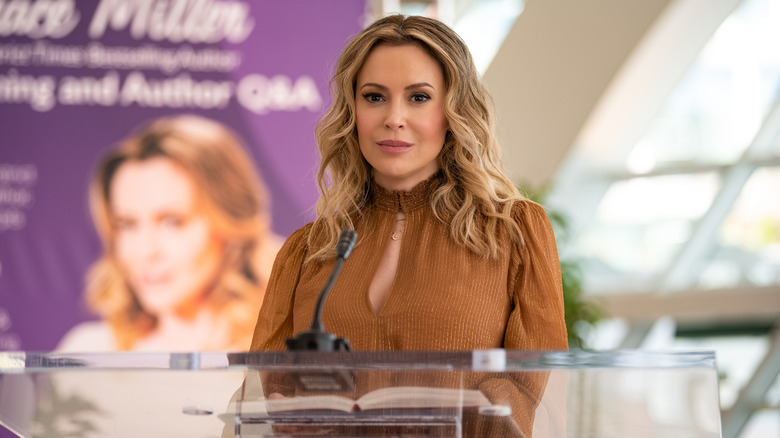 Sergei Bachlakov/Netflix
"Charmed" actor Alyssa Milano stars in Netflix's newest murder mystery "Brazen," adapted from Nora Roberts' book "Brazen Virtue." It features Grace (Milano), who is a murder-mystery writer herself. She comes home to help her sister Kathleen (Emilie Ullerup) amid a tumultuous divorce to find that she has been murdered. Using her experience as a writer and teaming up with detective Ed (Sam Page), Grace is determined to solve the mystery of the death of Kathleen, who she finds out was moonlighting as a cam girl.
Upon release, reviews have not been all positive, with Den of Geek comparing the movie to a less inventive version of "Castle," while Variety concludes it is a "guilty pleasure" film at best. Despite this, viewers appear to be loving it, as it has made a place for itself in Netflix's Top 10. Guilty pleasure or not, the film works for many people, and there is something to be said about the wild, entertaining journey "Brazen" takes audiences on. 
The fast-paced film clocks in at just over 90 minutes and is easily digestible to viewers, with many Netflix subscribers enjoying the movie's premise of a murder-mystery novelist who inserts herself into the investigation of her own sister's death. If viewers are looking for a story with the comforts of a crime procedural while committing to the campiness of the mystery genre, then "Brazen" fits the bill.