Cowboy Bebop Fans Just Got The News They've Been Dreading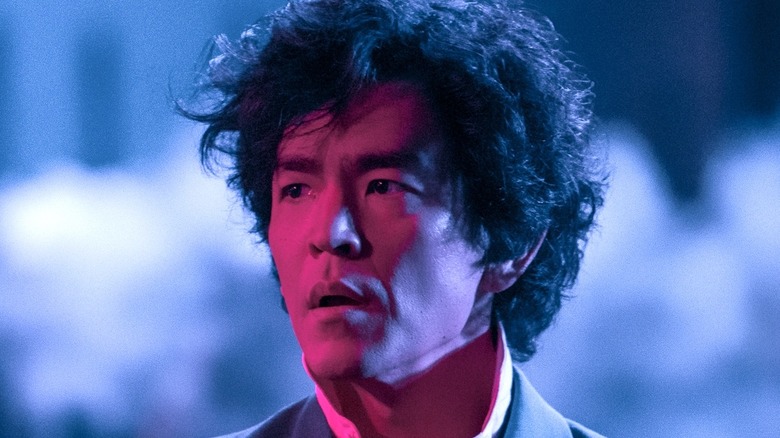 Kirsty Griffin/Netflix
"Cowboy Bebop" is such a popular anime that it's broken out of the anime bubble and made its way into the zeitgeist. So popular and foundational a text is the late '90s anime that it's frequently recommended as a good starting place for newcomers to the anime genre. Basically, if you had to sum up "Cowboy Bebop," it's the animated version of the Joss Whedon sci-fi series "Firefly" before "Firefly" became a thing.
Debuting in 1998, the anime show follows a group of "space cowboys" skirting the law and struggling to survive in a spaceship whose name also happens to be — you guessed it — Cowboy Bebop. The protagonist of this tale is Spike Spiegel, a cool-as-ice bounty hunter with a dark past who rarely shuns the opportunity to make his work fun. Joining Spike on these intergalactic bounty hunts is his close friend, Jet Black, as well as Faye Valentine, Ed, and an adorable dog named Ein. There are action-packed fight sequences and romantic subplots galore, so it's got a little something for everybody. It's easy to see why the show was so popular, even if it only lasted for one season (via IMDb).
The original anime was so popular that it eventually got its own live-action reboot on Netflix. The project was originally announced at Variety in 2017. Then, in 2019, that same outlet reported the project had cast John Cho, Mustafa Shakir, and Daniella Pineda to play Spike, Jet, and Faye, respectively. "Cowboy Bebop" finally debuted in November after releasing more than one exciting trailer to get audiences excited. But it wasn't enough because, this week, Netflix just made a major decision about Season 2 that diehard fans of the show are going to be sad to hear.
After only three weeks, Netflix has decided to cancel the show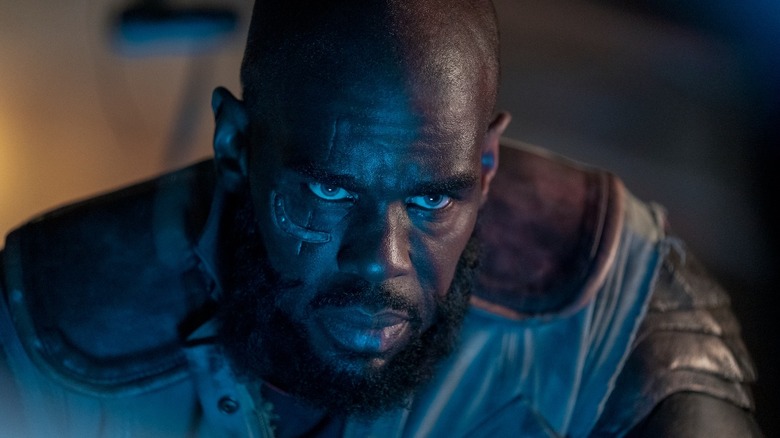 Geoffrey Short/Netflix
In early December, The Hollywood Reporter reported the exclusive news that, after just one season, Netflix has chosen to cancel the live-action "Cowboy Bebop" adaptation. The streaming platform was swift in its decision, opting to cut the project loose following its November 19 release. 
According to the outlet, the cancellation of "Cowboy Bebop" is likely due, to some degree, to the low ratings on Rotten Tomatoes. The series currently holds a 46% critics score and a 56% average audience score. Among the negative reviews of the show, Time magazine remarked, "It misses the core appeal of 'Cowboy Bebop,' which finds its deepest resonance in a richly textured surface." The New York Times was particularly tough on the show, noting, "In its resolute ordinariness, the main value of this new 'Bebop' would be to drive you back to watch the old one." Decider's review echoes these sentiments, stating at one point, "'Cowboy Bebop' isn't cringingly bad, but it's also not particularly memorable either."
Per THR's reporting, it was also noted that, on Netflix's Top 10 site, "Cowboy Bebop" accrued more than 74 million viewing hours globally in the days following its mid-November premiere. However, this didn't last long, as there was a reported 59% drop in viewing hours between late November and early December — a disappointing turn, to be sure. It was, however, noted that the streaming giant "takes pride" in gambling as it did with a live-action adaptation of "Cowboy Bebop."
A final nail in the coffin here is likely the production costs to bring the anime world of "Cowboy Bebop" to life in a live-action setting. Although there is no official reporting on how much it cost to make the show, it's evident that efforts were made to make every facet of the show closely resemble the '90s anime.
Cowboy Bebop cast and fans react to the sad news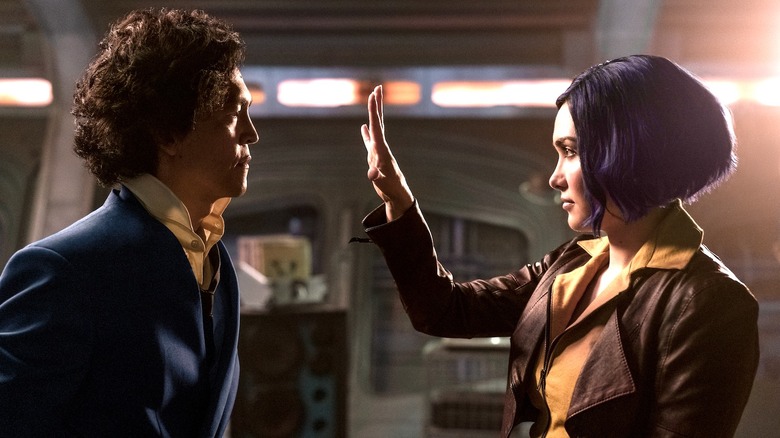 Geoffrey Short/Netflix
So far, social media reactions to the cancellation have largely been mixed. On Twitter, @VincentCruz wasn't exactly dismayed to hear the news, claiming that the show lacked "the spirit of the original." @GenePark thought that the series wasn't all bad but that it ultimately failed "to justify itself." Twitter user @Jaytevah implored Netflix to reconsider the decision, writing, " I was looking forward to seeing where it went. Bummed."
There are plenty of sad fans out there, including people like @stilwell_ who think the move was in part because of a vocal minority of "the social media hate brigade" complaining about it. @QueenJennie17 weighed in, saying that while they liked the actors and the plot, the title was not working for them. They went on to suggest, "Maybe if it had a different name, more people would've given it a shot...???"
Additionally, the cast of "Cowboy Bebop" shared their reactions to the sad news. John Cho put up a very colorful post on Twitter, using a GIF of Tom Selleck saying "I'm okay" while appearing to be not quite okay to explain his feelings. Mustafa Shakir also opted to post a comment on Twitter without directly addressing the news. The Jet Black actor posted a tweet that said, "See you, space cowboys!" and added some emojis and a GIF from the "Cowboy Bebop" anime as a farewell to the show. On Instagram, Daniella Pineda shared a photo of a celebratory toast going horribly wrong, captioning the photo with a simple "Ugh."
At the end of the day, reboots and remakes will never go out of style, so there's always a chance "Cowboy Bebop" could be redone or picked up by another network.