The Character Everyone Forgets Kid Cudi Played On Westworld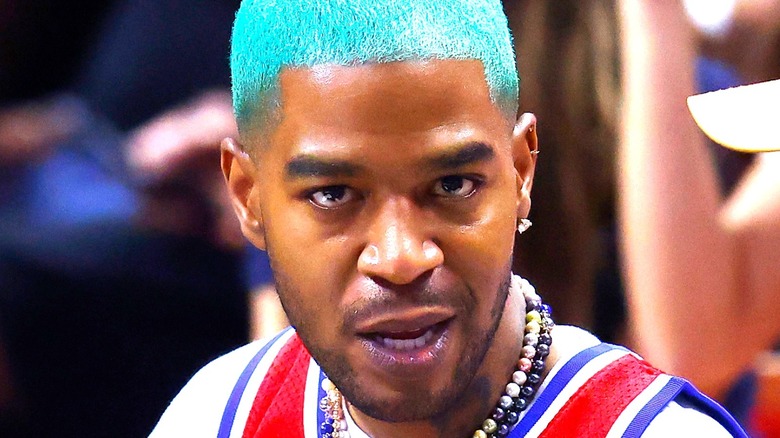 Michael Reaves/Getty
Of the many things that make HBO's "Westworld" one of the buzziest, highest-profile series of the past few years, one of them is its ridiculously stacked ensemble, which has been teeming with movie stars and acclaimed character actors from the get-go. Right in the first season, names like Evan Rachel Wood, James Marsden, Thandiwe Newton, Anthony Hopkins, Jeffrey Wright, Tessa Thompson, and Ed Harris elevated the show as a new TV force to be reckoned with, and subsequent cast additions such as Zahn McClarnon, Aaron Paul, and Vincent Cassel help ensure that each new "Westworld" season feels like a major event.
To that end, the show has also recruited a litany of notable guest and recurring stars over the years — Giancarlo Esposito, Rinko Kikuchi, Peter Mullan, Betty Gabriel, John Gallagher Jr., and Lena Waithe being just a few examples. One of these big gets happens in Season 3, when one Scott Mescudi, better known to some by his stage name Kid Cudi, joined the cast in a recurring capacity.
Kid Cudi played Caleb's deceased friend and virtual therapist Francis
The big character introduction of "Westworld" Season 3 is Caleb Nichols (Aaron Paul), a deeply traumatized former soldier. When we first see Caleb, he's trying to make ends meet by working illegal jobs around Los Angeles, while repeatedly being turned down for every job he applies for. At the same time, he has frequent phone conversations with his friend Francis — but it doesn't take long to piece together that this "Francis" is just a virtual therapist with whom Caleb is consulting, and that the real Francis died a long time ago.
Kid Cudi, credited as Scott Mescudi, plays both the virtual Francis and the real one, who appears in the many flashbacks to Caleb's time in the military. But Caleb quickly finds that his memory is not to be entirely trusted, and so the nature of the two men's friendship, the things they went through together, and the chain of events that led to Francis' death all become part of the season's overarching mystery.
There's much more than Westworld to Kid Cudi's acting career
"Westworld" is arguably Scott Mescudi's most visible project yet as an actor, but his appearance in the show wasn't some one-off popstar casting stunt. In fact, Mescudi has been building a solid, steady career as an actor since 2010.
Premiering in February 2010, Mescudi starred in two seasons of the HBO comedy-drama series "How to Make It in America" as part of the regular ensemble. During that time, he also appeared in two short films, one of which — 2011's "Maniac" — he composed and wrote a song for (via IMDb). After "How to Make It in America" ended, Mescudi made guest appearances in TV shows like "Brooklyn Nine-Nine" and "Scorpion" and one of his first film roles was in, coincidentally enough, the Aaron Paul-starring "Need for Speed." 
From then on, Mescudi began to appear in a significant number of both indie and mainstream films each year, playing the lead's best friend Nick in the acclaimed 2015 indie "James White," calling the experience playing his LGBTQ+ character "dope" and "different than anything else I've ever done" (via Billboard). Just last year, you may also have seen him as part of the ridiculously star-studded ensemble of the Netflix meteor comedy "Don't Look Up," and look out for the A24 horror film "X" in 2022, which is set to feature Mescudi in one of the leading roles.