Here's How Fear The Walking Dead Pulled Off That Season 7 Twin Twist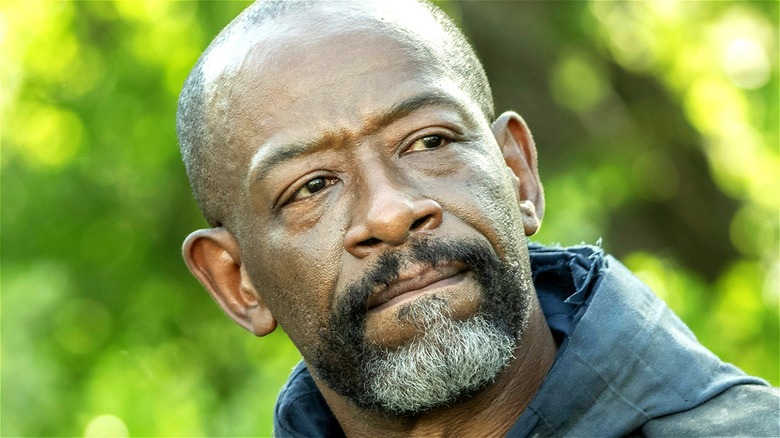 Lauren "Lo" Smith/AMC
The AMC series "The Walking Dead" drew a huge fanbase when it made its debut in 2010 as the story of people trying to survive a zombie plague in a post-apocalyptic America proved compelling from the start. The success of the show ultimately led to a number of spinoffs, beginning with "Fear The Walking Dead" in 2015, which soon garnered its own set of fans.
One of the more compelling characters to show up in "Fear The Walking Dead" was Emile LaRoux. Played by Demetrius Grosse, Emile appeared in only one episode in Season 6 but made a big impression in his brief time on the series.
Fans of the series were thus shocked to discover a character appearing in Season 7 who looked identical to Emile and was also played by Grosse. That character is named Josiah and was revealed to be Emile's twin brother when he pulled out Emile's zombified head from a box. In a recent interview, the "Fear The Walking Dead" showrunners revealed how they successfully pulled off this particular plot twist.
The twist was in the works for some time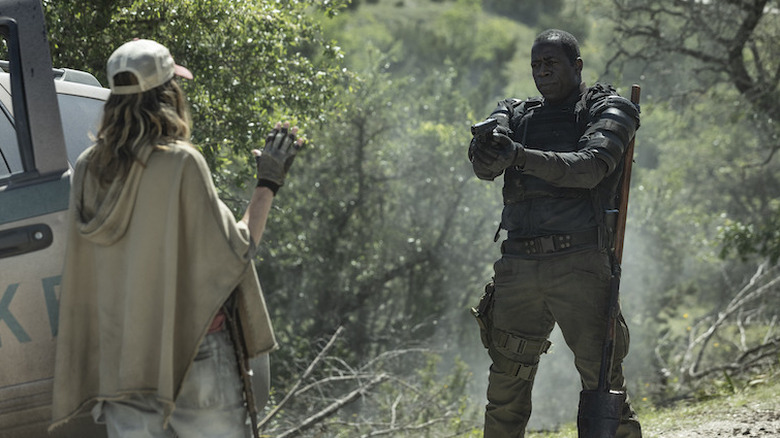 Lauren "Lo" Smith/AMC
In an interview with EW, "Fear The Walking Dead" co-showrunner Ian Goldberg said that the seeds for Josiah's arrival in the show were laid during Emile's tenure, largely because the show's creative team really liked his actor. Goldberg added that the moment where Josiah reaches into a box and pulls out Emile's head is what the show has been building toward.
"We absolutely fell in love with Demetrius Grosse's portrayal of the character of Emile. And that's why if you go back and watch that episode, there was a line when Emile is at the campfire at the beginning where he talks about the beans being his brother's recipe. We intentionally did that then because in our back pocket, we always knew we wanted to have this moment." Goldberg said, referring to the moment where Josiah pulls Emile's zombified head out of the box.
"And the moment we wrote that," Goldberg continued, talking about the scene where Emile brings up his brother, "we wanted to have the moment later where a hand reached into the box carrying that head, held it up, and we saw that it was the same face staring back at the head. That's where the initial inspiration was."