This Surprising Actor Almost Played Mike Logan On Law And Order
Michael "Mike" Logan, as played by Chris Noth, was a much-beloved part of "Law & Order," ultimately appearing on the show 148 times (per IMDb) during its 20 seasons on NBC. After Season 5, Logan (and Noth) was transferred to the spin-off series "Law & Order: Criminal Intent," where he stayed on as a regular for a few additional seasons.
During that time, fans got to know Logan's family background and become familiar with his proclivity for dating around. His background as a victim of child abuse ultimately helped to explain his disdain for criminality at large. At the end of Noth's "Criminal Intent" run, Logan quits the force to try his hand at other professions, after 25 years of working as a cop. 
At this point, obviously, it's hard to picture any other actor but Noth as Logan, but apparently "Law & Order" producers had another name in mind — an acclaimed actor, in fact — for the part when they were initially casting about for the pilot, and you'll never believe who it was.
Michael Madsen was considered for the role of Logan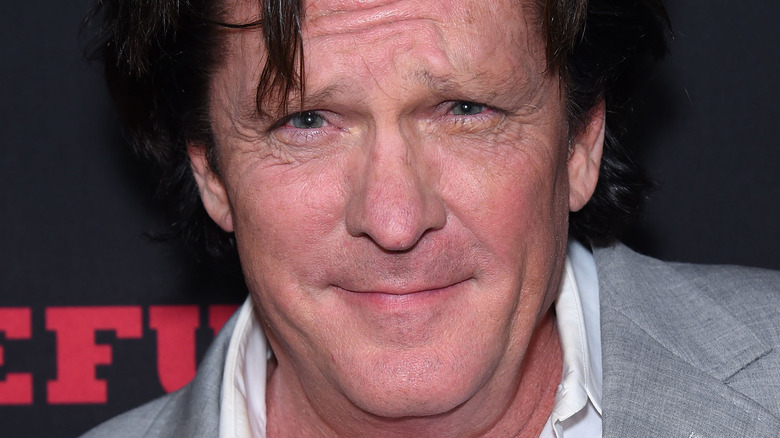 DFree/Shutterstock
According to Mental Floss, which quotes the book "Inside Television Producing" by Richard D. Lindheim and Richard A. Blum, it was actually Michael Madsen who was the preferred choice for the role of Logan. 
Madsen was sought after for the role for what the book calls "great sex appeal," but he didn't make a very good onscreen match with George Dzundza, who portrayed Logan's partner, Seargeant Max Greevey. Noth passed the chemistry test with Dzundza, which resulted in him winning the role. 
Michael Madsen, naturally, did just fine for himself, even if he didn't join up with "Law & Order." he became a repeat performer in Quentin Tarantino's stable of actors, for one: Madsen appeared in films such as "Reservoir Dogs" and "Kill Bill" for the director. His other credits include "Thelma and Louise," "Free Willy," "Donnie Brasco" and "Die Another Day." His TV credits include "24," "CSI: Miami," "Bob's Burgers" and CBS' "Hawaii Five-0" reboot. Either way, it's interesting to imagine how different the character could have been.