Why Gina From B Positive Looks So Familiar
There are very few production houses in contemporary American television with a more impressive track record of hits than Chuck Lorre Productions. From nineties successes like "Grace Under Fire" and "Dharma & Greg" to 21st-century ratings mammoths like "Two and a Half Men" and "The Big Bang Theory," to more recent fan favorites like "Mom" and "The Kominsky Method," it seems that everything Chuck Lorre touches turns to gold — including shows of which he's not the creator.
One major example is "Mike & Molly," which was created by Mark Roberts and ran for six highly successful seasons on CBS, proving that Lorre could have as daft a touch as producer and curator as he does as a writer in his own right. And now, he's proving it again with "B Positive." Like many a House of Lorre offering, the Marco Pennette-created CBS sitcom started out with a clear-cut narrative premise — neurotic man (Thomas Middleditch) desperately needs a kidney donor, is offered one by a reckless party-animal woman he used to know in high school — only to settle into a more casual, less plot-driven hangout groove as cast chemistry developed and the main characters endeared themselves to the public.
Pennette and company couldn't have done it without the lively, show-stopping actress who plays co-protagonist Gina. Although "B Positive" is her biggest screen showcase yet, this actress is actually an award-winning veteran with a storied career. Here are a few of the places where you may have seen her before.
Annaleigh Ashford is an award-winning Broadway star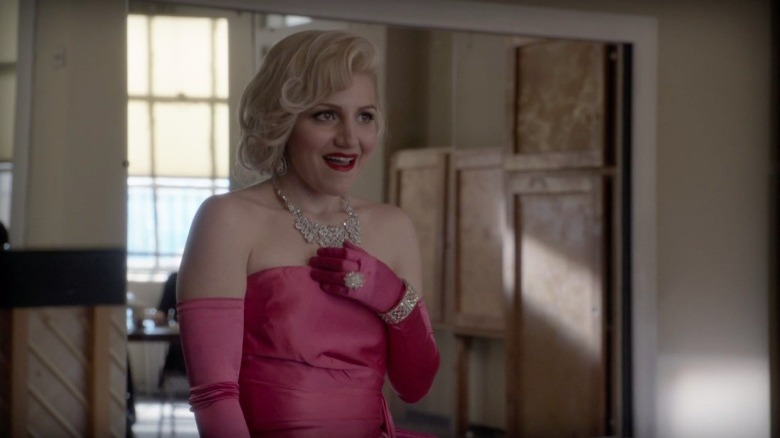 NBC
Triple-threat American entertainer Annaleigh Ashford may still be in "breakout star" or "underrated character actress" territory for some film and TV audiences, but for theater fans, she's been a household name for a while. Throughout the 2000s and early 2010s, she built her cred with a number of appearances as an understudy or replacement in musicals like "Legally Blonde," "Wicked," and "Hair," originated the role of "Kinky Boots'" Lauren on Broadway, and scored the highest honor in American theater — a Tony Award — for her performance as Essie Carmichael in "You Can't Take It With You."
Given her stage background, it's no surprise that her first high-profile screen roles were in the vicinity of the theater world. Between 2010 and 2012, she played a recurring character known as the "Adorable Girl" on "Submissions Only," a comedy web series about the rough and tumble of Broadway auditions, and, in 2012 and 2013, she appeared for two episodes on NBC's musical theater-themed drama "Smash," playing Lisa McMann, a fellow actress who initially competes with protagonist Ivy Lynn (Megan Hilty) for roles, only to give up on show business and pivot to the stationery industry.
Annaleigh Ashford got her screen breakthrough on Masters of Sex
One of the most underrated drama series of the 2010s, Showtime's "Masters of Sex" was a rarity not just in American television but in American entertainment, period: A show that endeavored to take a frank, understanding, stigma-free look at the ins and outs of human sexuality. In that way, the biographical period series mirrored the work and legacy of its two protagonists, groundbreaking sexologists William Masters (Michael Sheen) and Virginia Johnson (Lizzy Caplan), who made history by going where no sexuality researchers had gone before, smack in the middle of the repressed 1950s.
Originally a recurring star on Season 1, Annaleigh Ashford eventually got upgraded to full series regular status thanks to the success of her character. Channeling her customary wit and spunk, she played Betty DiMello, a prostitute who became one of the first volunteers in the studies of Masters and Johnson, and later found work as the receptionist at their Reproductive Biology Research Foundation; later seasons gave Betty more focus and an increasingly dramatic plot, and Ashford, of course, aced everything that was thrown at her.
Annaleigh Ashford appeared on two seasons of American Crime Story
As a highly talented, severely underused rising star in the television world, it was only a matter of time before Annaleigh Ashford joined the fold of the Ryan Murphy-verse. Soon after it was announced that Season 2 of anthology series "American Crime Story" would be "The Assassination of Gianni Versace," Ashford was cast as Elizabeth "Lizzie" Cote, a lifelong friend of Andrew Cunanan (Darren Criss). Although the role was a recurring one, it gave Ashford plenty of chances to shine, most notably during the finale scene in which Lizzie pleads on television for Andrew to stop his killing spree.
Later, Ashford was one of the "legacy actors" from previous seasons, along with "The People v. O.J. Simpson" star Sarah Paulson and "Versace" actor Judith Light, to return to the show on its Clinton-Lewinski-focused third season, "Impeachment." Ashford played Paula Jones, the maligned former Arkansas state employee who sued Bill Clinton (Clive Owen) for sexual harassment, and utterly disappeared into the role, earning rave reviews. The Playlist called her a "highlight" among the star-studded ensemble, and praised the "humanity" she brought to her portrayal of Jones.
Annaleigh Ashford played Lilly Darrow on Unbelievable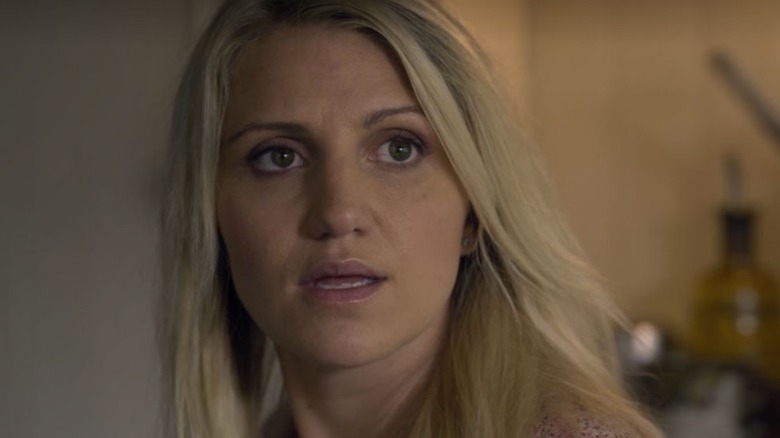 Netflix
Much like "Impeachment: American Crime Story," Netflix's "Unbelievable" found Annaleigh Ashford playing a sexual abuse victim struggling to find justice. Save for that contextual similarity, however, the two roles couldn't be more different.
Following the efforts of two female police officers (Merritt Wever and Toni Collette) to reopen and do right by a series of unsolved rape cases they feel might be linked by a single perpetrator, "Unbelievable" is a deeply nuanced, startlingly revelatory miniseries that picks apart all the ways in which a mostly male-driven law enforcement and justice system fails victims of sexual violence. One of the many victims' perspectives presented by the show belongs to Lilly Darrow, played by Ahsford. An eccentric Druid faith practitioner, Lilly recounts with unfazed matter-of-factness the time she jumped off her balcony and fractured multiple bones to escape the man who broke into her home, and volunteers her guess: If he hasn't been caught yet, it was probably a cop.
The male officer previously attached to her case admits that he didn't take her very seriously, having even attributed her testimony to the consumption of muscle relaxant kava kava. It's an indictment of how U.S. law enforcement handles rape cases: Lilly's story is as real as everyone else's — in fact, key evidence ends up being found in her house. But her kooky personality and unconventional faith mark her as a "bad victim," causing her perspective to be all but shrugged off.