The Real Reason Mindy Sings So Much In Emily In Paris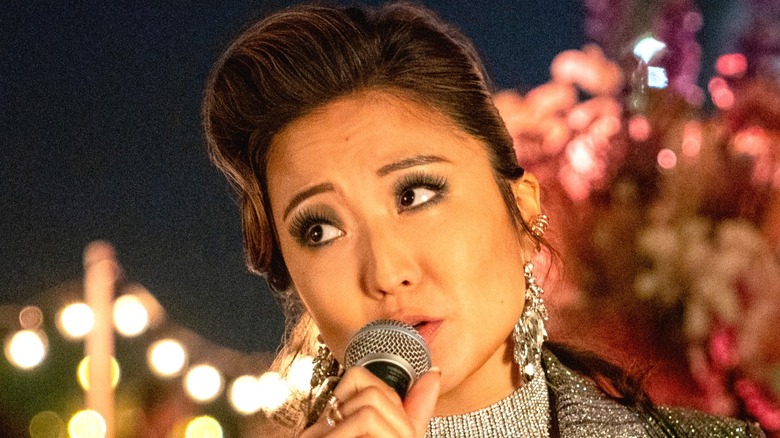 STÉPHANIE BRANCHU/NETFLIX
Season 2 of "Emily in Paris" is currently available for streaming on Netflix, and the guilty pleasure scales back on the selfies and social media speak. The Darren Star ("Sex and the City") series remains an acquired taste much like stinky French cheeses, but it's a must-watch for those who can't quite swing a trip to the "City of Light" but long for the next best thing.
Season 2 continues to follow Emily Cooper's (Lily Collins) exploits as an expatriate, including her love triangles and quadrangles, over-the-top fashion choices, and work-related faux pas. However, the supporting players get juicer storylines. Since Paris is also the City of Love, Sylvie (Philippine Leroy-Beaulieu), Julien (Samuel Arnold), and Mindy Chen (Ashley Park) get new paramours as part of their beefed-up story arcs.
Mindy doesn't just get a boyfriend in Season 2; the daughter of a billionaire also gets more musical numbers. In Season 1, the aspiring singer is too traumatized by her disastrous audition on the Chinese equivalent of "American Idol" to showcase her considerable talent immediately. However, Season 2 has Mindy crooning at every turn, and with that in mind, here's the real reason she sings so much on "Emily in Paris."
The creator of Emily in Paris loves Park's singing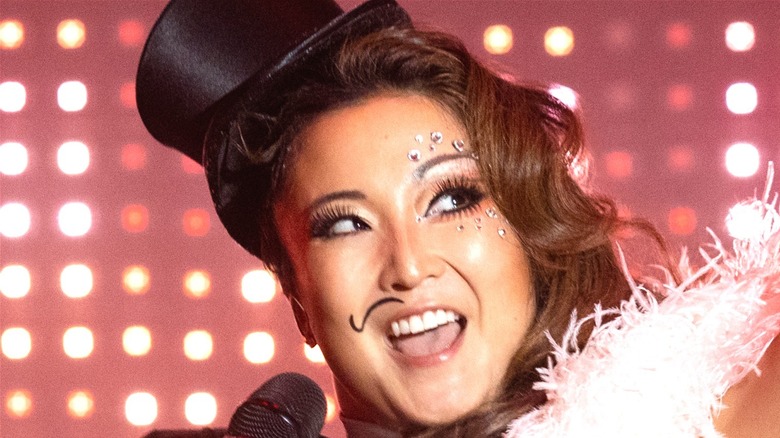 Netflix
Mindy has more musical numbers during Season 2 of "Emily in Paris" because Darren Star is a fan of Ashley Park's voice. In 2018, Park earned a Tony Award nomination for best-featured actress in a musical for her role as Gretchen Wieners in the stage adaptation of "Mean Girls." Star told Glamour, "I had seen Ashley twice [as Gretchen Wieners] in 'Mean Girls' on Broadway and I loved her. She just destroyed me, she was so amazing."
Park tackles multiple songs during Season 2, including a cover of "Dynamite" by BTS, and an original ballad entitled "Mon Soleil" ("My Sun"). Although Mindy wasn't originally supposed to be a singer, a starstruck Star rewrote the character because he "selfishly wanted to hear Ashley sing."
However, Mindy's singing aspirations provide an interesting subplot, giving depth to a character who initially appears to be a spoiled rich girl living it up in Paris. Initially, Mindy's sole purpose is to serve as a sounding board for Emily and her litany of champagne problems. Park told Vulture she and Star discussed how to infuse Mindy's singing organically, making it "story driven and not just singing for the singing." "Emily in Paris" is about taking chances, even if it means embarrassing missteps along the way. The character of Mindy is much more relatable as she stumbles but, like her American bestie, manages to stand back up in very high heels.