Here's What Happened To Titin After Shark Tank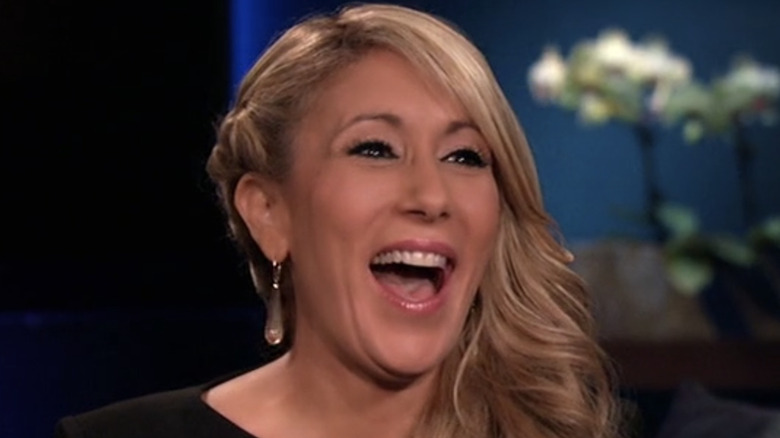 ABC
We may receive a commission on purchases made from links.
Since first airing in 2009, "Shark Tank" has become a massive hit for ABC. The reality series tests the mettle, ingenuity, and salesmanship of budding entrepreneurs as they pitch their business ideas to a panel of investors, including Barbara Corcoran, Mark Cuban, Lori Greiner, Robert Herjavec, Daymond John, and Kevin O'Leary. After introducing the product and making their pitch, contestants then make their "ask" of the panel — a specific dollar investment amount in exchange for a stake in the company.
The show's popularity is no doubt due in large part to the post-pitch back and forth that takes place between the panel of investors and entrepreneur contestants. It's a high-stakes, high-pressure experience that can often turn into a grueling crucible, sometimes requiring post-pitch therapy. Some entrepreneurs walk away from the tank with a significant investment and the backing (as well as support) of one or more investors. Some fail to get a deal but manage to leverage the exposure gained from their appearance on the show and translate it into business success. For others, even the backing of a Shark isn't enough to prevent them from falling foul of the market and disappearing into obscurity.
Titin, featured on Season 6 Episode 7 in 2015, was a health and fitness product that provoked a lively exchange between a highly dubious Mark Cuban and the product's inventor Patrick Whaley. Despite Cuban's vocal cynicism, Titin did secure a deal for Whaley, but did that lead to business success?
Titin is no longer in business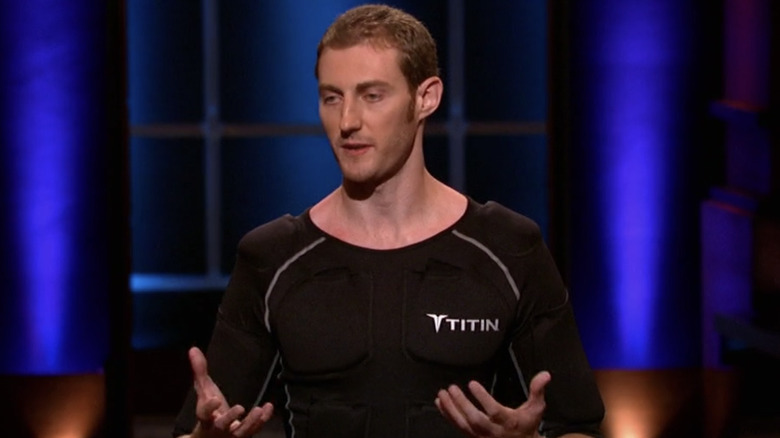 ABC
Titin was a line of gel-weighted compression vests and shorts pitched by founder and CEO Patrick Whaley to help build muscle and stamina faster. The gel inserts can also be heated or cooled for post-workout recovery. In the "Shark Tank" Season 6 episode, Shark Mark Cuban appears immediately hostile to Whaley's claims, demanding that the entrepreneur "talk science to me." When he hears Whaley's explanation, Cuban declares, "My BS meter is going through the roof!" (via YouTube). Whaley ends his pitch by saying he is looking for $500,000 for a 5% stake in the company.
Despite Cuban's very vocal challenges, fellow Shark Daymond John ended up investing $500,000 for a 20% stake in Titin. As revealed on Episode 108 of the "Shark Tank" spin-off show "Beyond the Tank," after researching Titin further, John decided to increase his offer to $1 million in return for a 50% stake (via Shark Tank Blog). Whaley agreed, and Titin became John's largest "Shark Tank" investment up to that point.
Unfortunately, as of 2021, Titin is no longer in business. The official Titin website is inactive, and the company's social media accounts, including Instagram, have been deactivated or are dormant. The gel-filled weighted compression gear used to be available to purchase on Amazon and Walmart, but both platforms no longer stock the product. According to the Shark Tank Blog post, fraud allegations were leveled at Titin by another entrepreneur who claims the technology for the product was stolen. It appears that if you want to get hold of your own "patented force weighted shirt system," looking for the product on eBay or Facebook Marketplace is your only recourse.
"Shark Tank" Season 6 Episode 7, featuring Whaley's Titin pitch, will be rerun on ABC at 8 p.m. ET on Thursday, January 13. The episode is also available to stream on Hulu.