What You Didn't Know About Law And Order: SVU Titles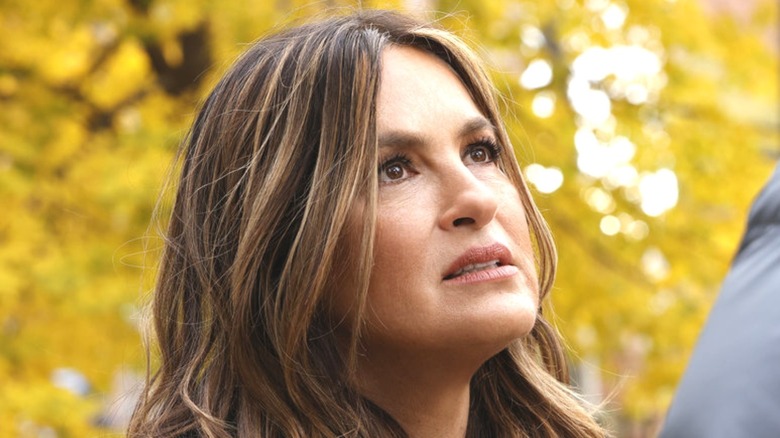 Will Hart/NBC
"Law & Order: SVU" is a show that's not afraid to throw in a few Easter eggs for the most hardcore of fans to catch. For instance, the show's 500th episode offered a special nod to Danny Pino's career and how he got his start on "Cold Case" on CBS. In another instance, fans spotted an unusual object on Amanda Rollins' (Kelli Giddish) desk in a Season 2 episode, namely a chipmunk in a glass case, which is a nod to the character having roots in Georgia (via Yahoo).
However, Easter eggs aren't few and far between on the procedural. In fact, if you look closely at the title of episodes, you'll come across a trend that was present from Seasons 13 through 17. Fans may recognize that as the arc where Warren Leight served as showrunner. It appears he wanted to keep a tradition alive during that time, and if you go back to watch those episodes, you'll want to pay close attention to the titles.
For a while, the episode titles had the same letters as the season number
You might not think too much of looking at an episode list for "Law & Order: SVU." The episodes all have fairly straightforward titles in the early seasons, like "Runaway" and "Repression." In fact, many of the early episodes merely have a single word as a title; nothing too fancy. But then something begins to happen once you get to Season 13. For several years after that point, the episode titles all have as many letters as the season they come from. 
For example, Season 13 has episode titles like "Scorched Earth," "Personal Fouls," and "Blood Brothers." If you count the number of letters in each of those phrases, you'll find they all have 13 letters, which is appropriate since they come from the 13th season. This trend continues for Seasons 14, 15, 16, and 17, but starting with Season 18, it falls off. At that point, you get episode titles like "Terrorized" and "Imposter," which noticeably don't have 18 letters each. 
However, showrunner Warren Leight returned for Season 21, and when he came back, the tradition resumed. You'll find episodes called "I'm Going to Make You a Star" and "The Darkest Journey Home," which all have 21 letters. Assuming it continues in that trajectory, "Law & Order: SVU" should keep on getting longer and longer titles. We'd be very curious to see what episodes are called once if the show ever gets into Season 30 territory.