The Cheesy Horror Movie You Forgot Starred Tom Hanks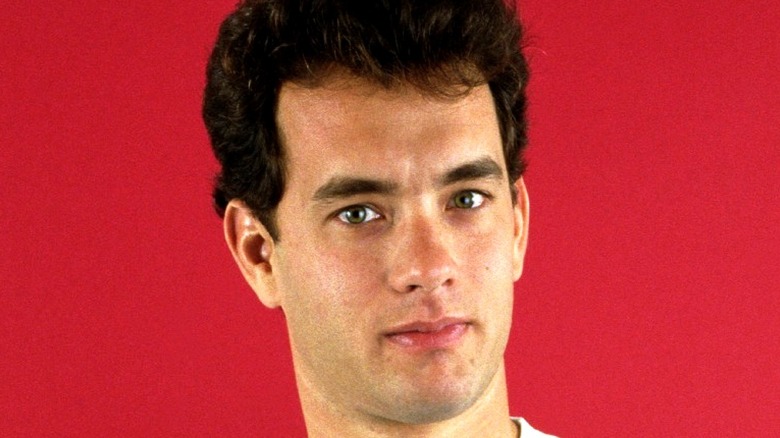 George Rose/Getty
Few actors have enjoyed as illustrious a career as Tom Hanks. The versatile, two-time Oscar-winning performer has amazed and delighted audiences in a wildly successful career spanning over four decades. Somehow escaping the typecasting of lovable nutball that first enshrouded him in the 1980s after starring in silly comedies like "Bachelor Party," "Splash," and "The Money Pit," Hanks managed to continually reinvent himself. After wowing viewers as a 12-year-old trapped in a grown-up body in 1988's humorous and heartfelt "Big," he gained serious momentum in Hollywood.
A wide variety of iconic roles would follow, including the titular character in "Forrest Gump," heroic astronaut Jim Lovell in "Apollo 13," Woody in the "Toy Story" franchise, an honorable WWII soldier in "Saving Private Ryan," a puzzle-solving professor in "The Da Vinci Code," and many others — currently his resume counts over 90 acting credits (via IMDb). Rarer yet for a Hollywood star of his caliber is his longtime (over 30 years) marriage to actress Rita Wilson, and his reputation in tinseltown as one of the truly all-around good guys. Good luck finding anyone with anything negative to say about Hanks. Gifted as he is, the actor's never really played the part of a celebrity. 
Still, Hanks didn't always get to pick and choose his projects. Like most actors, he had to work his way up from the bottom. In his case, that meant appearing in a little-remembered low-budget horror film — maybe the one genre where the legendary Hanks just doesn't seem to belong.
Tom Hanks just isn't the slasher type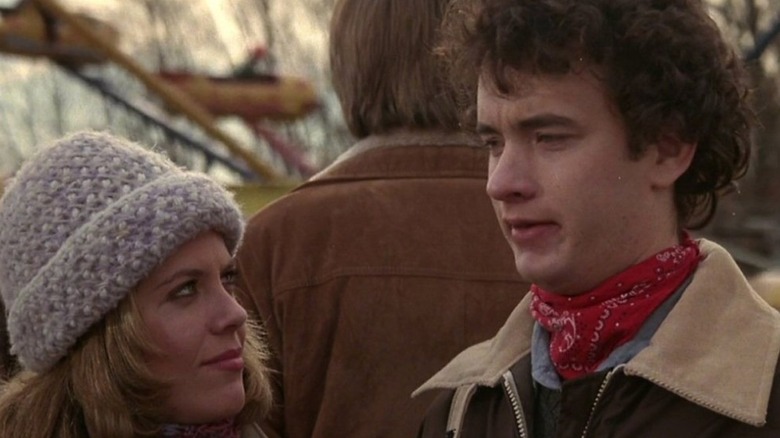 MGM
While far from a meaty role, Tom Hanks' feature film debut was in 1980's "He Knows You're Alone," which currently has a 30% on Rotten Tomatoes. The iffy premise of bride-to-bes being butchered before their weddings didn't exactly light up the box office, nabbing just under $5 million (per Box Office Mojo). Nevertheless, it's fair to say that through this film, a star was born — sort of.
Hanks is hardly the only well-known face to appear in such a cheesy horror film earlier in his career, and this type of low-budget horror fare was rather popular at the time. In fact, Kevin Bacon costarred in the significantly more successful "Friday the 13th" the same year, though he doesn't seem to like talking about it much either, despite his film being considered a cringey-style classic. Hey, these guys all have to start somewhere, right?
It's not like "He Knows You're Alone" was the only awkward step on the Hanks stairway to fame and fortune. There were several other interesting early roles of his you may not remember (and he may not want you to). How about his TV-movie turn as a troubled gamer in 1982's "Mazes and Monsters"? Or his starring role in the ill-fated gender-bending sitcom "Bosom Buddies"? Even later in his career, he still had his share of misfires, like 1988's "Punchline" with Sally Field, which made just over $21 million at the box office (via Box Office Mojo).
So no matter how impressive his resume may be — and in fairness, it's about as impressive as they come — it all began with a slasher film called "He Knows You're Alone" that made no money. Despite that, it certainly made a great first impression for Hanks.