Liam Neeson Agreed To Star In A Million Ways To Die In The West Under One Condition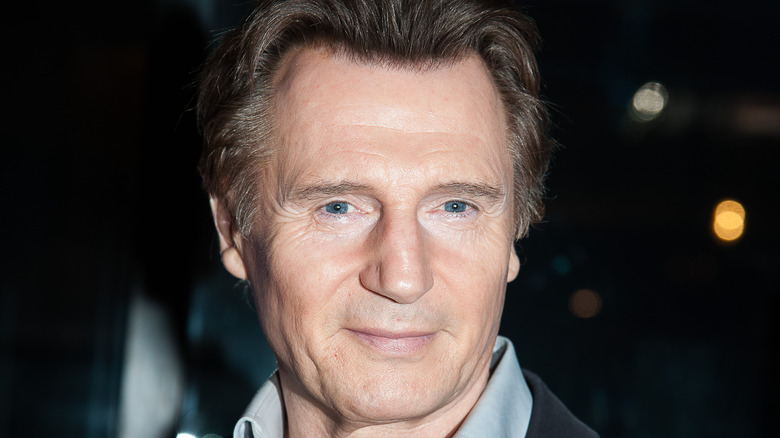 Dave Kotinsky/Getty Images
Northern Irish actor Liam Neeson has been a steady presence in movies since making his debut in 1978, appearing in films such as "A Prayer for the Dying" and "Darkman" before garnering an Oscar nomination for his work in the 1993 film "Schindler's List," in which he plays Oskar Schindler, a historical figure who helped save Jewish people from genocide in Germany during World War II.
Throughout his career, Neeson has dabbled in numerous genres, taking on fantasy as Qui-Gon Jinn in "Star Wars: Episode 1 – The Phantom Menace" and doing both a historical biopic with the 1995 film "Rob Roy" and a historical fiction with the 2002 film "Gangs of New York." He's also made his mark in the action genre starting with the 2008 film "Taken" and its two sequels.
However, fans of the performer were surprised to learn of his casting in the Western comedy "A Million Ways to Die in the West," a surprise that was compounded by the news that he would be playing the film's villain, Clinch Leatherwood. In an interview just before the film's release, Neeson spoke more about the role, saying there was only one condition under which he would have accepted it.
Neeson wanted to poke fun at a Family Guy joke
In an interview with Today, Liam Neeson said that when he got the call for "A Million Ways to Die in the West," his one stipulation for doing the role was that his character must have "a very broad Irish accent." Neeson made this demand to co-writer and director Seth MacFarlane in response to a joke on the animated series "Family Guy" (created by MacFarlane) that poked fun at the idea of Neeson playing an American cowboy.
"His main character, the little fat father in 'Family Guy,' they were making fun ... 'Imagine Liam Neeson being in a Western. Haha! With that funny accent of his.' So when Seth called me to ask if I'd do ["A Million Ways to Die in the West"], I said, 'I'll do it on condition that I do it in a very broad Irish accent.' So he agreed." Neeson said.
Neeson's remark about "Family Guy" is referencing a scene in the show in which Peter Griffin (MacFarlane), the family patriarch, says someone will "be as hopeless as Liam Neeson when he tries to play an American cowboy." The show then cuts away to a fictional scene showing Neeson voicing a character in a Western whose American accent rapidly degrades into an Irish one.