The Netflix Rom-Com Scene Zoey Deutch Regrets Filming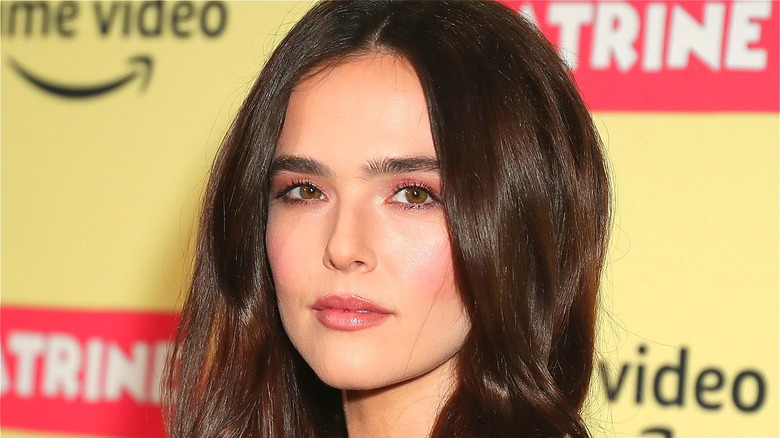 Leon Bennett/Getty
According to Rotten Tomatoes' Critics Consensus, 2018's "Set It Up" follows the "long-established outlines of the rom-com template — and in the process, proves there's still a substantial pleasure to be wrought from familiar formulas." The Netflix film stars Zoey Deutch and Glen Powell as overworked assistants Harper Moore and Charlie Young, who hatch a plot to get their demanding bosses together. 
Yes, it's formulaic, but in a comforting, relatable, and fun way, which is exactly how a good rom-com should work. And yes, there's that one scene: a sweet, funny lightbulb moment, in which the two main characters unexpectedly bond and realize (at least for a moment) that they're into each other, despite all the other things causing havoc in their lives — in Charlie's case, a hot, but boring model girlfriend; in Harper's case, an internal struggle surrounding her efforts to write something amazing to impress her sports journalist boss. 
In "Set It Up," that scene happens after the two get drunk at her best friend Becca's (Meredith Hagner) engagement party. Harper craves pizza, so she and Charlie grab one and go to his place, only to discover that his roommate Duncan (Pete Davidson) is entertaining. So they get into his room by using the fire escape and do a lot of staring at each other while eating pizza. Called "an instant classic" and "the most romantic scene I've ever seen in any movie" by fans commenting on Netflix's official YouTube clip, the scene was sadly also the one that Deutch may most regret filming.
Deutch threw up while eating four pizzas for that scene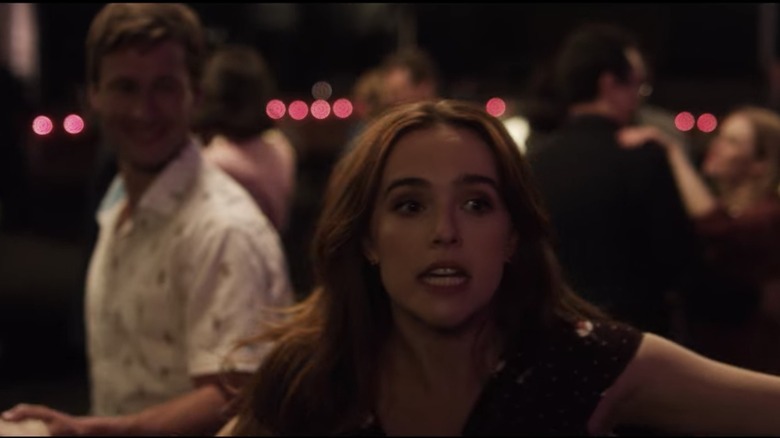 Netflix
It all started out well, of course. Deutch loved the script for "Set It Up," telling HelloGiggles that her response to it was "I have to play Harper. I will do everything it takes to play Harper." And she says she was legitimately excited about the pizza scene, "one, because I knew it was gonna be special, and I was just stoked about it. And also because it was an awesome opportunity to eat pizza, which if you know me, you know I love pizza and I love pasta. I love carbs." With that in mind, Deutch went to the propmaster and asked for a specific pizza: a plain cheese from Joe's Pizza. The prop master got her four pies, while her co-star Powell got a gluten-free version "because he's healthy and takes care of his body, unlike [me]" the actress said.
Unfortunately, though, she couldn't actually down four full pizzas. "I threw up violently halfway through the scene," she revealed. "And then I had to proceed to be very close to Glen Powell, who now, I think, looks at me in a very different light. So that was something that happened."
Despite that experience. which she said contains "some real undertones of pain, physical pain," she still likes pizza. "But you would think I would be deterred after that experience. But alas, I'm still not taking care of myself," she told HelloGiggles.
Director Claire Scanlon tried to stop Deutch, but failed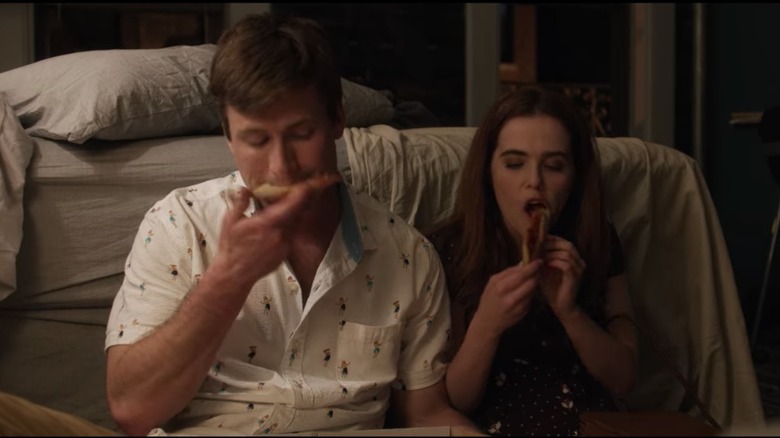 Netflix
Deutch's account has been corroborated by the movie's director, Claire Scanlon. She told Entertainment Tonight, "Zoey puked because she's so flipping Method that she ate way too many pieces of pizza. I said, 'Don't eat the pizza! There's a spit bucket! Spit it out!'" She recalled that she told Deutch that her character doesn't even need to eat a whole slice, but she insisted on eating more pizza anyway.
And Powell had some issues in the scene as well. "Glen was sick. I mean, they were both so sick of pizza," the director said. "I don't know if you can catch it, but there's grease on Glen's face, and I love that it was messy and greasy. They were like, 'Oh, should we clean that up?' I was like, 'No! That's the way that you eat pizza! It gets messy. And they're drunk! They don't notice there's grease on their faces. So, it was fun, but I felt for them, too."
Scanlon admitted that this description destroys any idea that the scene was at all romantic. But she also can't deny the power of the now-iconic pizza scene. "I think it's the fact that it's the people you want to see together and their moment of connection where they kind of get a clue. So people are projecting onto the pizza and putting more power into the actual pizza than there really is. But I appreciate that people are connecting to it!"