Here's What Happened To Ice Shaker After Shark Tank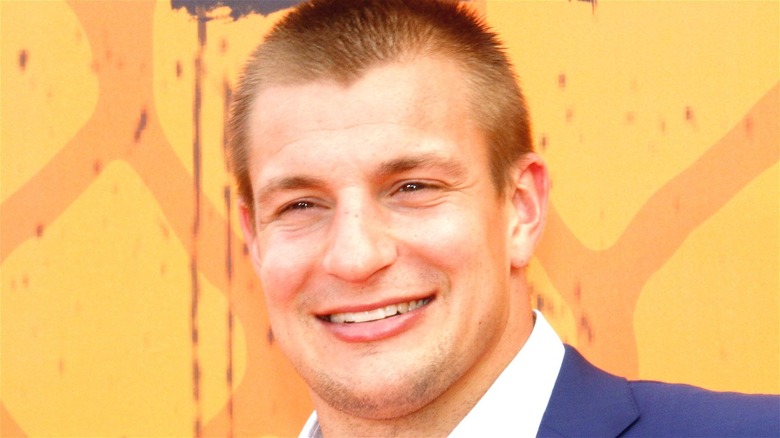 Tinseltown/Shutterstock
"Shark Tank" has a knack for churning out best-selling products with the help of its trust panel of investors, aka the Sharks. Over the course of 12 previous seasons, plus the 13th season that is airing now, the Sharks have had many memorable products pitched to them, including a robot suit and a fake golf club you can use to relieve yourself. While some business proposals flop on the spot, there are just as many pitches that turn into success stories. In fact, 20 of "Shark Tank's" best-selling products have generated a combined $1.8 billion in retail sales as of 2019, thanks to the ingeniousness of products like the Scrub Daddy and Squatty Potty taking off in the marketplace, according to USA Today.
One of these "Shark Tank" success stories comes courtesy of former NFL player Chris Gronkowski, who pitched his Ice Shaker to the Sharks on Season 9. Gronkowski had some help with his pitch when he brought in his four brothers — all of whom have played professional sports, including Tampa Bay Buccaneers tight end Rob Gronkowski — to do a demonstration of his product. What is that product, you ask? Per Gronkowski's pitch, the Ice Shaker is a stainless steel blender bottle that can hold up for up to 30 hours — perfect for gym-goers. Gronkowski asked the Sharks for a $100,000 investment for a 10% stake in his company (via YouTube). What happened after he made his "Shark Tank" pitch resulted in a huge business boom for the Ice Shaker.
Chris Gronkowski's Ice Shaker was a massive success after Shark Tank
After Chris Gronkowski made his pitch, complete with a fun game of flip cup with his brothers against the Sharks, he found himself in the middle of a bidding war between all five Sharks, including guest Shark Alex Rodriguez. After some deliberation, Gronkowski accepted an offer from Mark Cuban and Rodriguez: $150,000 for a 15% stake, according to the official Ice Shaker site.
Since Gronkowski appeared on "Shark Tank" in 2017, the Ice Shaker made $3 million in sales in less than a year, which is just a slight increase from its $80,000 in sales in its first six months, per CNBC. The Ice Shaker has since been produced into 140 different bottles between a variety of colors and sizes and is also sold in all Lifetime Fitness and The Vitamin Shoppe locations along with over 3,500 GNC stores (via the official Ice Shaker site). In an update from 2018, Rodriguez popped back in on "Shark Tank" and also said the Ice Shaker was up 500%. 
Gronkowski's brother, Rob Gronkowski, seemingly wanted to get in on the Ice Shaker action and bought out Rodriguez's stock in the company, and has since created his own line of "Gronk"-themed Ice Shaker bottles. Sounds like the Ice Shaker turned out to be yet another "Shark Tank" success story.