Cobra Kai's Griffin Santopietro Reveals What It's Like Working With Ralph Macchio And William Zabka - Exclusive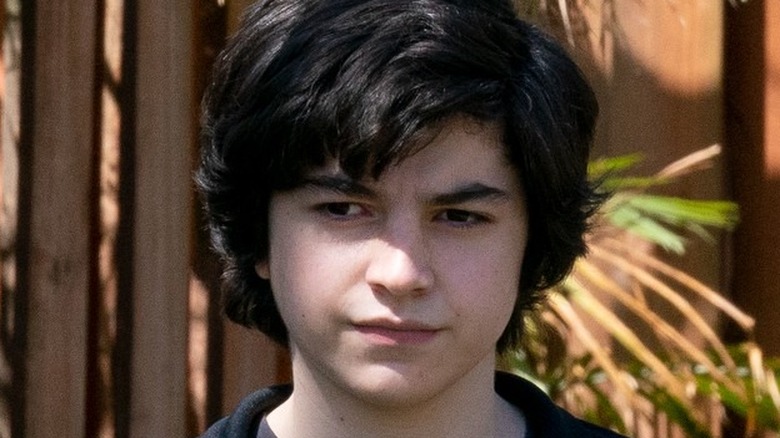 Netflix
As one of the original cast members of the hit Netflix series "Cobra Kai," Griffin Santopietro has had the great opportunity to share scenes with several core members of the cast, including Ralph Macchio, Courtney Henggeler, and Mary Mouser. As Anthony, the youngest member of the LaRusso family, Santopietro has no doubt established a presence throughout the first three seasons of "The Karate Kid" spinoff series, but Season 4 of "Cobra Kai," new to Netflix, finds the young teen coming into his own with an important story arc involving the real-life epidemic of bullying.
As a result, Santopietro finds his role — along with his character's first step into adulthood as an 8th grader — bigger and more complex than before, as Anthony gets caught up in a group that taunts a new student to their school named Kenny (Dallas Dupree Young). Eventually, Anthony's parents, Daniel (Macchio) and Amanda (Henggeler) find out about their son's troubling behavior, which leads to scenes where they all have to confront the issue.
Macchio has taught Santopietro about professionalism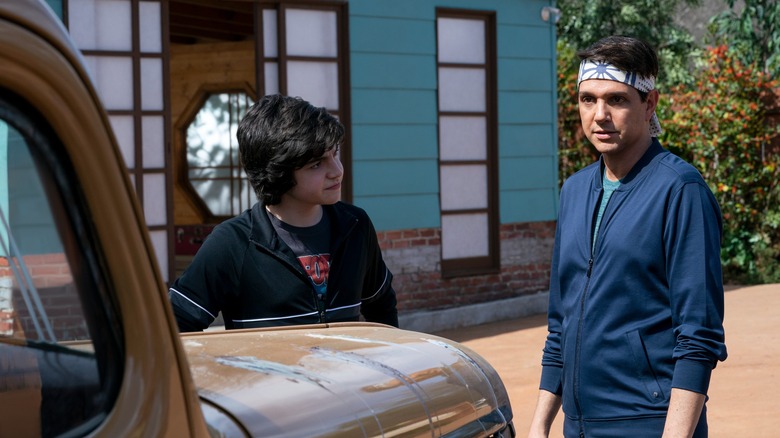 Netflix
Naturally, Santopietro's important story arc in season 4 of "Cobra Kai" means he gets a lot more time to act with Macchio. Whether it's about this season's storyline or all that's come before it, Santopietro told Looper in an exclusive interview that he's honored to have Macchio not only as a co-star, but as an acting mentor since the series began in 2018.
"It's been so great getting to work with this guy. I mean, he's the most hands-on and devoted person I've ever really gotten to work with, and I've worked with him a lot," Santopietro said. "Since I was 11, I've been getting to watch this guy put his effort in and between takes he'll move stuff if it's not working."
In addition to acting, Santopietro said Macchio has taught him a lot "about professionalism in general."
"For five years I've been with this guy. So, I do think he's been a very important person in my life to get to finally have great scenes with him and get to see how he does everything, and get to play off it," Santopietro added. "It was really, really great this season."
Santopietro says he can always count on Zabka for laughs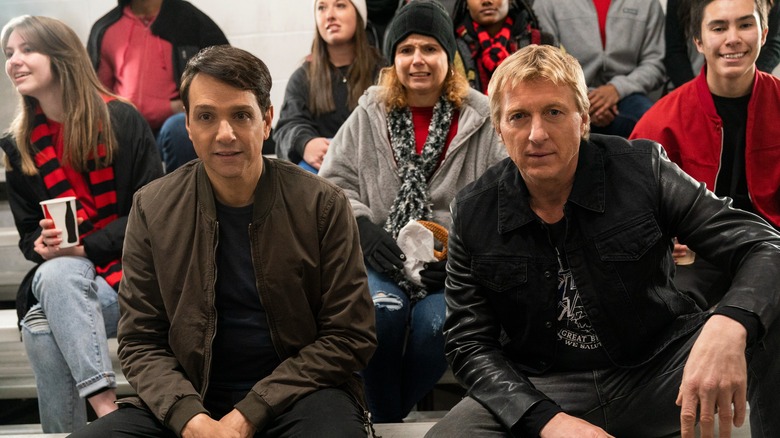 Netflix
While Santopietro doesn't have near the number of scenes with William Zabka that he has with Macchio, he cherishes every single opportunity — including a brief, but very funny exchange of insults between Anthony and Zabka's Johnny Lawrence in Episode 2 of Season 4.
"That was so much fun. And that was the only time I had got to work with him since I think season 1, where I had the same kind of interaction with him, but he's just the funniest guy and he's so great, but it's fun," Santopietro enthused. "I really do like that we were able to butt heads, just like this kid was like, 'What is it?' We're not necessarily mad at each other. We're just don't like each other for no reason. I'm just like, 'I don't want you in my house.' And he's like, 'I don't want you here.' But it was so much fun getting to do that with him."
Whether he's filming scenes with Macchio or Zabka, Santopietro still finds the opportunity to be working with them a bit surreal considering how much of a fan he is of the original "Karate Kid" films.
"I do find it interesting, just for the fact that I'm watching these iconic films and I actually get to work with these people in the film," Santopietro revealed. "I think re-watching them now, I see them the same. I enjoy them just the same, but I think actually knowing these people in this film is just crazy."
"Cobra Kai" Season 4 is now streaming on Netflix.