Sharknado 5 Goes International In New Poster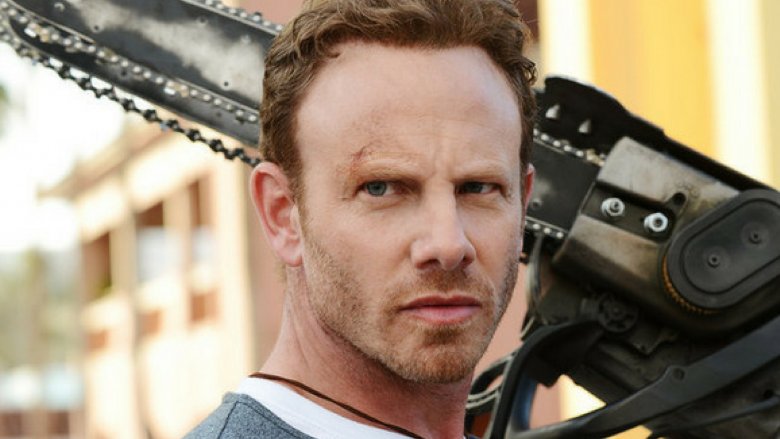 The first look at the human stars of Sharknado 5: Global Swarming is here. SyFy released a poster for the upcoming flick to E! News, showing Ian Ziering's Fin, Tara Reid's April, and Cassie Scerbo's Nova flying through a sharknado that is destroying some of the world's most notable landmarks. You can view the poster at the bottom of this article.
The newest film in the long-running franchise will bring the disaster close to home for Fin and April, with their young son getting caught up in a traveling Sharknado and being transported all over the world, from London to Tokyo to Rome to Amsterdam. The pair, desperate to rescue their child, have to recruit the help of royals, scholars, Olympians, news talking heads, and more in their quest to get him back. 
Like previous installments, the movie has recruited quite the cast of guest stars to assist. Romance novel model Fabio will play the pope, while famed singer Charo will be the Queen of England and comedian Chris Kattan will play the English prime minister. Other notable guest stars include Olivia Newton-John and her daughter Chloe Lattanzi as two brilliant Australian scientists; Tony Hawk as a masterful weapons operative strategist; Clay Aiken as a cutting-edge tech genius; Bret Michaels as a musician who gets trapped in the storm; Margaret Cho as a bride whose honeymoon is ruined by sharks; and Porsha Williams as an archaeologist and member of the "Sharknado sisterhood."
Greg Louganis will appear as a high-end art thief, while Tiffany "New York" Pollard will play a Brazilian black market artifacts dealer and Ross Mullan, who plays a White Walker on Game of Thrones, will play a scientist who makes a big breakthrough in meteorological studies to track Sharknado storms. The movie will also feature Al Roker, Kathie Lee Gifford, Hoda Kotb, Tom Daley, Gus Kenworthy, Jeff Rossen, Cat Greenleaf, and Dan Fogler as themselves. 
The fifth installment in the franchise, which is advertising itself with the politically-relevant tagline "Make America Bait Again," was directed by Anthony C. Ferrante, who has directed all of the previous installments, based off a script from Scotty Mullen (King Arthur and the Knights of the Round Table). The movie will air on Aug. 6 at 8 p.m. on SyFy; in the meantime, see some of the best shark movies ever.