This Is Who Voiced Chip Skylark In The Fairly OddParents
Timmy Turner (Tara Strong), Cosmo (Daran Norris), and Wanda (Susanne Blakeslee) get all the attention. However, "The Fairly OddParents," as Nickelodeon's second-longest-running animated series ever (behind only "SpongeBob SquarePants"), also had one of the deepest benches of supporting and recurring characters in the history of television.
There were villains like Vicky (Grey DeLisle) and Denzel Crocker (Carlos Alazraqui), not to mention Timmy's friends Chester (Frankie Muniz/Jason Marsden/Greg Cipes) and AJ (Ibrahim Haneef Muhammad/Gary LeRoi Gray/Eddie Deezen). Then there are Timmy's backup friends Sanjay (Dee Bradley Baker) and Elmer (Dee Bradley Baker), as well as fairy world fixtures like Jorgen Von Strangle (Daran Norris) and Juandissimo (Carlos Alazraqui). Don't forget about Trixie (Dionne Quan), the girl for whom Timmy pined, or Tootie (Grey DeLisle), the girl who pined for him, and superheroes like the Crimson Chin (Jay Leno) and Catman (Adam West/Jeff Bennett). The show also contained fictional celebrities like Britney Britney (Tara Strong) and Chet Ubetcha (Jim Ward), as well as the anti-fairies, the pixies, the Dinklebergs ... and of course, there was Chip Skylark.
The handsome teen idol made such a thorough impact on the show in his musical number-laden appearances that it's easy to forget he only had significant roles on three episodes, quite early in the series' run. And it's even easier to forget that he was played by a teen musical sensation in his own right.
Chip Skylark was voiced by NSYNC founder Chris Kirkpatrick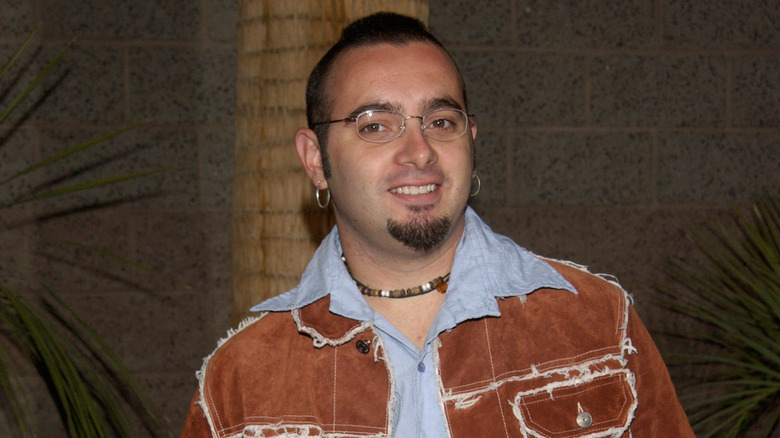 Featureflash Photo Agency/Shutterstock
"The Fairly OddParents" managed to snag quite a few celebrity guest stars over the course of its 10-year tenure. In addition to the aforementioned Jay Leno and Adam West — the latter of whom even portrayed a fictionalized version of himself — the show featured, at one point or another, such illustrious voice performers as Julia Louis-Dreyfus, Norm Macdonald, Queen Latifah, Alec Baldwin, Brendan Fraser, and Michael Clarke Duncan, among many others.
One of those big-name guest spots belonged to Chris Kirkpatrick, the multi-hyphenate singer, songwriter, dancer and music producer better known for being the founding member of the legendary boy band NSYNC. Kirkpatrick voiced Chip Skylark on a total of six episodes throughout the show's run (via IMDb), with the first three of those being substantial appearances, and the other three, from Season 5 onward, really being more cameos than anything. Kirkpatrick also lent his beautiful countertenor singing voice to all the musical numbers performed by Chip Skylark on the show. There's even footage of him performing "My Shiny Teeth and Me" live at Epcot on YouTube.
So, if you ever wondered why Chip sounded so much like a real superstar teen singer, now you have your answer — he actually had the voice of one.