What Happens To The Leftovers From The Blue Blood's Sunday Dinners?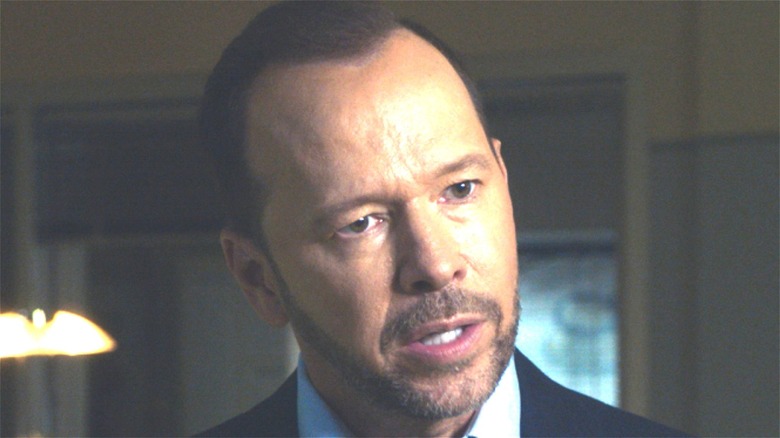 CBS
"Blue Bloods," now in its 12th season, is among the most cherished police procedurals on television, and for over a decade, fans have been looking forward to catching up with the Reagan family every week. The CBS series is centered around former NYPD commissioner and family patriarch Frank (Tom Selleck), whose powerful status often causes conflict, as his children, including Detective Danny Reagan (Donnie Wahlberg) and Assistant District Attorney Erin Reagan (Bridget Moynahan), carry out their own careers within the criminal justice system.
While fans love the classic police work on the hit drama, it's the Reagan family that really cements the show as a standout in the crime genre. "Blue Bloods" shows just how challenging it can be to navigate a crazy family alongside a crazy job. The Reagans, though, seem to have it down to a science. Many episodes of "Blue Bloods" end up with the family sat around their Sunday dinner table, reflecting on their weeks and sharing laughter and tears. 
These Reagan Sunday dinners are some of the most special moments in the series. However, some "Blue Bloods" fans have begun to wonder — what happens to all that uneaten food after the scene has wrapped filming?
The uneaten food doesn't go to waste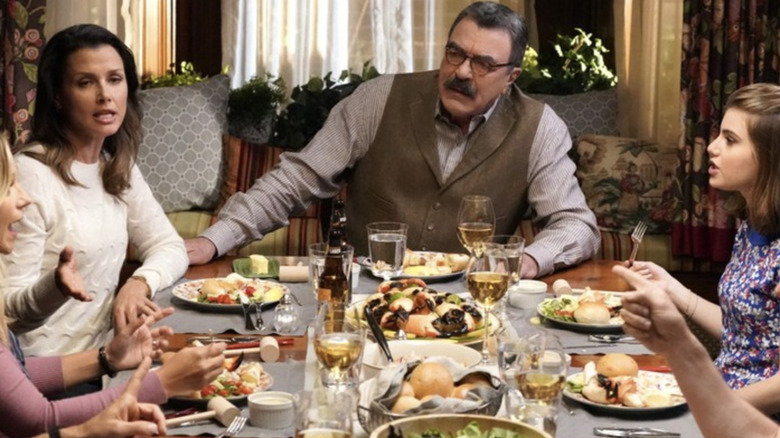 CBS
TV Insider got a behind-the-scenes look at one of the famous Reagan family dinners, uncovering quite a few secrets from the set. In regards to the delicious-looking meals on the table in these scenes, all of it is real, and it's also often eaten by the cast members themselves. Tom Selleck, in particular, has the biggest appetite and eats the most, "especially when it's pork chops and apple sauce," the actor revealed on set. 
"Blue Bloods" prop master Jim Lillis also shared that the meals eaten by the Reagan family are classic American family dinners and usually consist of meat, vegetables, potatoes, and some sort of salad. With all that food, though, there must be some leftovers. Thankfully, Lillis assured fans that nothing is wasted, as "food that's still good is shared with the crew to take home."
These Sunday meals are more than just a special time for the Reagan family — they're a special time for the cast, too. "We have to shoot everybody not just in a wide shot but in close-ups, but it's still my favorite part of the show," Selleck shares with TV Insider. "The Reagans are close, and we're close. With a cast this big, I might not see Donnie [Wahlberg] for a month. This format is like a weekly reunion." Knowing there's so much love behind the scenes too makes these "Blue Bloods" dinners even more meaningful.