What Movie Did Sidney Poitier Win His Oscar For?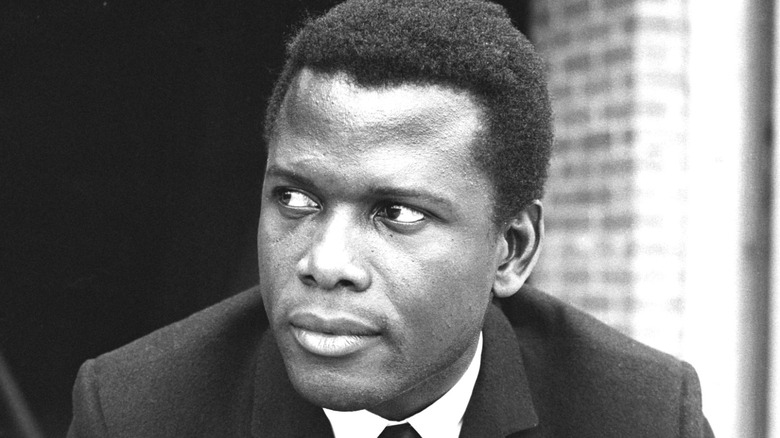 The Graham Stark Photographic Library/Getty
The world of cinema has lost one of the greats. Sidney Poitier died on January 6, 2022, at the age of 94. While he hadn't acted in recent years, his contributions to the art form are difficult to understate. He was one of the most prominent actors during the golden age of Hollywood throughout the 1950s and '60s. He became known for his dynamite, powerhouse performances that demanded the audience's attention any time he was on-screen in the likes of "The Defiant Ones," "A Raisin in the Sun," and "Paris Blues."
He delivered one iconic performance after the next. Still, astonishingly, he only won a single Academy Award outside of the honorary statue he received in 2001 for his lifetime of work in the industry. His first brush with Oscar gold came in 1958 when he was nominated for Best Actor for "The Defiant Ones." But it wouldn't be until 1963 that he would finally take home an Oscar of his very own.
Sidney Poitier won an Oscar for Lilies of the Field
In 1963, Sidney Poitier starred in a comedy film titled "Lilies of the Field." It centers on an itinerant worker, Homer Smith, played by Poitier, who comes across a convent of East German nuns in the middle of the desert. He helps them with various odd jobs with the hopes of eventually getting paid for his works, but the mother superior is reluctant to offer any money. Still, he stays with the nuns to help them, and over time, the nuns come to believe that God has sent him to assist them in constructing a new chapel.
The movie was a major success, earning a total of five Academy Award nominations, including one for Best Picture. The only Oscar it won was for Poitier's performance in the Best Actor category, but his win was a historic occasion. He became the first Black actor to win an Academy Award and the second Black actor to win any form of performance-based Oscar after Hattie McDaniel for her work in "Gone with the Wind."
In the aftermath of the actor's death, now is the perfect time to go back and revisit one of his best roles. "Lilies of the Field" is available to watch with ads on YouTube, but you can also find it on Amazon Prime, Tubi, and PlutoTV.