Who Is Returning For The Harry Potter 20th Anniversary Reunion Special?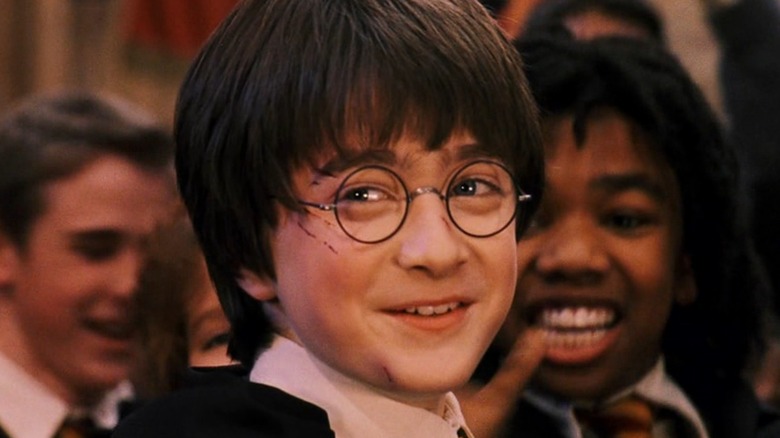 Warner Bros. Pictures
"Harry Potter and the Philosopher's Stone" arrived on bookshelves across the globe in 1997, introducing young readers into a whole new world of mischief and magic to get lost in. It easily could've fallen into obscurity, considering how saturated the kid's fantasy book genre is, but the adventures of Harry, Ron Weasley, and Hermione Granger ultimately triumphed. As a result, "Harry Potter" became a pop culture phenomenon that spawned numerous sequels and spinoffs, in addition to a cinematic adaptation that captivated an entire generation of young moviegoers throughout the 2000s and early 2010s.
Titled "Harry Potter and the Sorcerer's Stone," the first entry in the "Harry Potter" film franchise hit the big screen in 2001. It introduced relative acting newcomers Daniel Radcliffe, Rupert Grint, and Emma Watson as Harry, Ron, and Hermione, respectively, while giving seasoned actors like Dame Maggie Smith and late Alan Rickman — who brought Professor Minerva McGonagall and Severus Snape to life — a chance to have some fun in the Wizarding World. Additionally, the film performed well, with fans of the books and critics alike, and made a decent chunk of change at the box office, hence why a whopping seven sequels followed.
As of November 14, 2021, 20 years have passed since "Harry Potter and the Sorcerer's Stone" premiered and kicked off one of the biggest blockbuster sagas of all time. To commemorate the occasion, HBO Max will host an event called "Harry Potter 20th Anniversary: Return to Hogwarts" and bring back a bevy of famous names from the series' past.
The Harry Potter reunion is full of familiar faces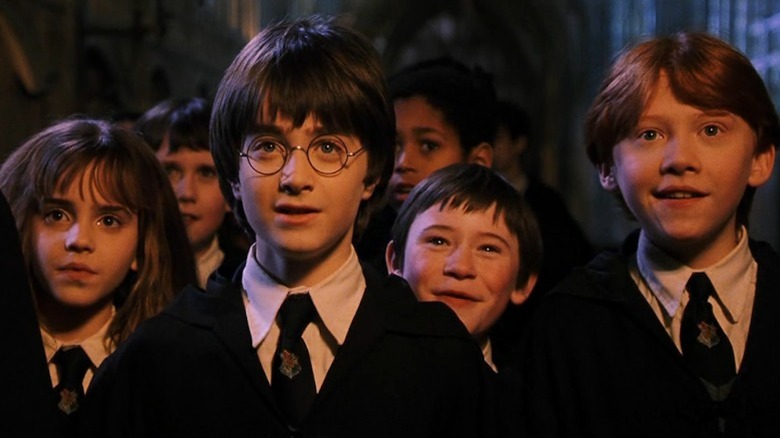 Warner Bros. Pictures
To say that HBO Max has gone all-out to make the "Harry Potter 20th Anniversary" special a success would be an understatement, seeing as it'll include as many big-name players from the series as possible. Front-and-center will be Daniel Radcliffe, Rupert Grint, and Emma Watson, whose turns as Harry, Ron, and Hermione served as the collective backbone of the entire franchise. After all, without them, would this reunion even be worth it?
Though the famed trio is more than enough to get die-hard "Harry Potter" fans to tune in, they're not coming alone. The actors behind Rubeus Hagrid, Sirius Black, Dean Thomas, Neville Longbottom, Dobby, and Luna Lovegood — Robbie Coltrane, Gary Oldman, Alfred Enoch, Matthew Lewis, Toby Jones, and Evanna Lynch — will all feature in some capacity. Additionally, Bonnie Wright, Mark Williams, and James and Oliver Phelps, who portrayed Ginny, Arthur, Fred, and George Weasley, respectively, have also signed on to appear.
Of course, what would the "Harry Potter" series be without its host of iconic villains? The man behind "The One Who Shall Not Be Named," aka Lord Voldemort, Ralph Fiennes, is set to drop by for a spell, with Helena Bonham Carter (Bellatrix Lestrange), Ian Hart (Professor Quirrell), Jason Isaacs (Lucius Malfoy), Tom Felton (Draco Malfoy), and Imelda Staunton (Dolores Umbridge) in tow (via Glamour). 
"Harry Potter 20th Anniversary: Return to Hogwarts" debuts on HBO Max on January 1, 2022.