The Impact Of Greevey's Death In Law & Order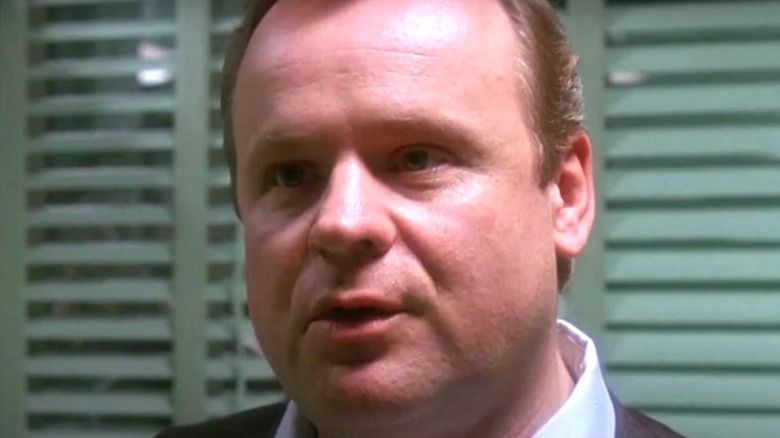 NBC/YouTube
When "Law & Order" debuted in 1990, the cops were George Dzundza as the experienced Sergeant Max Greevey and Chris Noth as Junior Detective Mike Logan. However, by the time Season 2 rolled around in 1991, Dzundza had already made his departure from the series. 
Because the show was supposed to be based in New York City, Dick Wolf insisted the show be shot in New York City instead of using sound stages in Los Angeles, and after fighting with Universal about it, he finally got his way (via New York Times). Dzundza ended up commuting from his home in Los Angeles to New York City in order to appear on the series. The commute was exhausting, and to make matters worse, his wife was pregnant (per "Law & Order: The Unofficial Companion"). In a 1991 article in The Los Angeles Times, the show's produces indicated that Dzundza cited the commute as one of the reasons he asked to be let go from the series, which he was after the first season. After the decision was made to kill his character, it was just a matter of how he'd go, and how it would affect the show.
Greevey's death left Logan and Cragen seeking revenge and resolution
Sergeant Greevey was killed at the beginning of the first episode in Season 2. While Greevey is getting something out of his car on a dark night, his wife, Marie (Karen Shallo), is on the phone with Logan, who'd called to ask to speak to him. Marie makes small talk with Logan, which is broken by her screams as she watches a man approach Greevey in their driveway and shoot him to death. 
Greevey's death had a huge impact on Logan, who was filled with anger and grief for the loss of his friend and partner. After confronting Greevey's killer, Daniel Magadan, Jr. (Vyto Ruginis), Logan holds a gun to his head, acting as if he's going to kill him. In fear, Magadan confesses. His confession was almost thrown out due to coercion but was then allowed based on a loophole.
After Greevey's death, Captain Cragen (Dann Florek), who had been his former partner and best friend, continued working on any open cases that Greevey had left. One of the cases took twelve years to resolve, and became one of the core stories in the "Law & Order: SVU" episode "Stolen." The original case involved a woman who was murdered, and her infant child stolen. When Cragen finally helps solve the murder and discovers the identity of the stolen child, he feels a huge relief and a sense of peace that he'd closed the book on the last of his friend's open cases.