Are Tom Felton And Emma Watson From Harry Potter Friends In Real Life?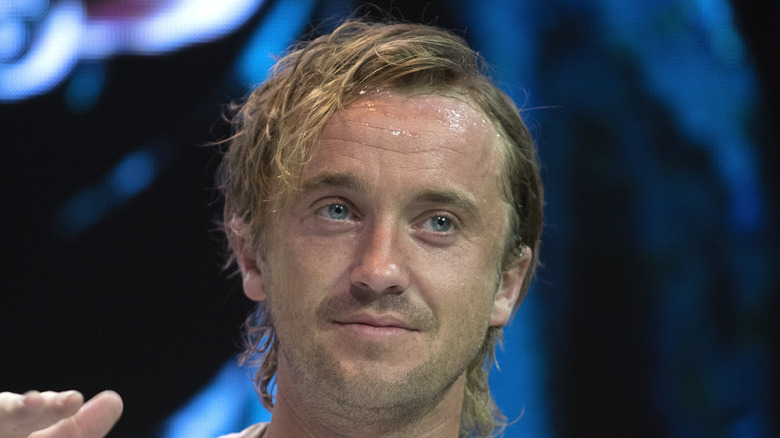 Lalo Yasky/Getty Images
The "Harry Potter" film series is arguably one of the biggest on the planet. Including the "Fantastic Beasts" movies, the Wizarding World franchise has grossed over $9 billion at the worldwide box office (per The Numbers). This doesn't even take into account the success of J.K. Rowling's novels, which were and continue to be a cultural phenomenon, even if that has been dulled a bit by the author's controversial remarks as of late. Still, the films remain notable enough that HBO Max recently premiered the anniversary special "Harry Potter 20th Anniversary: Return to Hogwarts," which included most of the main cast returning to reminisce about the films and their impact on their personal lives and careers.
Given that the "Harry Potter" films were produced and released over a period of 10 years, it's easy to conclude that the cast especially would at least become familiar with each other on a personal level. But just how close were some of them? During the recently released special, star Emma Watson admitted that she had once harbored a crush on fellow star Tom Felton. With that in mind, how close are the two in real life now, long after the "Harry Potter" films have wrapped up?
Tom Felton has revealed that he and Emma Watson are still very close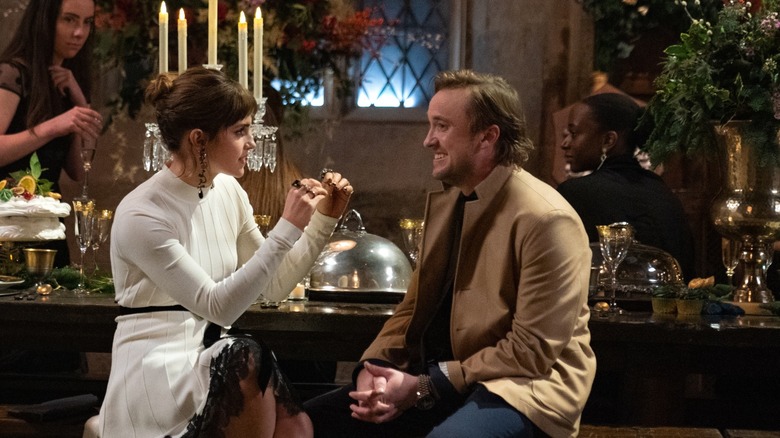 Warner Bros./HBO Max
During an interview with Us Weekly in 2018, Tom Felton revealed that he and Emma Watson were still very much friendly in real life. "Lovely Emma. We do see each other quite a lot actually," Felton said. "We just don't always post pictures about it. Everyone loves the reunion of it. We're reuniting all the time; we just don't always post it on Instagram."
In a 2021 interview with ET, Felton was asked about the potential romantic aspects of their friendship, but he all but dispelled them. "As far as the romantic side of it, I think that's a Slytherin/Gryffindor thing rather than a Tom and Emma thing," he said. However, Felton did say that they talked quite frequently and that he "[thinks] the world of her." Amusingly enough, Felton did reveal that their friendship had reached the point of "trivial" conversations: "I spoke to Emma a couple [of] days ago and immediately it was conversations about, 'Oh wow, the kitchen sink's been plugged' or some trivial nonsense like my dog wouldn't eat a particular kind of food."
While some fans may be disappointed that the two have never really pursued anything romantic, it's at least comforting to know that their friendship has continued to blossom, even if they no longer see each other in a professional setting.