How The Witcher's Anya Chalotra Really Felt About Yennefer Losing Her Magic In Season 2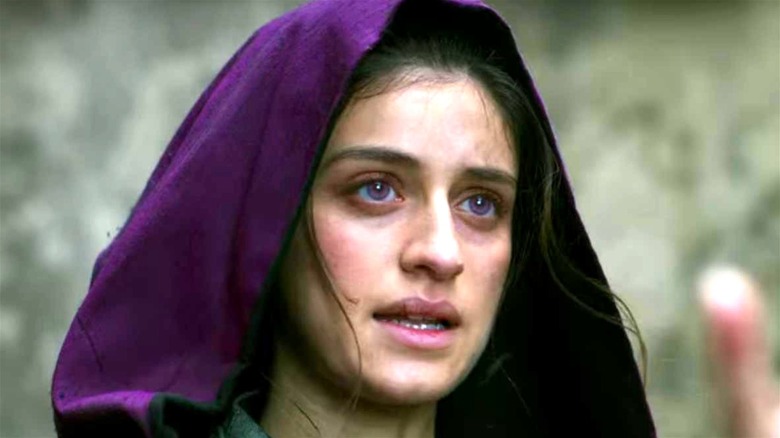 Netflix
As anyone who has ever dabbled in improv, done a pratfall, or taken a dance or kickboxing class will tell you: Choreography can be extremely rewarding to learn, especially when it involves getting to punch, hit, or kick things. This is as true for professionals as it is for amateurs, and in an interview with Recently Heard, "The Witcher" star Anya Chalotra opened up about what it was like to swap magic and spells for more physical stunt work in the show's second season.
In the "Witcher" Season 1 finale, Chalotra's Yennefer is forced to use fire magic in order to hold back the Nilfgaardian army at the Battle of Sodden. It's an extremely dangerous decision, as fire (in magic and in life) exists mainly to consume. Those who attempt to wield it as a source of power pay a heavy toll, and in "The Witcher" Season 2, Yennefer discovers that she has lost her ability to conjure Chaos as a result of her necessary but destructive choice. However, for both Chalotra and those watching the show at home, Yennefer losing her magic wasn't an entirely negative twist. In fact, it not only added even more dimension, vulnerability, and complexity to the character but also allowed Chalotra to get back to some of her theater roots.
Indeed, when asked what it was like to perform more practical stunts and wield real, physical weapons in "The Witcher" Season 2, Chalotra said, "Oh, I absolutely love it. If I could have a whole season of fighting ... I just love the physicality."
Anya Chalotra loved the collaborative nature of her Witcher fight scenes
"The Witcher" Season 2 sees Yennefer physically fighting off guards, mercenaries, a Zeugl, and a Nilfgaardian soldier on horseback. However, it wasn't just the physicality of her work throughout the season that captivated Anya Chalotra. "The choreography of fight and the etiquette and the teamwork is what I recognized," the actor told Recently Heard. She added that being able "to dive into fightwork and that choreography and that team effort means a lot to me on a film set, because some things don't necessarily feel as collaborative as when you're in theater."
Although it was the intimate, collaborative nature of these types of scenes that Chalotra liked the most, she did confess to getting a kick out of another element as well, saying, "Also, God, I just love punching things and having a place to do that." Notably, Chalotra's "Witcher" co-star, Freya Allan, has made some similar remarks about shooting the Netflix fantasy show's fight scenes.
"It's like every season I'm not satisfied in terms of the fighting," Allan told The Wrap. "This season I was like, 'Can't I just fight the monster?' and they were like 'No, we have to leave something [for future seasons].'"
Well, here's to hoping that "The Witcher" Season 3 has more exciting action opportunities in store for the actors behind two of the series' most compelling characters.