The Goldfinger Urban Legend You Never Heard About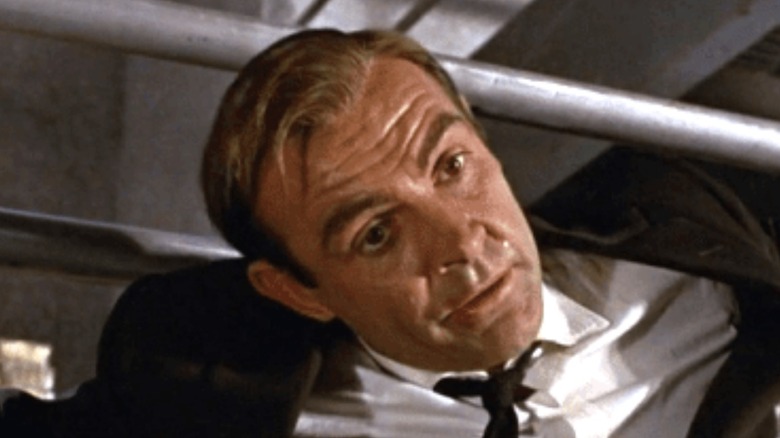 United Artists
"James Bond" is one of the world's most successful and long-lasting franchises. Since "Dr. No" hit theaters way back in 1962, fans have loved following 007 as he sports his best suits, drinks his best martinis, and carries out his very advantageous license to kill.
Many actors have played the role over the years, and most fans can easily tell you who their favorite Bond is. For some, they love Sean Connery's portrayal of the iconic British spy and count "Goldfinger" as one of the best Bond films.
"Goldfinger," released in 1964, follows Bond as he attempts to thwart gold magnate Auric Goldfinger's (Gert Fröbe) nefarious plan to obliterate the global economy. As always, Bond has a team of savvy women helping him along the way, including Jill Masterson (Shirley Eaton). Like many of Bond's various lovers, Masterson dies shortly after getting involved with the smooth-talking agent. Her death is one of the most memorable among all the "Bond" films — and even spawned a very interesting urban legend. 
The gold paint skin suffocation sparked quite the rumor
In "Goldfinger," Jill Masterson is introduced as the mistress of titular villain Auric Goldfinger. When he discovers she betrayed him to help Bond, he kills her via "skin suffocation" by coating every inch of her skin in gold paint. 
The scene is memorable, with Masterson completely covered in gold paint, lying in her underwear in the bed she and Bond shared the night before. The illusion of her death was so convincing, in fact, that it inspired an urban legend that actress Shirley Eaton actually died of skin suffocation during the film.
Fortunately, this story is entirely fictitious. A few years after the release of "Goldfinger," Eaton stepped away from acting, choosing to instead spend time with her husband and their young children. "A career is a career, but you're a mother until you die," she told blogger James Davies in 2008. "The most important thing for me was being a woman and having a family more than being a very famous glamorous actress."
Eaton's "Bond" days may be long behind her, but we'll always love her memorable performance in "Goldfinger."