What Are The Songs In Peacemaker Episode 6?
HBO Max
The latest episode of HBO Max's "Peacemaker" features a truly stunning set of spoilery twists. From the Army of the Butterflies taking over the Evergreen Police Department (and all inmates of the attached jailhouse) to Auggie Smith (aka White Dragon) (Robert Patrick) leaving his jail cell and announcing his intention to kill his son, Christopher Smith (aka Peacemaker) (John Cena), the sixth episode of the DC Extended Universe series offers viewers a genuinely entertaining hour of television. With all of the rapid developments taking place, however, some viewers may have forgotten to keep their ears open for the accompanying music.
Of course, the first song of this episode is "Do You Wanna Taste It" by Wig Wam. However, the "Peacemaker" opening theme song is only one of a long line of musical pieces embedded in this episode of "Peacemaker." So, what other songs does "Peacemaker" Episode 6 ("Murn After Reading") have in store?
Peacemaker's House of Pain is still Home Sweet Home in a way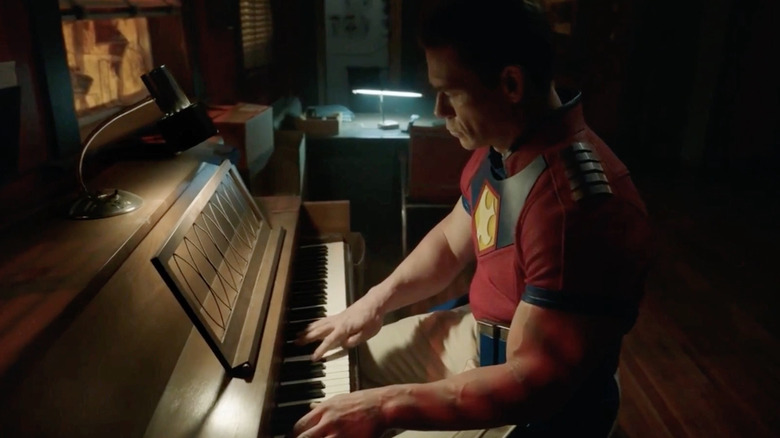 HBO Max
About 10 minutes into the episode, Gunn shares a 1989 song called "New Thing" by an American band called Enuff Z'Nuff. The song plays as Peacemaker moves about his trailer. If you enjoy the rock sounds of that American band, "Peacemaker" has plenty more rock and roll where that came from. Just like the Butterflies in the bodies of the Evergreen Police Department, "Monster" is one of those songs that you just can't get out of your head (the music is, of course, a much more enjoyable experience, however). The catchy tune that accompanies the Butterfly attack and White Dragon's rise was released in 2016 by a Finnish rock band called Reckless Love (via Discogs).
Later, in what is easily the most impactful musical moment of the entire series so far, Peacemaker shows off a skill that doesn't include shooting a gun, blowing up an explosive, or some absurd mixture of the two. In a touching scene set late at night at the team headquarters, Peacemaker simply sits down, removes his gloves, and plays a piano rendition of Motley Crue's "Home Sweet Home." By the end of the episode, it's not exactly clear what the song means to Peacemaker, who seems more vulnerable than ever before, but it clearly leaves him with a sense of sadness. Peacemaker has previously used music as an outlet for his emotions in Episode 2 ("Best Friends For Never") and Episode 4 ("The Choad Less Traveled"). While those scenes indicate a troubling past, the mournful tone of the piano chords in this song also suggest a prior time of genuine peace.
At the end of the episode, Peacemaker's forged diary is revealed to the world. As the titular character begins to grapple with the implications, the credits roll to the sounds of "Kiss Me Deadly," a 1988 song by Lita Ford (via Discogs).