The Major Props Dakota Johnson Took From The Set Of Fifty Shades Of Grey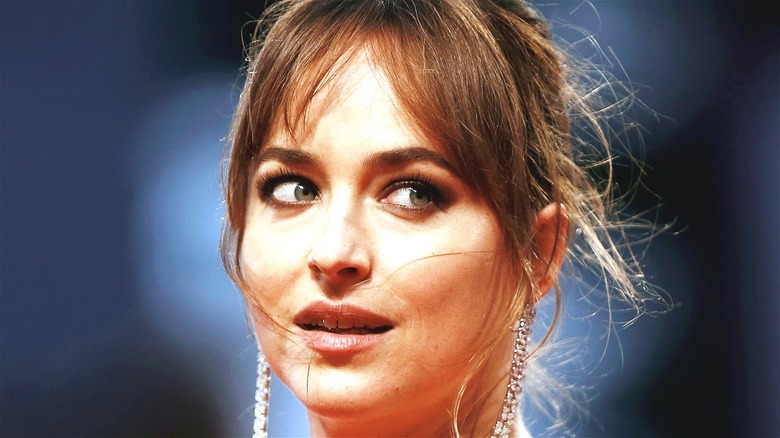 Andrea Raffin/Shutterstock
Dakota Johnson is an accomplished actress with many projects under her belt, ranging from 2016's "How to Be Single" comedy to the psychological horror "Suspiria" remake, and she's shown a great deal of variety over the years.
Arguably, the actress' big break came in the form of "Fifty Shades of Grey." In 2015, a film adaptation of the popular novel series of the same name first hit theaters, spawning two sequels. The storyline follows Anastasia Steele (Johnson), who finds herself interviewing businessman Christian Grey (Jamie Dornan). This simple encounter leads to an unexpected journey for the two full of love and lust — and yes, the infamous BDSM content.
However, Johnson is not merely appreciated for her acting chops. Fans have also grown to enjoy her personality. For example, Johnson became a popular meme when she visited "The Ellen Show" and delivered the famous line, "You were invited," after Ellen accused Johnson of not inviting her to her birthday party (per Entertainment Tonight). There was also her quirky moment when, during an interview with Architectural Digest in her home, she professed her love for a bowl of limes in her kitchen. However, on "The Tonight Show Starring Jimmy Fallon," she revealed that it was just set dressing and she is actually allergic to limes.
Moments like these might make fans wonder what other interesting and wild things Johnson has done. Turns out, Johnson had another one of these uniques moments when she took an interesting prop or two from the set of "Fifty Shades of Grey."
Johnson took underwear and more from the set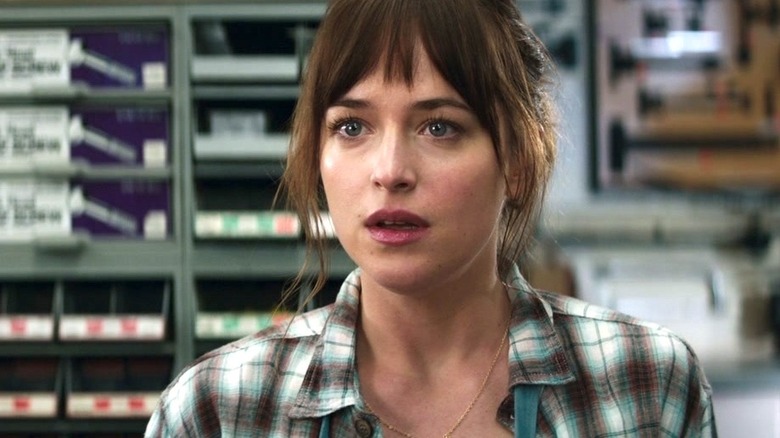 Universal Pictures
On the set of "Fifty Shades of Grey," there were probably a lot of interesting and bizarre props around, as a large motif of the film series is BDSM. But like with any movie, there were also tons of clothing and jewelry, especially given the extravagant nature of some of Anastasia and Christian's adventures together. Unsurprisingly, Johnson apparently helped herself to a few of these items, as most actors tend to do, but it might surprise you what exactly she chose to take. 
Johnson disclosed to Glamour Magazine in a Twitter Q & A on their account that she took "lots of the underwear," mainly due to the fact that "they were comfortable." The brand of underwear she wore in the film was Hanro, which is a slightly more luxurious brand, so it's hard to blame Johnson for wanting to take them home for herself.
Johnson admitted in the same interview that she took one of the more risqué items from the set as well, which was a flogger. Johnson revealed, "I do have a flogger in my house (it's in the garage with dust)." It appears she took this one just for memory since it is laying in the garage collecting dust, but it would be interesting to know why Johnson chose to take this specific item out of everything she could have possibly picked from the three "Fifty Shades of Grey" films.