Cobra Kai's Griffin Santopietro Discusses The Importance Of His Storyline In Season 4 - Exclusive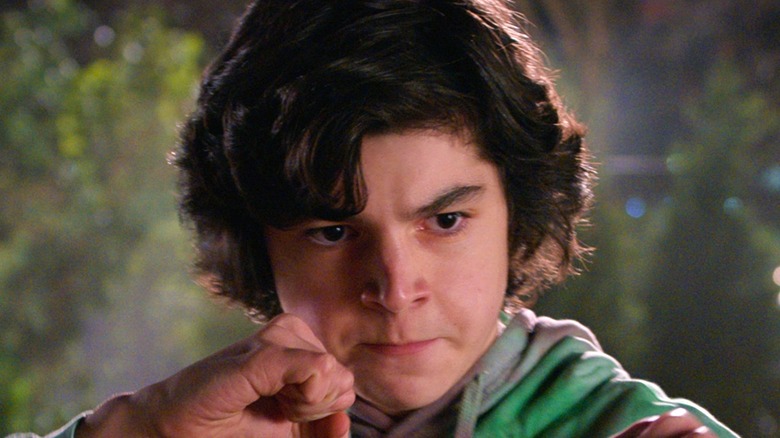 Netflix
Anyone familiar with "The Karate Kid" knows Daniel LaRusso's (Ralph) storyline is rooted in the bullying he suffers at the hands of a group of karate students — led by Johnny Lawrence (William Zabka) — from the Cobra Kai karate dojo. Dangerously mentored by sensei John Kreese (Martin Kove), the ex-Marine teachings boil down to one simple, yet unforgiving code: "Strike First. Strike Hard. No Mercy."
As the new kid in town, Daniel is relentless targeted for bullying by Johnny, and the only way he can make it stop is to beat him in his own arena at the All Valley Karate Tournament. Trained by his friend and mentor Mr. Miyagi (Pat Morita), Daniel wins the tournament, and more than 35 years later, he imparts Miyagi's wisdom to his own karate students at his Miyagi-do in the Netflix series "Cobra Kai." In a shocking development in Season 4 of the smash streaming series, it appears that Daniel's young teen son, Anthony (Griffin Santopietro), has learned nothing from his father being a victim of bullying in high school.
Although he's established his presence in the first three seasons of "Cobra Kai," Season 4 marks a huge departure for Santopietro in that he's given a story arc that strikes at the heart of the "Karate Kid" and "Cobra Kai" saga. In an exclusive interview with Looper, Santopietro discusses his socially relevant storyline that unfortunately mirrors the hardship of teens his own age in real life.
Santopietro is grateful that Anthony's storyline is going against the grain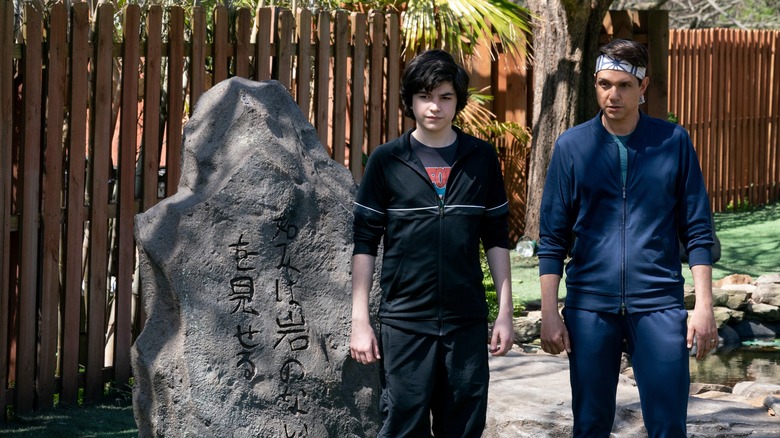 Netflix
If "Cobra Kai" has taught viewers anything since its debut in 2018, it's that none of the character's stories are completely black and white. As such, when the creators of the series opted to make Anthony a part of a group of bullies that torments a new middle school student, Kenny (Dallas Dupree Young), Santopietro was grateful that they didn't take the obvious route with his character.
"I thought it was a really interesting way to go, where you put Daniel's son in a bully situation of being the bully instead of the victim like Daniel was," Santopietro told Looper. "I think the show has always been subverting that expectation, obviously starting out with showing Johnny's side of the story. But yeah, I just thought it was an interesting way to go. It'd be so easy just to make Daniel's son just another Daniel." 
The interesting thing is, while Anthony goes with the crowd to bully Kenny, you can sense the conflict he is experiencing while doing it. It's a sense of hesitation that Santopietro believes mirrors real life.
"Someone said this to me that it's important to tell the bystander story as well as the bully and victim ... a lot of kids these days aren't always so malicious in bullying. Their friends do it, so they do it with them," Santopietro observed. "[It's interesting being on the show for] years and then finally getting to have this storyline, because this whole time Anthony's just been a jerk, and no one really knows why. But [it's important] to actually show that Anthony doesn't really want to do this. It's just, he doesn't know what else to do."
Anthony's bullying storyline will be relatable to audiences, Santopietro says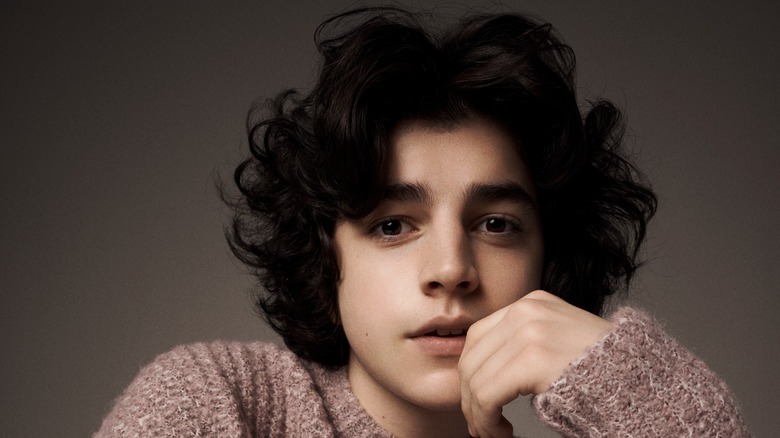 Platform Public Relations
While it's the goal of films and TV series to entertain their audiences, Santopietro still hopes young viewers glean some lessons about the perils of bullying after they experience his story arc this season.
"I think it's important to show that I'm sure a lot of kids can relate to having their friends bully someone or people they know and being involved in that. And I think it's important to show how that can happen so fast, and it does," Santopietro told Looper. "Just because you get caught up in it, it doesn't mean you're a bad person. It just means that you need to find who your real friends are — especially since Anthony's in eighth grade during it, and eighth grade is a very stressful year when it comes to social atmosphere. So, I think it's important for people to see that anybody can get caught up in this stuff. It's just about finding who you are and finding your people."
Season 4 of "Cobra Kai" is now streaming on Netflix.