The Golden Girls Character Everyone Forgets Jerry Orbach Played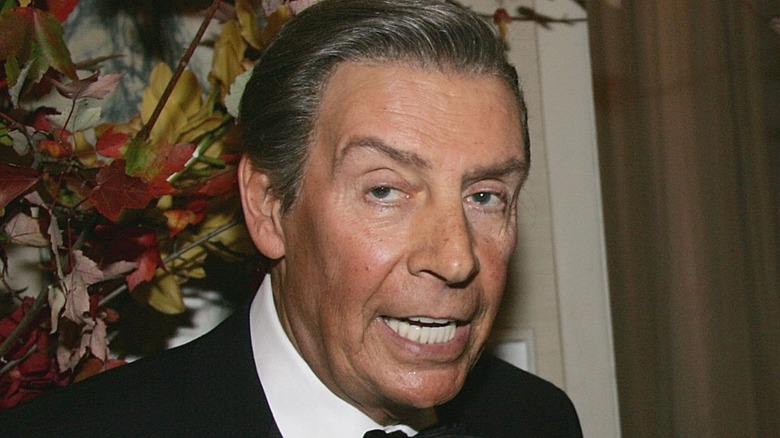 Evan Agostini/Getty
Before he began playing one of the greatest television detectives of all time, Lennie Briscoe in "Law & Order," Jerry Orbach was best known as a stage actor, with a preference for musicals. He received his first Tony Award nomination for Best Actor in a Musical for his role as Sky Masterson in "Guys and Dolls" in 1965, and he would win for Best Actor in a Musical for "Promises, Promises" four years later. Seven years later, he would be nominated again for the role of Billy Flynn in "Chicago" (via Playbill).
In between his theatre performances, Orbach was also slowly building an impressive list of television credits — both TV series and TV movies – in "Annie Get Your Gun," "Kojak," and "Murder She Wrote," while also starring in other films (via IMDb). He played corrupt NYPD detective Gus Levy in Sidney Lumet's "Prince of the City," which was a big reason he got hired for "Law & Order." In an archived interview with People, Dick Wolf said, "Just give me the detective from Prince of the City and I'll be happy as a clam." But two years before getting the role that he would be identified with for the rest of his life, Orbach had a guest role in the beloved show "The Golden Girls."
Orbach received his first Emmy nomination for playing Glen in The Golden Girls
Jerry Orbach appears in Season 5 of "The Golden Girls," Episode 22, called "Cheaters." In the episode, Dorothy (Bea Arthur) goes on a date with ex-boyfriend Glen O'Brien (Orbach), who is newly divorced. They had dated in the past until Dorothy had found out he was married and broke it off, remembering how much it hurt when she discovered her husband had cheated on her. Well, Glen comes back and wants Dorothy to give him another chance now that he's divorced. Unfortunately, it doesn't take Dorothy long to realize that it's not that Glen really wants to be with her, but that he just doesn't want to be alone.
This is the only episode of "The Golden Girls" that Orbach appears in, but as the lonely Glen, he was perfectly cast. Whether as a police detective or a recently-divorced man, Orbach was always very good at playing a character that's seen too much and feels he's weary with whatever is ahead in life. It's no surprise that he was nominated for an Emmy Award for Outstanding Guest Actor in a Comedy Series for his role as Glen.