The Real Reason Billie Piper Left Doctor Who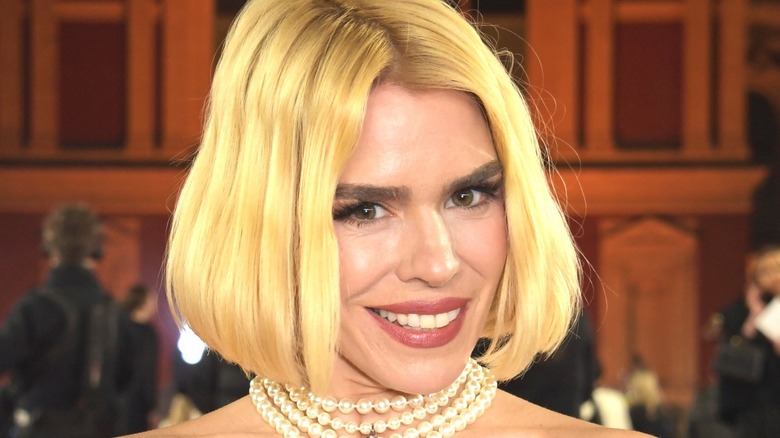 David M. Benett/Getty
In 2003, the BBC decided to bring back "Doctor Who," the long-running sci-fi show that had children hiding behind couches from 1963 to 1989 and which was briefly resurrected in movie form in 1996 (via IMDb). The reboot faced the daunting tasks of not only casting the franchise's ninth Doctor, but also the character's newest companion. Eventually, the show's producers picked actor Christopher Eccleston to take on the mantle of the time-traveling Time Lord and made a choice that some thought was out of left field when they cast Billie Piper as his companion, a British shop girl named Rose Tyler. 
The latter choice turned out to be an inspired one, with critics taking a liking early on to Piper's portrayal of the capable Rose. When Christopher Eccleston later left "Doctor Who" after just one season, it was Piper who stayed to anchor the series alongside David Tennant, who joined the franchise as its 10th Doctor. Piper's acclaimed performance as Rose, therefore, arguably helped make the show's transition from one era into another other a success.
Of course, as is the case with all "Doctor Who" actors, Billie Piper's time on the series eventually came to end — and in dramatic fashion too. That said, why exactly did Billie Piper leave "Doctor Who" after only playing Rose for two seasons?
Billie Piper's Doctor Who exit proved to be surprisingly emotional
When her "Doctor Who" exit was announced, it was seen by some as a good career move for Billie Piper to make, and the actor quickly grabbed starring roles in projects like "Secret Diary of a Call Girl" and Jane Austen's "Mansfield Park" in 2007 (via IMDb). In a statement given to the BBC regarding her departure from the beloved sci-fi series, Piper said, "Rose and I have gone on the most incredible journey with Russell T Davies and the cast and crew of 'Doctor Who' over the past two years. It has been an amazing adventure, and I can confirm it comes to an end, for now at least, as series two climaxes."
Piper added, "I am truly indebted to Russell for giving me the chance to play Rose Tyler, and to all the 'Doctor Who' fans old and new who have been so supportive of me in this amazing role. Thank you so much."
For his part, Davies not only promised a "stunning exit" for the character but also delivered one, writing an emotional goodbye scene between Rose and The Doctor that takes place after she, her family, and her ex-boyfriend all find themselves trapped in another universe, unable to return. Piper did, however, come back to "Doctor Who" in 2008, 2010, and again for the show's 50th anniversary special in 2013.
Billie Piper wasn't fond of all the attention she received for Doctor Who
In the years since her departure, Billie Piper has opened up more about her "Doctor Who" exit. For instance, in an interview with "Doctor Who" Magazine (via Futurism), Piper said, "If I'm honest, I found 'Doctor Who' quite overwhelming at times. It becomes a topic of every conversation. Leaving was sad, but I wanted a change. I really needed a separation from it."
In May 2021, she elaborated further, saying that she didn't enjoy the attention she received for her work on the sci-fi series. "It made me really famous again in that sort of mainstream fame way that I find really uncomfortable," Piper said during an appearance on BBC Radio 4's "Desert Island Discs" with interviewer Lauren Laverne. "I think that played into it but also I was just at the beginning of my acting career. As much as I love that show, I love Rose Tyler, Russell T Davies and all the people that I continue to have a relationship with, I wanted to do different stuff. I didn't like the responsibility of being a sort of role model."
While her "Doctor Who" departure was motivated by the overwhelming nature of the show's popularity, Piper continues to be linked to the series to this day. Now, with Russell T Davies set to return as the showrunner of "Doctor Who" (via /Film), rumors of Rose's possible return are running rampant (via Digital Spy). It's safe to assume too, based on her ongoing status as a fan-favorite "Doctor Who" cast member, that those rumors won't stop running anytime soon.