The Transformation Of Billie Piper From Childhood To Doctor Who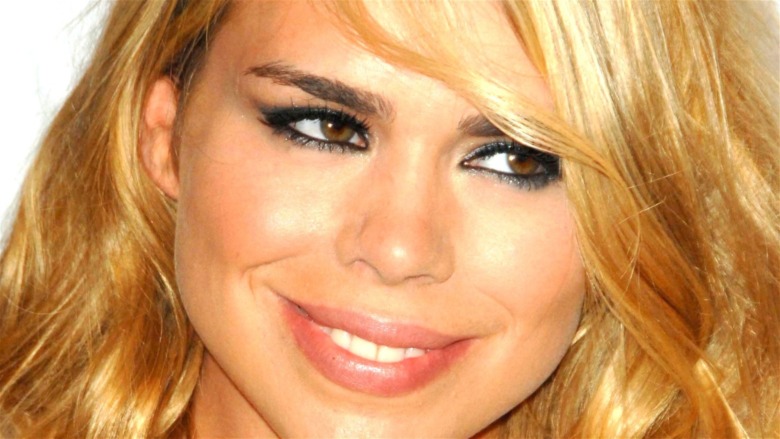 Shutterstock
Billie Piper is an actress most well-known for her role as Rose Tyler, the companion to both the ninth and tenth Doctor on "Doctor Who." A fan-favorite character of the series, Piper played the iconic role in 2005 and 2006, with various appearances in later episodes. Although this is a memorable part of her career, this isn't where Piper's life started.
Born in the town of Swindon, England, in 1982, Piper's real name wasn't originally Billie. She was born Leian Paul Piper, but her parents legally changed her name to Billie a few months after her birth (via The Telegraph). In her book "Growing Pains," Piper revealed that she studied at the Brandon Forest School in Swindon, before attending the Sylvia Young Theatre School in London on a scholarship. While the latter definitely sparked her love of the arts, it also caused a lot of trauma for a young Piper, as she suffered from eating disorders and anxiety. While she would face more hardships, Piper also found major success early on when she became a national pop star at only 15 years old. But even her success in the music industry couldn't keep her from her passion for acting, and soon enough Piper was on her way to her breakout in "Doctor Who."
Here's a deep look at Piper's transformation from her childhood and early days in the music industry to her noteworthy "Doctor Who" role as Rose. 
Billie Piper hit it big as a pop singer at age 15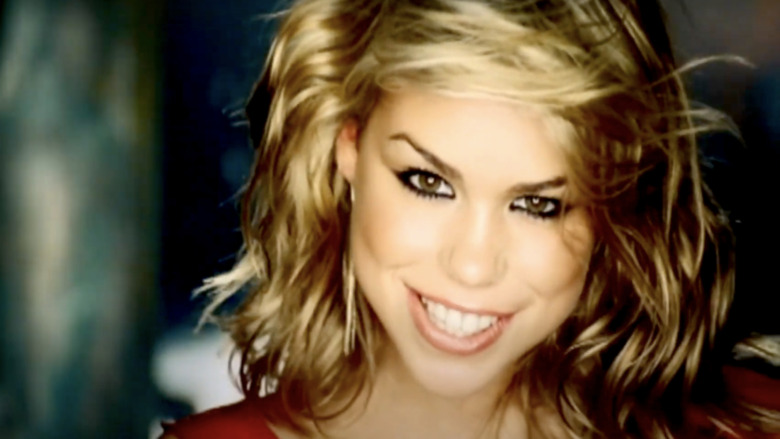 2000 Virgin Records Ltd
As the story goes, Piper was going to the Sylvia Young Theatre School when Hugh Goldsmith, the managing director at Innocent Records, discovered her. He liked her voice and thought she could have a great pop music career, and at only 14 years old, Piper signed a deal to produce three albums under the label.
Turns out that Goldsmith was right about her, as her first big single, "Because We Want To," became a number one hit song, and her following singles and albums did just as well. But the pop star lifestyle wasn't all it was cracked up to be, as Piper was definitely taken advantage of because of her age and gender. In an interview with The Sunday Times, Piper spoke about the over-sexualization and "sanctioned pimping" going on in the industry, and she admitted that, "I think that's why, for so long, my desire to hide my body in baggy clothes took hold."
Speaking of her time in theatre school, Piper called herself "starry-eyed," explaining that she truly had a passion for the arts — and still does. She shared, "I just couldn't wait to get to bed and get back up again. And I was so ambitious. But it became a bit lonely when I travelled. It's a sad existence" (via The Guardian). Thankfully, Piper found solace with a man she called her "best friend" named Chris Evans — not that one — a British radio presenter who was 16 years older than her. For better or for worse, he helped her realize her true love for acting and got her out of the music industry.
Romantic troubles affected Piper's career negatively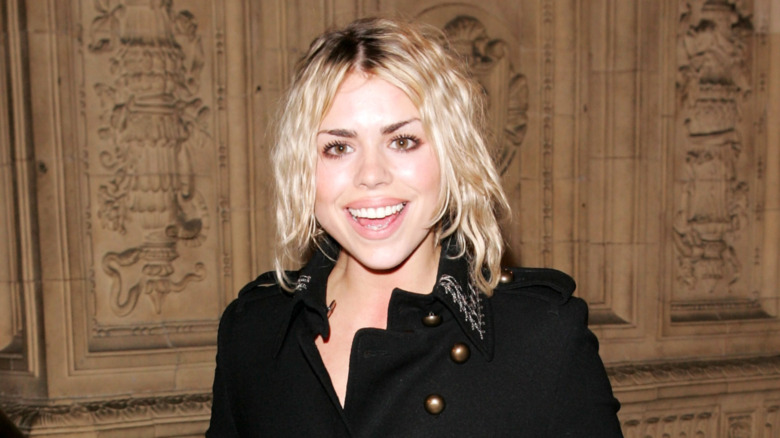 Dave Hogan/Getty Images
Depending on your perspective, Evans either saved Piper's career or destroyed it. It turns out that Piper sees it as the former. As she found fast success with her pop music, Piper felt that the people around her were vapid and greedy, and she was "ready to have a bit of a normal life, whatever that meant" (via The Evening Standard). Evans and Piper got married in Las Vegas in 2001, and despite the age difference, the pair lasted six years together. Although Piper and Evans ended up getting divorced in 2007, the two still hold the upmost respect for each other.
As for how her music career ended, Piper told her "Doctor Who" costar David Tennant in an episode of his podcast, "David Tennant Does a Podcast with...," that she was simply "not answering the phone," and eventually they got the message. But it wasn't really that simple, as Piper's PR company dropped her because of Evans' influence, and her manager cancelled their contract, but it's possible that's exactly what she wanted. This gave her the freedom to turn her attention fully to acting, which was what she really wanted to do. With Evans and her family's support, Piper finally got the chance to begin her acting career, and she quickly hit it big again with "Doctor Who."
Piper found great success in Doctor Who and beyond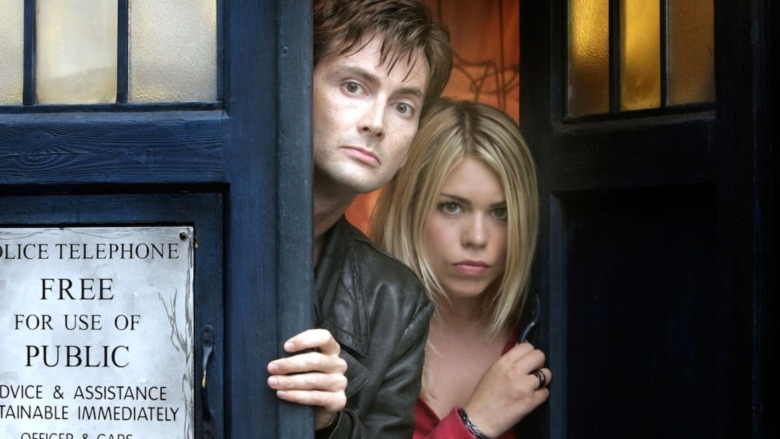 BBC
In 2003, Piper got her first television role as Alison Crosby in "The Miller's Tale," an episode of the "Canterbury Tales" miniseries. A couple movie roles followed the next year, and in 2005, Piper got the now-iconic role of Rose in the revival of "Doctor Who." At the time, the series wasn't automatically welcomed and celebrated. The original BBC program started in 1963 and ran until 1989. When the revival was announced, starring Christopher Eccleston as the new regeneration of the Doctor, "everyone said it was going to be a failure." Discussing the series with Tennant on his podcast, Piper admitted that because of this sentiment, "you just didn't imagine it being on for longer than three months."
Of course, all of those people were wrong, and the show was an immediate hit. It was quickly renewed for a second season, and as of 2021, the "Doctor Who" revival has had 12 seasons, featuring many different companions and regenerations of the Doctor, including the first female Doctor played by Jodie Whittaker. Piper's character, Rose, is a down-on-her-luck 19-year-old raised by a single mother and working at a retail store. One day, the Doctor blows up her workplace, and soon after they are traveling around the galaxy together in the TARDIS. While Rose only appears in 35 or so episodes of "Doctor Who," she remains a fan-favorite character years later.
Piper's career continues to thrive after Doctor Who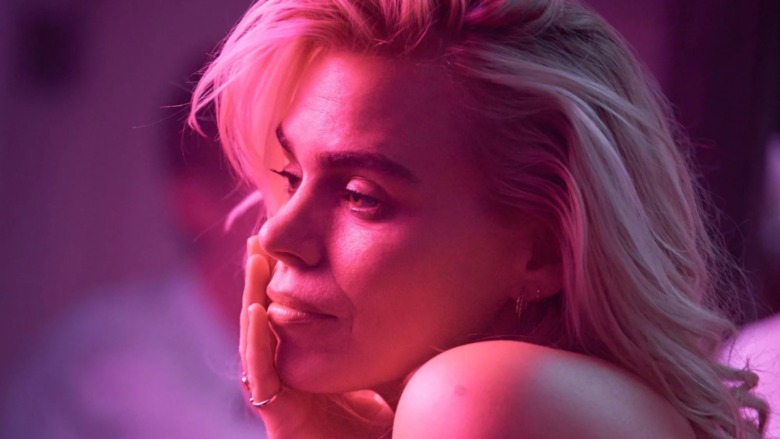 Sky
Since "Doctor Who," Piper hasn't stopped working and making a bigger name for herself in the industry. Giving fantastic performances in a variety of genres both on screen and on stage, Piper has won numerous awards throughout her career. Just in 2021, Piper was nominated for two BAFTAs for the TV series "I Hate Suzie," as both an actor and creator of the show. Other notable roles over the years include Lily Frankenstein in "Penny Dreadful," Belle in "Secret Diary of a Call Girl," and Karen Mars in the Carey Mulligan-led series "Collateral," for which she was also nominated for a BAFTA.
On the stage, Piper has had just as illustrious a career. Most recently, Piper starred as "Her" in The Young Vic's production of "Yerma" in 2016. Based on Federico García Lorca's 1934 play, set in Spain and about the wife of a farmer who is unable to have kids, the new production modernized and transplanted the story to London. Instead of a farmer's wife, Piper's character is a successful journalist, but the main storyline and emotions are the same. Piper's performance in the play was highly praised and she won many awards, including the prestigious Laurence Olivier Award for Best Actress. So far, she is the only actor to win all six of the currently available Best Actress awards in UK theatre for the same role.
As for what's next for Piper, her television series "I Hate Suzie" is officially returning for a second season. The actress can be seen on the big screen in the upcoming Lena Dunham-directed film, "Catherine, Called Birdy," also starring Andrew Scott, Bella Ramsey, and other familiar faces.