Who Plays Master Chief In The Halo TV Series?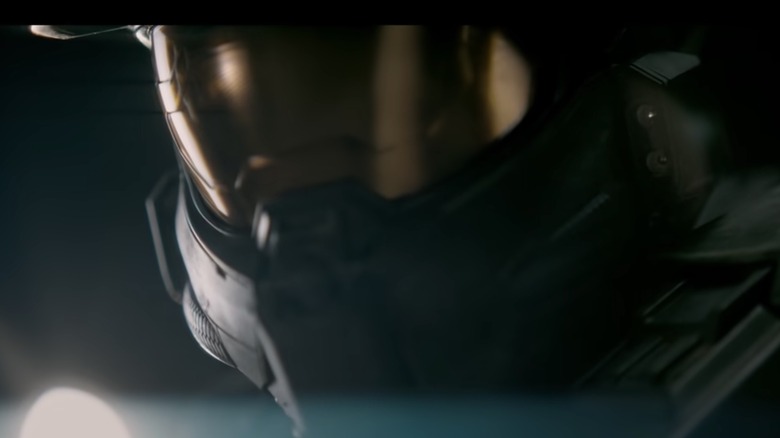 Paramount+
Fans of the video game franchise "Halo," which was originally released as an exclusive for Microsoft's Xbox gaming console, have been watching the progress of the television show as it has gone through development hell for the last eight years — but it looks like the war with the Covenant will finally be coming soon to the small screen.
First announced as a Steven Spielberg project in 2013 (via Deadline) with a projected release date in 2015, it then became a project from Showtime and Spielberg's Amblin Entertainment, with the tentative release date moved to early 2019 (via Kotaku). When director Rupert Wyatt left the project around that same time, however, Otto Bathurst replaced him (per The Hollywood Reporter). Steven Kane joined fellow showrunner Kyle Killen at some point, according to Variety, and the CBSViacom series moved to streaming service Paramount+.
The "Halo The Series" Twitter account announced in late 2019 that production was about to begin. We all know what happened in early 2020, though, to derail Hollywood productions, including this one. "Halo" resumed shooting at its Hungarian location in late 2020 (via Variety), and a November 15 teaser revealed the show will stream in 2022.
That teaser doesn't reveal too much during its 27-second runtime, but it does give prime exposure to the series' most iconic character. If you know anything about "Halo," you're probably wondering who's going to play Master Chief Petty Officer John-117, who's generally just known as Master Chief. 
Pablo Schreiber has been attached to the role of Master Chief since 2018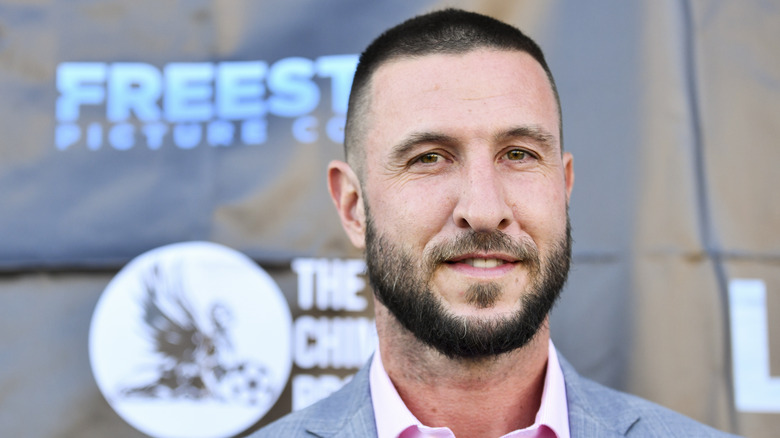 Rodin Eckenroth/Getty Images
Back in 2018, Showtime announced that its choice for the role of Master Chief was actor Pablo Schreiber (via The Hollywood Reporter). Schreiber has called being part of the TV production "a Herculean task." He told EW in December, "It's a huge job, from setting the tone on set down to the grueling task of waking up at the crack of dawn to work out, then go to shoot, and go home to work out some more. Nothing about it is easy, and I wouldn't want it to be." 
 If you can't really picture Schreiber's face, that may not be a problem — it's unclear at this point how much of him will be shown. As with "The Mandalorian," Master Chief generally wears a bodysuit and helmet, and his outer gear has come to define him more than any distinguishing facial features. Since the first "Halo," the only glimpse fans have seen of Master Chief's actual visage takes place in a final cut scene during the Legendary ending of "Halo 4," and it's just a brief look at part of his face underneath the helmet.
In the trailer, you can see both the character's bald head and his back, the latter of which is full of scars. Hopefully, that does mean fans will get to see more of Schreiber's Master Chief: Schreiber was actually named No. 77 on Buddy TV's list of "TV's 100 Sexiest Men of 2011," so some people definitely consider him easy on the eyes. But the Canadian-American actor is known for more than just his good looks. 
Schreiber is a versatile actor you may have seen elsewhere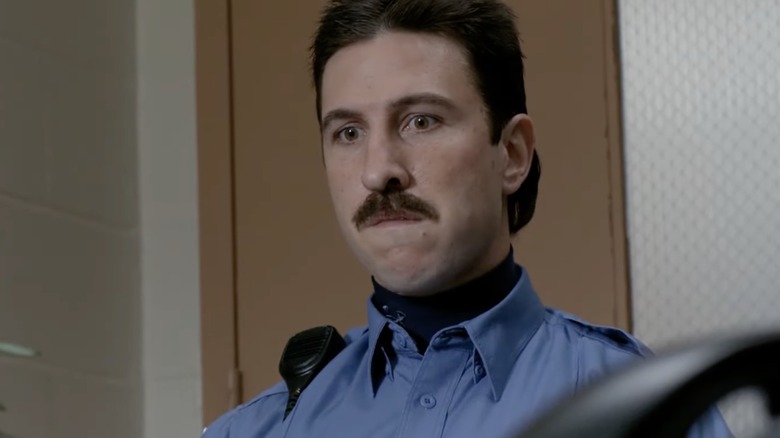 Netflix
In fact, Pablo Schreiber has been acting for at least 20 years, both in live theatrical productions and on-screen — he also has a famous brother. You may know him best from his turns on shows like "The Wire," in which he played Nick Sobotka, "Law & Order: Special Victims Unit," in which he played recurring serial rapist William Lewis, and "Orange is the New Black," where his role as correctional officer George Mendez got him recognized with a nomination for an Outstanding Guest Actor Emmy in 2013. He has also played leprechaun Mad Sweeney in "American Gods," outlaw leader Merriman in the 2018 movie "Den of Thieves,"  a drug dealer in a number of "Weeds" episodes, and an NYPD detective in the short-lived NBC TV series "Ironside" from 2013. 
From these roles, you can definitely tell this is an actor who's all about transformation and versatility. "One of my main goals as an actor obviously is ... not to ever let my audience, or people who know me, get too comfortable with one image of me," he told Den of Geek in 2018. "You know, I want to be changing from role to role, because it's no fun unless I can."
You'll be seeing his next transformation very soon, hopefully, in the new series that will expand the "Halo" universe, create new stories, and introduce new characters. Although a precise start date hasn't been yet announced, nine episodes are expected to air starting in early 2022.