The Simpsons Legend You Completely Missed On The Golden Girls
"The Golden Girls" premiered well over 30 years ago, yet it remains a comedy favorite thanks to the dynamic between the series stars Betty White, Bea Arthur, Rue McClanahan, and Estelle Getty, who played Rose, Dorothy, Blanche, and Sophia, respectively. The series follows the four older women living together in Miami as they experience the highs and lows of their golden years. For 177 episodes spanning from 1985 to 1992, the Florida foursome became a fan favorite for TV viewers, having won 11 Emmys, four Golden Globes (via IMDb), and appearing on "best TV shows of all time" lists from the likes of TV Guide Magazine and Rolling Stone.
In addition to the series stars, plenty of Hollywood names have lent their comedy chops to "The Golden Girls." Iconic actors such as Burt Reynolds, Dick Van Dyke, and Debbie Reynolds have guested on the series. Meanwhile, more modern stars such as Mario Lopez, George Clooney, and Quentin Tarantino found themselves as "Golden Girls" guest stars early on in their career. You may be surprised to hear that one of the longtime mainstays of "The Simpsons" was also among those actors.
Harry Shearer voiced George H. W. Bush on The Golden Girls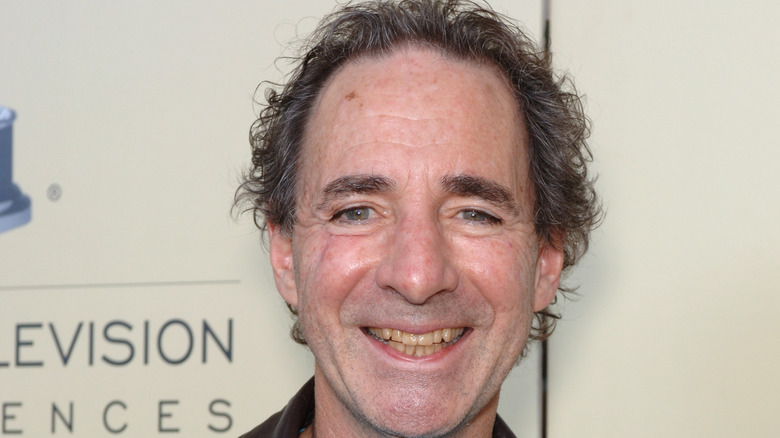 Featureflash Photo Agency/Shutterstock
In the Season 5 two-part finale of "The Golden Girls," Dorothy, Rose, Blanche, and Sophia are amidst preparations for an upcoming visit from the U.S. president at the time, George H. W. Bush. All of the women are very excited, except for Dorothy, who plans on telling off the president for the country's current issues. When the president does arrive at the women's house, he doesn't actually enter their home but instead sticks to their front porch with the Secret Service surrounding him. The only thing we can see from the president is his outstretched hand but we do hear his distinctive drawl. That voice comes from none other than Harry Shearer of "The Simpsons" fame (per IMDb).
Since 1989, Shearer has lent his voice to dozens of characters on the show, according to "The Simpsons" Wiki. The prolific voice actor is behind some of the series' most-loved characters such as Ned Flanders, Mr. Burns, Mr. Smithers, and Principal Skinner. Interestingly enough, Shearer would reprise his role as George H. W. Bush on "The Simpsons," voicing the former president in a Season 7 episode titled "Two Bad Neighbors" (per IMDb).