Superman Star Christopher Reeve Once Had These Harsh Words About Marlon Brando's On-Set Behavior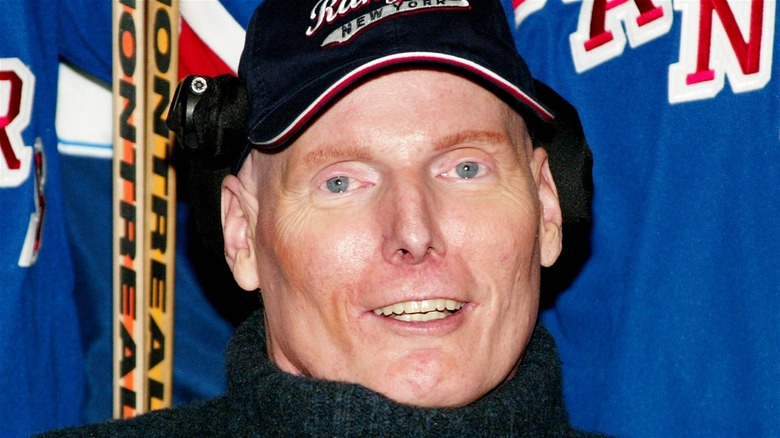 Evan Agostini/Getty Images
When it comes to discussions about the greatest actors of all time, legendary performer Marlon Brando's name often comes up. It's hard to argue, really, considering Brando's legendary résumé, which includes such film classics as "A Streetcar Named Desire," "On the Waterfront," "The Godfather," and "Apocalypse Now." He was nominated for eight Oscars throughout his illustrious, five decades-plus career, including a pair of Best Actor wins for "On the Waterfront" and "The Godfather."
Brando, of course, also brought his esteemed presence to the first big-screen iteration of "Superman" in 1978. However, it appears by that point in his career that Brando cared much less about the acting craft, claimed the film's star, Christopher Reeve. While Brando's work on the film as Jor-El — the father of Kal-El, who would come to be known as Clark Kent-slash-Superman (Reeve) — largely took place in the film's Krypton scenes, he also communicates with his adult son in The Fortress of Solitude scenes on Earth.
In a 1982 interview with David Letterman on his NBC talk show "Late Night with David Letterman," Reeve was blunt in his assessment of Brando, whom he worked with briefly on "Superman."
Reeve said Brando 'didn't care anymore' while working on Superman
When anybody's résumé includes work with somebody of Brando's stature, it's not unusual for an interviewer to ask for tales about the experience. Naturally, David Letterman took the opportunity to get Christopher Reeve's take on Brando in his 1982 appearance. However, the response was something that even the late-night host didn't seem to be anticipating.
"I must say — I don't say this to be vicious — but I don't worship at the altar of Marlon Brando because I feel that he's copped out in a certain way. He's no longer in the leadership position he could be," Reeve told Letterman. "He could really be inspiring a whole generation of actors by continuing to work. But what happened is the press loved him whether he was good, bad, or indifferent; where people thought he was sort of this institution no matter what he did. So, he doesn't care anymore, and I just think it would be sad to be 53, or whatever he is, and not give a damn, that's all."
Letterman tried to lighten things up after Reeve's blunt observation by saying, "Well he's here tonight, Chris," which got laughs from the actor and the audience. Reeve doubled down, however, and said, "I don't care. That's something I'd say to him as well, I don't want to be accused of talking out of school. He could be a real leader for us."
Reeve was disappointed by Brando's lack of motivation
Asked by Letterman if it was exciting to work with Brando, Reeve said, "Not really, no," which got more laughs from the audience. Reeve added, "No, I had a wonderful time, but the man didn't care. I'm sorry. He took the $2 million and ran, you know. I just still care. I'm a real beginner and I just care so much that it hurts when someone is phoning it in. He is a wonderful actor. He's a brilliant man. But at this moment, he just isn't motivated. That's all I mean to say."
As it turns out, Reeve under-estimated Brando's salary on the film, which, according to The Hollywood Reporter, was $3.7 million and "11.75 percent of the picture's backend gross for 13 days of work" — an amount that initially incensed director Richard Donner. (And that wasn't the only thing: Coaxing Brando out of his trailer for filming also upset the director, then-film assistant Cary Elwes recently revealed).
No matter the amount of money Brando made, Reeve lived up to his words of becoming a leader following a horse-riding accident on May 27, 1995 that left the actor paralyzed from the neck down (via ChristopherReeve.org). Reeve and his wife formed the Christopher and Dana Reeve Foundation in 1999, and as of 2020, the nonprofit raised more than $130 million for research into treatment for those experiencing paralysis.